"He's the heart and soul of this team:" Race Thompson flourishes in win over Nebraska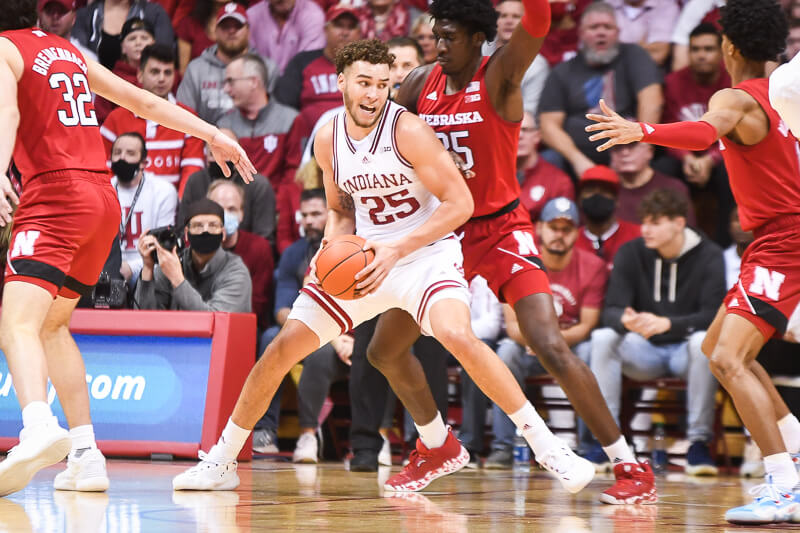 Mike Woodson wasn't worried about the inconsistencies in Race Thompson's play in Indiana's loss at Syracuse on Tuesday.
"Most of the turnovers came from Race and Trayce," Woodson said Friday ahead of Indiana's game against Nebraska. "These are things that can be cleaned up, but I thought that was the difference in the ballgame."
And that's exactly what Thompson did. After leading the team in turnovers with seven in IU's loss at the Carrier Dome, Thompson didn't turn the ball over at all in Indiana's 68-55 win over Nebraska on Saturday.
It was the most impressive part of his stat line — and he recorded his second double-double of the season with 11 points and 11 rebounds.
Indiana still had 15 total turnovers – three more than its goal of three or fewer per game – but Thompson's ability to take care of the ball helped the Hoosiers build their lead.
"All we can do is talk about it, man," Woodson said after the game. "Show him on film that you play offense, you don't give it to the defense."
Thompson's improvement on the turnover front wasn't the only thing that made his performance stand out against Nebraska either. He showed up on defense, too.
He altered shots in the post and when he got the Cornhuskers to miss, he was there to clean up on the glass. Nine of his 11 rebounds came on the defensive boards.
"I think our strength of the team right now is defense," Thompson said. "We just talked to each other about slowing down on offense and then helping our defense, making our defense make plays for us on offense."
Thompson was the catalyst the Hoosiers needed after going by down 10 points to start the game. He chased after loose balls, diving on the ground to tap them out to his teammates. He worked on the offensive glass to help give Indiana second looks.
Five minutes into the second half, Trayce Jackson-Davis put up a left-handed hook shot that bounced back off the front of the rim. Thompson was right there under the rim to try and tap the rebound in, but that wouldn't go either.
That's when Thompson tapped the second board out to himself and dove on the floor for it. The ball rolled out to Rob Phinisee who took it in for the layup via a euro-step through the lane. Thompson's effort and desire on that play helped extend Indiana's lead to double digits.
"He's been playing that way all season for us," Woodson said.
When Thompson wasn't chasing down loose balls, he was making the Cornhuskers pay for playing small ball.
"We tried to take advantage of that by posting him against a smaller guy, and he made a couple buckets," Woodson said. "That's something that we will explore as we continue if teams are going to play our fours with smaller people. I mean, you've got to exploit it."
Just a minute after his hustle sequence to give the Hoosiers an 11-point lead, he exploited the mismatch on the boards again. Miller Kopp pulled up for a 3-pointer from the wing that clanged off the rim and up into the air. That's when Thompson came diving down the lane and in one jump leaped over Lat Mayen to stuff the ball into the basket.
?? OH, MY! Say hello to Race Thompson! ?@RaceThompson1 // @IndianaMBB pic.twitter.com/EW2tIGEYaD

— Big Ten Network (@BigTenNetwork) December 4, 2021
His performance Saturday earned him high praise from Nebraska head coach Fred Hoiberg. He said he was terrific and commended the way he's able to do a little bit of everything.
"I think he's the heart and soul of this team for everything that he gives them. He's got great size, length, he's good in the post." Hoiberg said. "I've always been a big fan of Race."
Thompson's play Saturday showed what he's capable of on both ends of the floor, but more importantly, how he can learn and improve upon his mistakes.
Filed to: Race Thompson