Early in his tenure, Mike Woodson's personality is driving Indiana's culture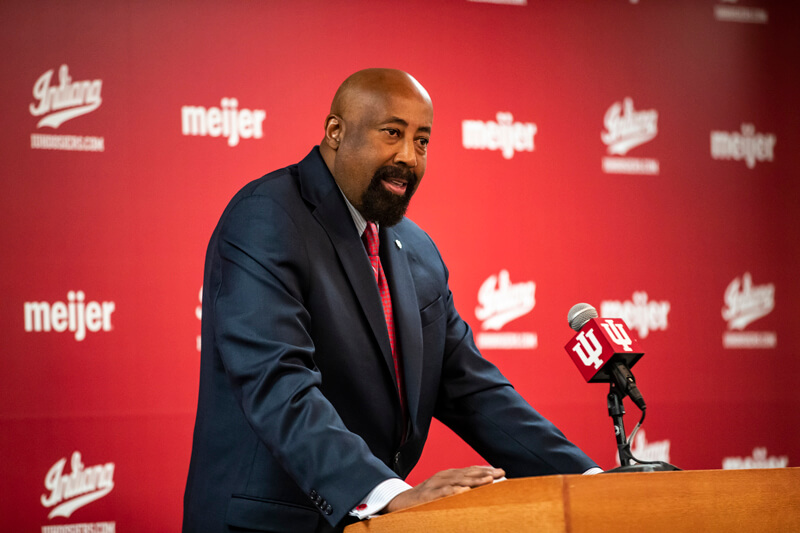 In between recruiting calls, film sessions and staff meetings, Mike Woodson cleared some space in his busy schedule to spend time on the golf course. In past years, it has been a way for him to connect with his former IU teammates. In fact, just last weekend, he hit the links.
"Well, when you're watching Tiger Woods you're basically watching me. You know, I'm below scratch player. Should have been on the PGA TOUR probably."
Woodson pauses.
Then, his stoic expression turns into a smile. He leans back in his chair and laughs.
"No, I'm an awful player," Woodson says. "I'll shoot anywhere from 85 to 100, but I have a good time."
This exchange is just a small window into Woodson's personality, one that has been on display since he was introduced as Indiana's head coach in late March. He can tell jokes. He still keeps in touch with the doctor that performed back surgery on him when he was in college 30 years ago. Recently, he's been encouraging IU players to stop by his office to talk when they're at the facility.
"It helps me from a bonding perspective," Woodson said.
Early in his tenure at Indiana, it has become clear that Woodson's welcoming persona is one of the driving forces of the program. This much became evident in his first recruiting ventures, starting with his coaching staff, where nearly all of his co-workers shared a similar sentiment.
Woodson convinced assistant coach Kenya Hunter to remain at IU because "when you talk to him, you're talking to someone who's real," Hunter said. Woodson also drew Dane Fife to return to IU, despite already having a top-tier job at Michigan State. "He should have an ego," Fife said describing Woodson. "He should. But he doesn't."
Woodson's grounded personality also allowed him to score big when piecing together a roster, even though he was knocked for not having experience at the college level.
He persuaded four of the six IU players in the portal to return to Bloomington, plus Trayce Jackson-Davis, who could've left for the NBA. Woodson also landed five-star prospect Tamar Bates, who is now Indiana's highest-ranked recruit since Romeo Langford. Then, he brought in potential-impact transfers Xavier Johnson, Miller Kopp and most recently 7-footer USF center Michael Durr.
As each player committed, much like the coaching staff, their impressions of Woodson all sounded similar.
Durr: "He cared about what you're going to do on and off of the court."
Kopp: "As far as his recruiting style, I don't think it's a recruiting style. I think he's real. He's straight up with you, which I appreciate."
Johnson: "He's a really down-to-earth guy that cares about you on the court and off the court as well."
It's also why there has been more media access than in past years. Coaches have been more available for podcasts. On Wednesday, Woodson was willing to update reporters about the recent developments around the program.
"I'm talking to you today because you guys got a job to do and I respect that," Woodson said. "I really do. I just want you guys to respect what I do."
This personality extends to seemingly everyone he meets, including the 2022 recruiting cycle, which is now in full swing. June and July, he said, are booked with recruiting visits. As for now, he's been calling recruits to wish them luck on their final exams.
But as much as Woodson gives to his players, he's also steadfast in sticking to his strategy of creating a winning squad. Woodson isn't afraid, he said, to recruit over players and be honest about it. The roster he's built this season has 13 scholarship players capable of vying for minutes.
"That's how you get better as a ball club and as an individual player," Woodson said. "I never ran away from competition… Those are the kind of kids I'm trying to recruit."
It's why the coaching staff is watching film of how prospects react on the bench, scouting their mannerisms. Woodson wants to surround himself with unselfish people that reflect his own ideals.
"That guy that doesn't play a lot of minutes, he's got to be ready just in case," Woodson said. "Are you ready? Are you going to sit over and sulk the whole time because you're not playing? I don't want players like that."
June 10, the date that summer workouts begin, is just a few weeks away. On Wednesday, Woodson couldn't contain his excitement, gushing about how he wants to play "hard ass" defense and continue building relationships with his players.
"I'm just anxious to get to June 10," Woodson said.
Not even two months into this coaching career at IU, this is where Woodson stands. The fact remains that Indiana still hasn't had a chance to lose a game yet, and Woodson's momentum will likely continue until a game is played.
But up to this point, the trajectory of the IU basketball program has drastically shifted since early March. Woodson has checked almost every box of an ideal off-season, which is even more difficult in the transfer portal-era.
Much of this is a result of who Woodson is. It's an aspect that the national media failed to account for when he was hired. But only time will tell whether he continues to prove his critics wrong.
But first, back to golf.
"We don't even keep score," Woodson said. "I did on Saturday. I'm trying to work on my game, which is awful right now."
Filed to: Mike Woodson