The story of Mike Woodson's unlikely season and what it says about the man leading Indiana basketball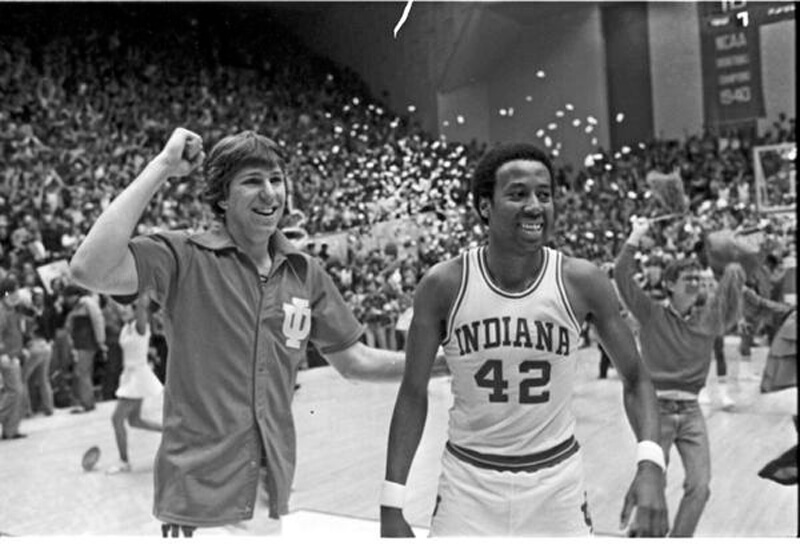 A few days after he was hired, Mike Woodson talked to an old friend. On the other end of the phone was a familiar voice, Dr. Henry Feuer. They talked about their families and Feuer congratulated Woodson on his new job as the head coach at Indiana.
This is how it's been for decades. Conversations here and there. Woodson was busy in the NBA and Feuer, a neurosurgeon based in Indianapolis, was busy with his own career. But they'd find time, Woodson telling Feuer about his son moving to Los Angeles or one of his daughters getting married and Feuer sharing updates from his own life.
"When we call, we know exactly who's on the other end of the phone," Feuer says.
Woodson also shows appreciation. He credits Feuer for saving his basketball career. Long before this March, when Woodson was named as the head coach at Indiana, there was the injury, recovery, and an unlikely season. And to understand what type of coach and person Woodson is, you first have to know about what happened more than 40 years ago and the friendship that followed.
The year was 1979 and expectations soared as Indiana was No. 1 in the preseason AP poll. They had a hotshot freshman named Isiah Thomas. Studs like Butch Carter and Ray Tolbert. But the Hoosiers were led by senior guard Mike Woodson.
After the team raced off to a 5-1 start, Woodson was sidelined in mid-December with an injury that he'd been dealing with for an extended period of time. At first, it was a pain in his lower leg. It wasn't unusual for basketball players to deal with wear and tear on their legs. But pain like this could also be caused by a more concerning back injury.
MRIs weren't commonly utilized yet, so Woodson went in for a CAT scan. The results revealed a ruptured disc, explaining the discomfort in his legs.
This is when Woodson and Feuer first met. Feuer had been working as a surgical specialist for IU since 1970. The CAT scan of Woodson's back was sent to Feuer.
Feuer's first advice was for Woodson to rest and take pain medications. No heavy lifting. Only walking for exercise. In most cases, the pain subsides on its own and surgery isn't needed.
But Woodson had a more severe case. The rupture wasn't only causing pain, but also weakness in his legs. If it didn't improve, the worst-case scenario was that it would be career-ending. He wouldn't be able to jump or even run down the court without tripping or spraining his ankles.
"If he didn't get better, he wouldn't be playing basketball again," Feuer said.
They followed Woodson closely, but by late December no progress was made. Feuer decided the best option would be to go through with the surgery. The success rate of surgery, Feuer said, was better than 90 percent, but it was much more concerning for high-level athletes that put significant strain on their bodies. The normal timetable to return was three months, meaning Woodson's season and career at IU would likely be over.
But Feuer didn't see Woodson express any frustrations, putting trust in the medical staff.
"In tough situations, he's the guy who you want to have around," Feuer said.
In late December, Woodson underwent surgery at Methodist Hospital in Indianapolis. He was given anesthesia and laid down face first on a frame to steady his spine. A small incision was made and, using a cutting edge microscope, Feuer removed 10 to 20 percent of the disk.
IU head coach Bob Knight came to visit Woodson after the surgery. Knight wanted to know when Woodson could play again.
"He may not be back this year," Feuer recalls telling Knight.
Soon after, Feuer started making calls to other experts, even a doctor that worked alongside lumberjacks to gauge how quickly Woodson could return.
But what Feuer heard was a near consensus: Woodson's playing career at IU would be over.
Woodson, though, had a sense of urgency. "He was chomping at the bit," Feuer said. Woodson had already played too many games to redshirt. This was his last chance.
The pain in Woodson's back was gone almost immediately after the operation. Feuer instructed IU's trainer as to what exercises Woodson could do to rehab. Woodson could bench press, ride a bicycle, do leg extensions and run on a treadmill. As long as it wasn't straining his back, he could do it.
All the while, Woodson was at practice every day, being the senior captain and pointing out instructions to his teammates.
Woodson didn't have any post-operation setbacks. He continued to build his stamina. Still, they had to be cautious. Feuer knew that the highest risk for reinjury was in the first six months after surgery. As time went on, Woodson's back progressively improved.
Then, on February 14, 1980, against No. 20 Iowa, despite all of the challenges, Woodson made his improbable return to the court. He scored 18 points on 7-of-18 shooting from the field and 4-of-4 from the free-throw line, while grabbing five rebounds. Indiana beat Iowa by double-digits that night.
A month and a half earlier, Woodson was laying face down with his back cut open.
"There's no style to it, he's just very competitive," Randy Wittman, Woodson's teammate at IU, told Inside the Hall recently. "If he puts his mind to do something, he's going to try to do the best he can."
The Hoosiers won their next four games, setting up the season finale in Bloomington against No. 9 Ohio State to decide the Big Ten title. In the opening minutes, Woodson sprung off the hardwood to grab his own miss and stuck in a layup.
"It's a miracle that he could even come back," Dick Enberg said on the TV broadcast. "And he's playing as if he never had a problem."
Woodson scored 21 points that day. Indiana won 76-73 in overtime to capture a conference title in Woodson's final game in Assembly Hall. As the buzzer sounded, he lifted both arms in the air.
Feuer nervously watched those games, hoping Woodson wouldn't re-injure himself. But Woodson didn't have any issues. In the final six games of the regular season, he averaged more than 20 points per game. He was named the 1980 Big Ten player of the year and earned NABC All-America honors after averaging 19.3 points, 3.5 rebounds and 2.6 assists in 14 games. Eventually, Woodson's run ended when the Hoosiers fell to Purdue in the Sweet Sixteen.
In the years that followed, while he navigated the NBA as a player and coach, Woodson and Feuer struck up a friendship. Woodson never forgot about how Feuer helped him. He'd occasionally call Feuer to check-in. Feuer attended Woodson's wedding. Woodson would mention Feuer's name in interviews or while speaking at events.
"That's pretty special in itself, there's no denying it. Not many athletes do it," Feuer said. "You can never forget Mike's personality… That's what makes him so special. He's never really changed in that regard."
Since he was hired, Woodson has already displayed those same traits as IU's head coach. He said he has an open-door policy so players can always talk with him. He's said how he wants to help his players grow as men.
"I felt like after I left the game of playing, I had something to offer some young kid as a coach on and off the floor," Woodson said during his introductory press conference. "Because I like to think the years that I played here at Indiana University, Coach Knight did something right because I turned out just fine."
And so, a few days after he was hired at Indiana, Woodson and Feuer were on the phone again. Old friends catching up, talking about their families. Woodson said he had a lot of work to do.
And Woodson does. Over the last two weeks, he's been recruiting, dealing with media, building relationships with players, captivating a fanbase, and, most of all, trying to bring a program back to national relevancy.
Meanwhile, despite already creating a significant buzz, Woodson is facing doubts again. National media has criticized his lack of experience coaching in college, saying that his return as a coach won't work.
But on their recent phone call, Feuer, having watched Woodson do the unlikely before, kept his message short.
"I'm not worried."
(Photo credits: Indiana University Archives)
Filed to: Mike Woodson