'I'm here for a reason': Kenya Hunter has helped stabilize Indiana through uncertainty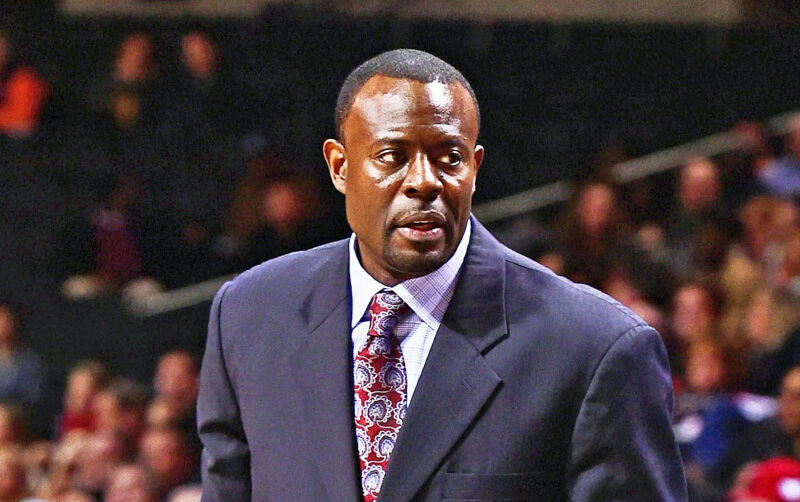 The driving force in Kenya Hunter's decision to join the IU coaching staff last fall was the chance to work with Archie Miller. Their relationship goes all the way back to when Miller was a 15-year-old recruit. So last September, even though Hunter was an assistant coach at UConn and through the uncertainty of the pandemic, he decided to pack his bags for Bloomington.
But six months later, following a disappointing season, Miller was fired from Indiana. Hunter's initial draw to move to Bloomington was gone and it looked like Hunter's tenure at Indiana would be brief.
Now, however, about a month after Miller was fired, Hunter has been retained as an assistant by new head coach Mike Woodson. In his short time in Bloomington, Hunter said he and his family have found a home.
"I think everything happens for a reason," Hunter told the media Thursday. "I'm here for a reason. The work that I've done in the time that I've been here, I think the relationships that I've built with our players and the staff people around… I felt like this was a great place."
Shortly after Miller was fired in mid-March, IU Athletic Director Scott Dolson approached Hunter about being a part of the transition team between head coaches. Hunter gladly agreed.
While Dolson searched for a new head coach, Hunter kept in contact with the IU players and their families. The hardest part, he said, was having to patiently wait. Hunter wanted to remain at IU, but he didn't know whether the new coach would want him to stay. Meanwhile, over the course of about a week, six Indiana players entered the transfer portal.
"It was a difficult time," Hunter said. "It's the first time that I was a part of a transition team, but I was happy to do it because I know it's a difficult time for everyone."
Then, after Woodson was hired, the two quickly connected despite the fact that they didn't have a preexisting relationship. They met on multiple occasions, watched film from last season and discussed coaching philosophies. Hunter was first struck by what he described as Woodson's "presence."
"I think when you talk to him you're talking to someone who's real," Hunter said. "And I think the knowledge that he has of the game and some of the things he wants to implement from the NBA style to college, it excites me."
Shortly after, Woodson offered a job as an assistant coach, which Hunter accepted. They've continued to talk, passing back and forth different ideas and building a rapport. Hunter's willingness to invest in Woodson's vision speaks to the new head coach's ability to get others to buy into a culture.
"His blood, sweat and tears were shed here and I just think he's going to put a lot of effort and time into making this a program that everyone can be excited about," Hunter said. "I would love to be a part of that."
Hunter staying at IU is significant for a multitude of reasons. First, it offers continuity between last season's staff and the current staff. Besides Hunter, it was also announced Wednesday that former assistant Mike Roberts and strength and conditioning coach Clif Marshall will remain with the program.
Furthermore, Hunter is a skilled recruiter. In the weeks following Woodson's hiring, four of the six IU players in the transfer portal announced their return to Bloomington. One of those players was UT-Martin transfer Parker Stewart, whose relationship with Hunter was integral in his recruitment.
Hunter was friends with Parker Stewart's father Anthony, who died unexpectedly last November. After transferring from UT-Martin (where Anthony coached) midseason, Parker didn't make an appearance for the Hoosiers while he grieved and adjusted.
"I think that's the reason why he came here is that when he does have those bad days there are people in his corner," Hunter said. "It's going to be a daily thing anytime you lose a parent, I've had to go through it this past season myself so I understand it."
Parker is back in the gym now and Hunter said he made 20-of-21 3-pointers in a recent practice. He has the potential to provide a significant lift to IU's poor perimeter shooting from last season.
"Being a guy that can knock down shots and also on the defensive end, guard the one, two and three positions," Hunter said. "We're excited about him."
Hunter also had a major role in landing former Pittsburgh guard Xavier Johnson from the transfer portal. Johnson, who Hunter recruited out of high school, averaged 14.2 points per game last season and adds more guard depth.
"He has a gift, especially in transition, to create not only for himself but for others. I think he's a guard, first step-wise, that can get his feet in the paint," Hunter said. "… I think he can also add the leadership factor as well."
In roughly six months in Bloomington, Hunter has already proven to be invaluable for the Indiana program. He's helped the Hoosiers through instability, drawn in top talent and helped Woodson's transition.
"I just think the more we continue to learn from each other, this is going to be a heck of a situation," Hunter said. "Now we're implementing everyone, a whole staff is pretty much here and set. Every day is like getting to know each other and it's been exciting and fun."
It's been a whirlwind of a few months in Bloomington, but Hunter is right where he wants to be.
Filed to: Kenya Hunter