A closer look at the Miller Kopp addition and his potential impact at Indiana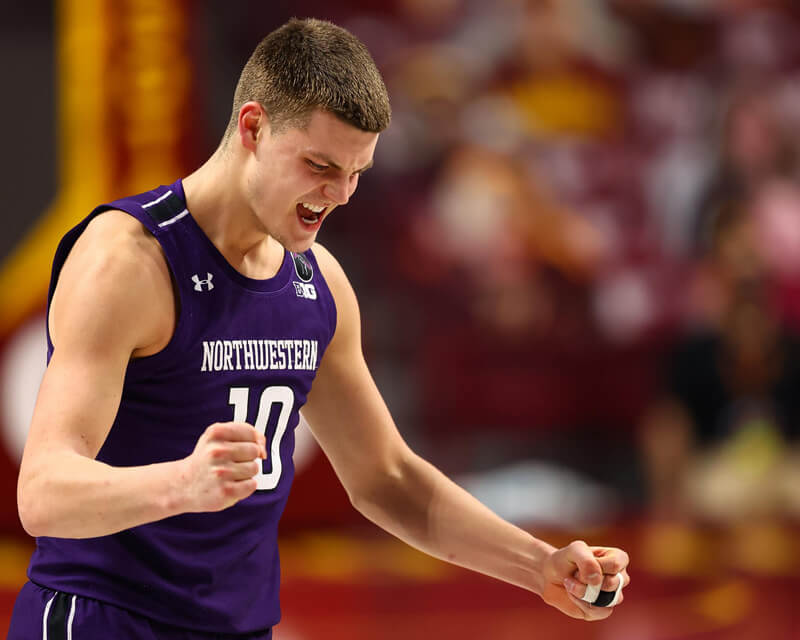 In late April, Indiana solidified its wing depth with the addition of Northwestern transfer Miller Kopp.
The 6-foot-7 Houston native and former top 100 recruit played three seasons for Chris Collins in Evanston. Over 87 career games, Kopp averaged 9.6 points, 2.9 rebounds, 1.2 assists and shot 36 percent on 3s.
Shortly after committing, Kopp said the opportunity to expand his game was key in his decision.
"Obviously I feel like I can shoot the ball and coach (Mike Woodson) knows that," Kopp said. "Really just using that to help everybody else space the floor. But also things that I haven't done as much like handling the ball and playing out of pick-and-roll and making the right reads in that kind of environment. And being a better rebounder is something coach wants me to do and it's something I want, too."
One of three transfer additions to the roster, Indiana will be counting on Kopp to play a significant role in Woodson's first season.
Indiana will welcome contributions from Kopp beyond shooting, but it's clear that trait is top of the list for his potential impact. Kopp had 11 games last season where he made two or more 3-pointers.
"I think Miller was a guy that we had to address because I think he can play 2, 3 and 4 at his size," Woodson said. "He possesses a weapon in being able to shoot the long ball."
Right off the bat, Kopp offers an upgrade for Indiana at the free throw line. As a sophomore, he shot 89.6 percent from the free throw line, which ranked 19th in the country. He led the Big Ten in conference play in free throw shooting as a sophomore at 88.1 percent. Last season, he shot 82.8 percent from the stripe. That number would have led Indiana last season.
As a perimeter shooter, Kopp was most effective last season coming off screens. According to Synergy Sports, he scored 1.017 points per possession in those situations as a junior. His shooting off screens ranked in the 66th percentile nationally. In spot-up situations, he scored just .779 points per possession, which ranked in the 31st percentile per Synergy.
As shown on his shot chart below, Kopp was most comfortable operating out of the left corner from distance: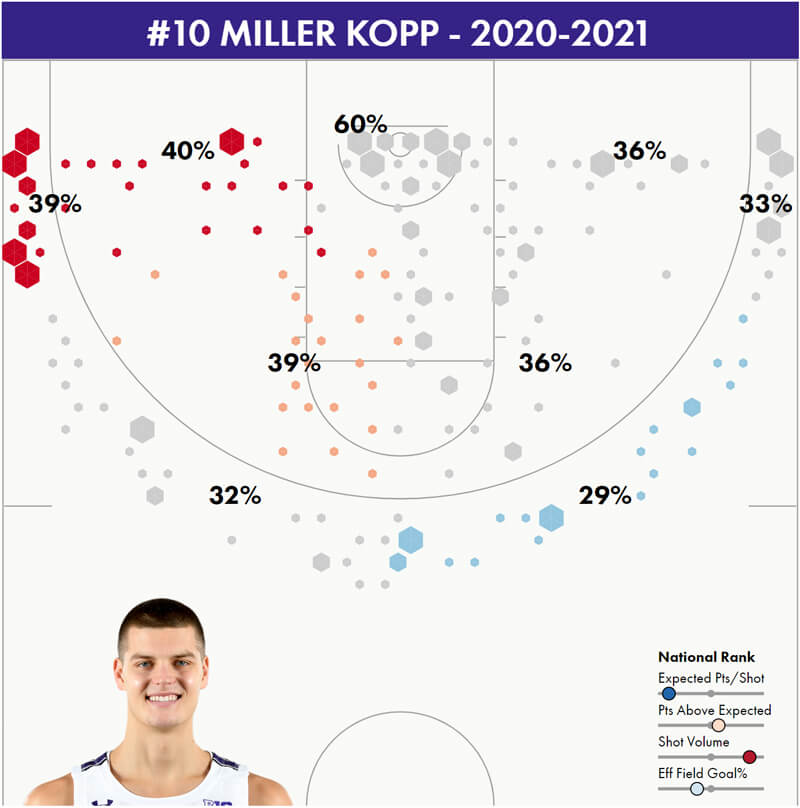 Kopp's efficiency should get a boost from playing with better talent around him in Bloomington. At Northwestern, Kopp never played with a big man near the caliber of Trayce Jackson-Davis. That allowed defenses to key more on him as one of the primary offensive threats. At Indiana, that shouldn't always be the case.
The numbers confirm Kopp didn't do much in the pick-and-roll or as a ball-handler at Northwestern. According to Synergy, he only had 29 possessions as the ball handler in the pick-and-roll last season. His efficiency in those situations, however, was above average. Kopp produced .862 points per trip, ranking in the 75th percentile nationally. The sample size is small, but this could be an opportunity for Kopp and the Hoosiers.
As a rebounder, Kopp was candid that he has work to do and the numbers bear that out. He's averaged just 2.9 rebounds per game for his career so far. The last two seasons, Kopp finished with defensive rebounding percentages of just 9.1 and 9.2. By comparison, Jerome Hunter's defensive rebounding percentage last season was 14.8 and Jordan Geronimo's was 17.5.
Beyond the shooting, Kopp should offer Indiana a leader in the locker room who is hungry to win to finish his college career. Kopp committed to Northwestern in the fall following the program's only NCAA tournament appearance. When he made that decision, he did so with the belief that Collins had Northwestern on the rise.
"I'm definitely excited to be able to go to a program on the rise," Kopp told 247Sports back in September of 2017. "And be able to make some history."
That obviously never materialized as Northwestern went just 30-57 in his three seasons as a Wildcat.
In Bloomington, Kopp will have two years of eligibility and it's clear his goal is to be in a situation more conducive to winning.
"We have high expectations for sure. That's why I am coming (to Indiana)," he told Inside the Hall. I'm not really sure what they are, but I'm just excited to be a part of Indiana basketball. We definitely have high expectations with this group."
Filed to: Miller Kopp