Q & A: Michael Durr discusses his decision to commit to Indiana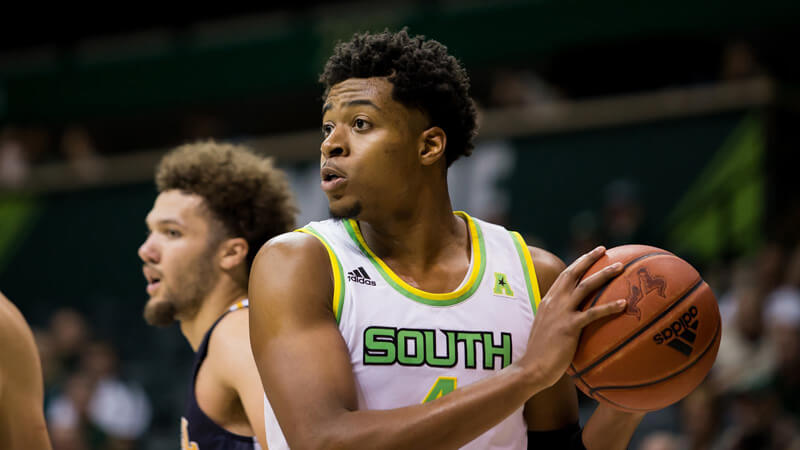 Indiana filled its open scholarship on Monday with South Florida 7-footer Michael Durr.
Durr originally pledged to play at Virginia Tech next season, but backed off that commitment on May 10. Today, he announced that he'll play for the Hoosiers next season after averaging 8.8 points and 7.9 rebounds last season for the Bulls.
Inside the Hall spoke with Durr today about his decision, his relationship with Mike Woodson and more. Our full Q & A is available below:
On what it was like being in the transfer portal and going through the recruiting process again:
"It's been crazy but when I went to the portal I knew kind of what it would be. It's been great and I'm just excited."
On when Indiana reached out to begin recruiting him:
"They reached out to me when I got in the portal. I'm very familiar with some of the guys on the staff. Obviously, I'm familiar with the school. I felt like this was the best choice for me. I just felt very comfortable with the school and the coaching staff."
On his relationship with the coaching staff:
"I know coach Ya (Yasir Rosemond). He's actually from Atlanta. He's been around and he was at a different school before he came to Indiana. Coach (Kenya) Hunter coached at UConn and they were in the same conference as my previous school. We played against each other and he was very familiar with my game. And coach (Mike) Woodson, obviously everybody knows about him. Once he started recruiting me and giving me his pitch I was on board."
On why he felt comfortable with IU:
"Just the tradition there and the history. I just wanted to be a part of something like that… I feel very confident in what we can do this year."
On the recruiting pitch from Mike Woodson:
"Basically how he can help me take my game to the next level. That was very big for me because that was what I was looking for. Go to a situation where they can help me and my game take the next jump. Also with the team he said he's having next year, I just felt like this was the right choice."
On how he fits in with the program:
"I fit right in. Being the five-man down low. He's very familiar with my game so he knows the things I can do. He just wants to help me take it to the next level."
On his familiarity with Woodson:
"I was very familiar with the teams he had in New York. I'm from Atlanta and he coached the Hawks and I used to watch a lot of the games back then when I was younger so I'm very familiar."
On how he would describe Woodson:
"He cares about what you're going to do on and off of the court. He cares about what's going to happen once you leave this university. He just cares about you as a whole. It's not only about basketball."
On when he plans to arrive on campus:
"I should be there in June."
On his conversations with Hunter and Rosemond:
"It was great just reconnecting. Also, them expressing the jumps that I've made and the progressions I've made on and off the court. They just want me to continue to make jumps. And me being a part of their program they feel like they can continue to help me make big jumps and progress in life and basketball."
(Photo credit: South Florida Athletics)
Filed to: Michael Durr