Hoosiers in the NBA: OG Anunoby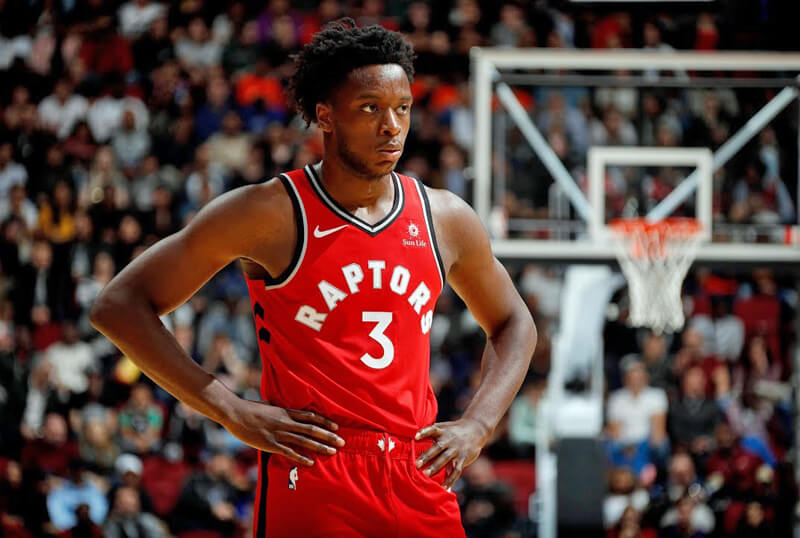 Welcome to "Hoosiers in the NBA," a player-by-player look at how IU basketball alums fared during the 2020-21 NBA regular season. Today, the series continues with OG Anunoby.
Anunoby (43 games): 15.9 points, 5.5 rebounds, 2.2 assists, 48% FG, 39.8% 3PFG in 33.3 minutes per game
At only 23 years old, former Indiana forward OG Anunoby has already established himself as one of the best two-way wings in the NBA.
Prior to the 2020-21 season, Toronto inked Anunoby to a four-year contract extension worth a total of $72 million over four seasons. The fourth year of the deal is a player option that, if exercised, will keep him in Toronto through the 2024-25 season.
The well-deserved extension was a reward for both the production and potential that Anunoby showed over his first three seasons after being selected No. 23 overall in the 2019 NBA draft.
Anunoby started each of the 43 games he played this season for Toronto in his fourth professional season. Anunoby did miss 29 games due to a calf injury that first appeared in late January but also resurfaced in the final month of the season.
When he was healthy, the 6-foot-7 forward enjoyed his best season yet for the Raptors.
His 15.9 points per game marked an increase of 6.3 points per game from the prior season and his 3-point shooting percentage was the best of his career. Anunoby also made a career-best 2.4 3-pointers per game, further solidifying himself as a 3-and-D wing.
But despite Anunoby's continued ascent, the 2020-21 campaign marked a significant step back for the Raptors, who have been a perennial contender in the Eastern Conference.
Due to the COVID-19 pandemic travel restrictions in Canada, the Raptors were forced to play their home games this season in Tampa. That change in location marked a shift from a community that loves the NBA and basketball in Toronto to one in Tampa that doesn't have a strong affinity for the sport.
Since winning the NBA championship back in the 2018-19 season, the Raptors have undergone plenty of roster changes that have ultimately landed them in a rebuilding stage. Kahwi Leonard left the franchise in the summer of 2019 for the Clippers, but the Raptors were still a playoff contender last season, which ended with a loss to the Celtics in the NBA playoff bubble in Orlando.
This season, however, regression and roster turnover finally showed in the results as the Raptors finished 27-45 and missed the playoffs for the first time since the 2012-13 season.
Long term, Anunoby appears to be one of three building blocks Toronto will have in the fold as it looks to make its playoff absence just a one-year blip. Along with Anunoby, the Raptors also have Fred Van Vleet and Pascal Siakim signed to long-term deals.
Bottom Line: Anunoby's rise from a sub-200 nationally ranked recruit when arriving in Bloomington to a player who is now in line to earn well over $100 million in his NBA career has been incredible. As a professional, he's still the quiet, soft-spoken player that Indiana fans grew to love over his two seasons at IU. But it was clear that Hoosier fans only saw a glimpse of what Anunoby was capable of as a player during his brief time in college. With his work ethic and a strong NBA organization to support him, he should continue to blossom as one of the centerpieces in Toronto.
Quotable: "I think he's in a pretty holistic place right now where he's just got to continue to polish all parts of his offensive game. I think he's made some great strides. He's in a really good place mentally. He's really zeroed in on the work day, the professionalism, the desire, all of those things. I think the future as we know is pretty bright for him. I think it's probably very, very bright." – Raptors coach Nick Nurse on Anunoby's future at the end of the season.
Filed to: OG Anunoby