6-Banner Sunday: Indiana falls to 4-5 in Big Ten home games with loss to Michigan State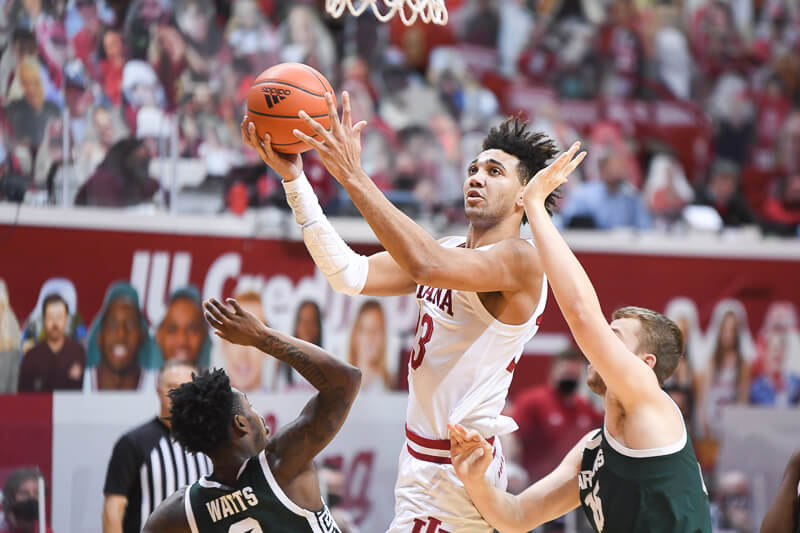 6-Banner Sunday is Inside the Hall's weekly newsletter in partnership with The Assembly Call. More than 7,500 Indiana fans receive the newsletter each week. In addition to appearing each week on the site, you can also opt to receive 6-Banner Sunday by email. A form to subscribe via email is available at the bottom of this week's 6-Banner Sunday.
Welcome to another edition of 6-Banner Sunday, a joint production between The Assembly Call and Inside the Hall where we highlight the five most essential IU basketball stories of the past week, plus take a look at how the other IU sports programs are doing.
Indiana finished this week 1-1, beating Minnesota and then dropping a game to Michigan State on Saturday. The Hoosiers now have an overall record of 12-10 and a 7-8 mark in the Big Ten with just two weeks of regular-season action remaining.
Indiana got off to a hot start against Michigan State on Saturday but then fell apart in the second half. Michigan State surged ahead thanks to 16 second-half points from Aaron Henry and 12 from Joshua Langford.
In the first game of the week against Minnesota, Indiana put on one of its best offensive displays of the season. The Hoosiers shot better than 50 percent from the field as a team and converted on 7-of-12 attempts from beyond the arc. They also made 14-of-18 free throws in the second half.
Now, the Hoosiers are scheduled to hit the road on Wednesday against Rutgers at 8pm on BTN. Then, on Saturday, Indiana is set to host Michigan at 12pm on FOX.
It was announced on Friday that Indiana's initial game at Michigan State game, which was originally scheduled for Jan. 17, has been rescheduled for Tuesday March 2nd at 8pm on BTN.
The Hoosiers now have four games left on the regular-season schedule, although Indiana could still make up a game against Michigan. The Big Ten, however, has still not made a decision about when that game will be played, if at all.
On Friday, it was also announced that 2021 NCAA Tournament games will be allowed up to 25 percent capacity.
• Hoosiers suffer second-half collapse to Michigan State
• Indiana surges past Minnesota
• Hoosiers set to travel to Rutgers Wednesday
• Indiana signee Logan Duncomb nominated for McDonald's All-American game
• This week's podcasts
• Hoosier Roundup
Banner #1
Hoosiers suffer second-half collapse to Michigan State
Indiana went into the locker room at halftime with a four-point lead over Michigan State. For much of the first 20 minutes, the Spartans looked out of sorts, committing 10 turnovers.
But the script flipped in the second half. Indiana allowed Michigan State to score 52 points and shoot 55 percent from three in the second half. In contrast, Indiana shot just 22 percent from beyond the arc in the second half and the Hoosiers fell by a score of 78-71.
"I really look at the second half as being a complete bust on defense," IU head coach Archie Miller said.
Trayce Jackson-Davis' 34 points were wasted as the Hoosiers squandered their momentum from early in the game. Race Thompson and Armaan Franklin combined for 28 points. Other than those three, Indiana's offense was essentially held in check. The Hoosiers' bench contributed just five points, which were all from Jerome Hunter.
Banner #2
Indiana surges past Minnesota
After trailing at the break by two points, Indiana used a late 18-4 second-half run to pull away from Minnesota in an 82-72 victory Wednesday night in Assembly Hall. Trayce Jackson-Davis led the Hoosiers in scoring with 20 points.
The story of the game, however, was Indiana's superb guard play. Rob Phinisee, who has been inconsistent the whole season, showed major signs of improvement. On Wednesday night, he tallied 10 points, six assists and four rebounds in 32 minutes of action.
"He's a thinker," Indiana head coach Archie Miller said. "He processes things. He worries. And I think part of the reason is that it's hard when you don't play well to avoid the noise. There's a lot of noise. A guy doesn't play well, they get impacted at some times. You have to try to block everything out."
Indiana's other starting guards, Al Durham and Armaan Franklin, also scored in double-figures. Jerome Hunter, who is just a few games removed from a two-game suspension, played one of the best games of his career, scoring 16 points off of the bench.
"He's got great confidence in his shot, he's not hesitating," Miller said. "He's playing through mistakes and he's giving us a little bit of physicality, a little bit of ruggedness, which we need. But he's going to play a big role for us hopefully down the stretch."
Banner #3
Hoosiers set to travel to Rutgers Wednesday
Indiana will make its way to the Northeast on Wednesday to take on Rutgers, closing out the two-game regular-season series between the teams. The game will be broadcast on Big Ten Network at 8 p.m.
About a month ago, Rutgers defeated Indiana 74-70 in Assembly Hall. The Hoosiers allowed the Scarlet Knights to shoot better than 50 percent from the field and were unable to stop them off of the bounce. Since that game, Rutgers' only losses have come to Iowa and Michigan.
Rutgers is led by forward Ron Harper Jr. and guard Jacob Young. Harper Jr. is averaging 16 points and six rebounds per game, while Young is contributing 14.2 points and 3.4 assists per game. The Scarlet Knights have a balanced attack, with five other players that score better than five points per game.
Entering Sunday, Rutgers has a 12-8 overall record and 8-8 mark in the Big Ten. The Scarlet Knights are set to host Maryland on Sunday afternoon.
Wednesday's contest gives Indiana a chance to steal a game on the road and continue to bolster its NCAA Tournament resume.
Banner #4
Indiana signee Logan Duncomb nominated for McDonald's All-American game
Class of 2021 Indiana signee Logan Duncomb was nominated in the initial pool of McDonald's All-American candidates. Over 700 boys and girls were included in the list that was released on Thursday and the 24-person boy's roster will be announced later in the month. However, there will not be a game this year due to COVID concerns.
Duncomb, a 6-foot-9, 240-pound center from Cincinnati Archbishop Moeller High School, is Indiana's lone commit in the 2021 class. Duncomb signed his national letter of intent in November.
"Logan's got an unbelievable motor, he just plays at an all-out capacity every day he's on the floor," Duncomb's high school coach, Carl Kremer, told Inside the Hall after his commitment. "If you grade him out, he runs the floor, from offense to defense (and) from defense to offense, hard every single time."
As a senior this season, Duncomb is averaging 13.3 points and 8.7 rebounds per game at Bishop Moeller.
Banner #5
This week's podcasts
Inside the Hall's Alex Bozich was joined by Zach Osterman of the Indianapolis Star on this week's edition of Podcast on the Brink. Bozich and Osterman recapped Indiana's win over Minnesota and discussed which Big Ten teams are a threat to make it to the Final Four.
The Big Ten has five teams in the top-25, as of the most recent AP Poll. Michigan (3), Ohio State (4) and Illinois (5) are all legitimate contenders. The Hoosiers have gone a combined 0-3 against those teams this season, but still have at least one matchup left with Michigan. Iowa (11) also has the firepower to make a run in March.
You can listen to this week's edition of Assembly Call Radio here. The panelists discussed an updated view of bracketology and how many Big Ten teams have the potential to make the NCAA Tournament.
You can also check out a replay of the Indiana-Minnesota postgame show here and the Indiana-Michigan State postgame show here.
Banner #6
Hoosier Roundup
This week was highlighted by another very strong week for Women's Basketball as they continue to push for a Big Ten title. Also, Men's and Women's Soccer became the latest sports to open their seasons and Baseball became the most recent team to announce a schedule.
• Women's Basketball had another stellar week, beating Illinois and a top 15 Michigan team in a back and forth game that what was arguably the most exciting of the season.
• Men's Soccer was named the Big Ten Favorite and had three players named to the Big Ten Preseason Watch List. IU showed they were worthy of these predictions, dominating Wisconsin in their opener, which was moved indoors to Metro Indianapolis due to inclement weather.
• Baseball announced their 2021 schedule which begins indoors in Minnesota in the first week of March and will be Conference only with no fans.
• Volleyball lost two games to Penn State but did win their first set against the Nittany Lions since 2012.
• Women's Soccer fell to Northwestern in their opener. However, they had three players land on the Big Ten Preseason Watch List.
• Men's Golf followed up their Big Ten Championship in Match Play with a second place finish in Mobile, Alabama.
• Wrestling beat Maryland for their second win of the season
• Track and Field had its final regular season indoor meet of the season.
• Women's Tennis fell to Ohio State and Michigan.
• Men's Tennis lost to Iowa.
• Water Polo was defeated for the first time this season by Michigan, but rebounded with a victory against St. Francis.
Thanks for your continued support for The Assembly Call. We'll be back next weekend with a new roundup.
Now go enjoy yourself a 6-banner Sunday.
Tyler Tachman – Student Intern The Assembly Call
Filed to: