The Minute After: Michigan State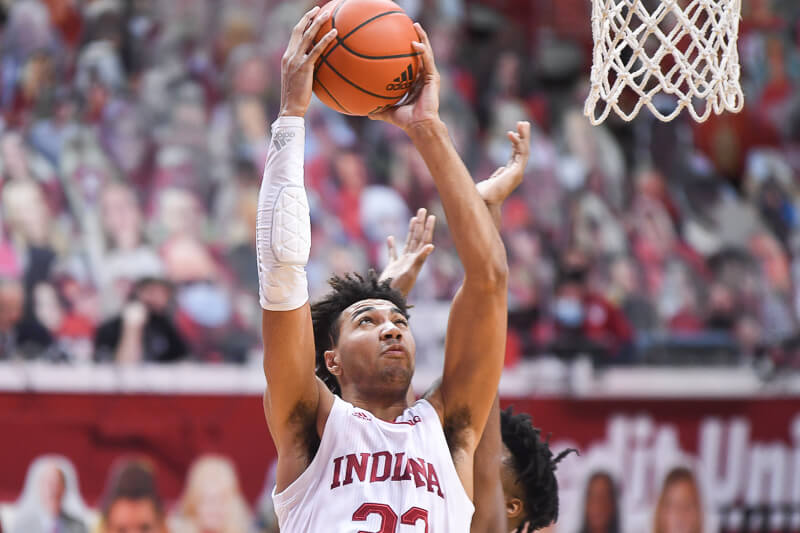 Thoughts on a 78-71 loss to Michigan State:
This one had all the makings of an early blowout. The Spartans turned the ball over like mad. On the other end, Trayce Jackson-Davis and Race Thompson got the ball with ease and scored. As a result, Indiana rushed out to a 19-6 lead at the 11:15 mark and Michigan State looked defeated.
But looks can be deceiving.
And the final 30 minutes of this one told a different tale.
How to quantify it? Let's start here: Jackson-Davis was an absolute terror in this one, scoring a career-high 34 points, which was almost half (47.8 percent) of IU's total output. Thompson also added 15 points on 7-of-11 shooting. So 49 of Indiana's 71 points (69 percent) came from its two frontcourt starters.
Everybody else? Outside of Armaan Franklin (13 points, 5-of-9), it was silence. Al Durham and Rob Phinisee combined to shoot 0-of-10 from the field. Khristian Lander, Anthony Leal and Trey Galloway were 0-of-4. Jerome Hunter scored five points. Those were Indiana's only bench points.
Michigan State chose not to double or send much, if any, extra attention at Jackson-Davis and Thompson for the entirety of the contest. With so many possessions for Indiana's offense being post-ups and the perimeter players simply watching the action, they were less involved, seemed less ready to catch and shoot in rhythm. Indiana really had an opportunity to blow the doors off this one in the first half, but made just 2-of-10 from deep. Each 3-point look felt a little shaky, a little rushed, a little off, not smooth and clean. The Hoosiers weren't much better in the second half, and finished the game 4-of-19 (21.2 percent) from distance. That's their fourth-worst mark from 3-point range this season.
Michigan State's gamble to let Jackson-Davis and Thompson get going at the expense of others getting involved paid off. Yet, Indiana still had a decent offensive game (1.03 points per possession) and 71 points has been enough to get it done in other wins so far this season. So what else happened? Indiana's defense collapsed in the second half, opening a door for Michigan State to take ownership of the game and the Spartans pretty much never looked back.
The Spartans posted a ridiculous 1.49 points per possession in the final 20 minutes of the contest. Indiana had no answer for Aaron Henry. His size was a problem for Indiana's perimeter defenders and he absolutely took it to them time and again. The Ben Davis product scored 16 points in the second half, including an 8-of-9 performance at the line. Joshua Langford was also hot, making 4-of-5 shots for 12 of his 14 points in the second half. Gabe Brown scored nine off a 3-of-4 mark from deep.
For all the talk of a defense-first mentality and the pack line system, the reality is Indiana's defense in conference play has not been good enough. After today's loss, it's fallen to No. 35 on KenPom, its lowest position of the season. And the Hoosiers rank a lowly 11th in conference play behind teams like Iowa, known to be a poor defensive team, and Nebraska, who is 1-11 in conference this season.
Indiana let the Spartans get confidence on the offensive end as the first half wore on. And the confidence carried over into the second half. Play some better defense and the narrative is Jackson-Davis' career-high leads Indiana to a fourth win in five games.
Instead, Indiana picks up a bad conference loss, sending the Hoosiers back to shakier territory than necessary for an NCAA tournament berth.
Filed to: Michigan State Spartans