Five takeaways from Indiana's win over Minnesota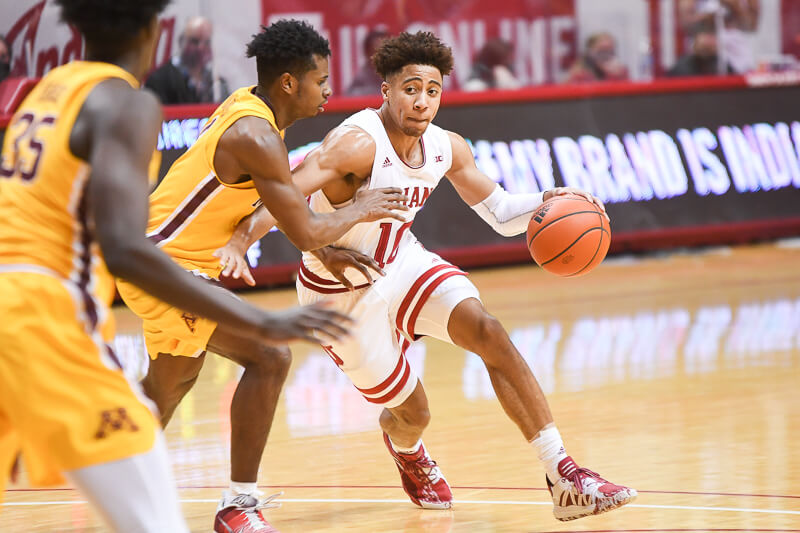 Indiana took care of business against Minnesota on Wednesday night and added another win to its total as Selection Sunday nears.
Here are five takeaways from Indiana's 82-72 win over Minnesota:
• Rob Phinisee shows signs of improvement: Phinisee played arguably his best basketball in the last couple of months on Wednesday night. The junior guard has been inconsistent all season and was taken out of the starting lineup for a brief stretch at the beginning of the Big Ten schedule.
"He's a thinker," Indiana head coach Archie Miller said. "He processes things. He worries. And I think part of the reason is that it's hard when you don't play well to avoid the noise. There's a lot of noise. A guy doesn't play well, they get impacted at some times. You have to try to block everything out."
But against Minnesota, Phinisee put together an impressive performance of 10 points, six assists and four rebounds in 32 minutes on the floor. He was aggressive driving the ball on the offensive and did solid work containing on Minnesota's Marcus Carr, who shot just 3-of-8 in the second half.
"I don't care if he misses a shot," Miller said. "I really don't. I just want him to be aggressive and make the right reads offensively. If he's open, shoot it. If somebody else is open pass it and guard like crazy."
If Indiana is going to make a run in March, they're going to need this version of Phinisee.
• Jerome Hunter provides lift off the bench: Just three games after being benched by way of a "coach's decision," Hunter scored a career-high 16 points, while shooting an efficient 5-of-6 from the field and 2-of-2 from three. He also knocked down 4-of-5 shots from the free-throw line.
"I just feel like I let my team down so I just tried to come back with a bigger chip on my shoulder to show everybody that I apologize and that I'm here to help us win some games," Hunter said.
Since missing two games, Hunter has averaged 11 points per game and become a spark off of the bench.
"He's got great confidence in his shot, he's not hesitating," Miller said. "He's playing through mistakes and he's giving us a little bit of physicality, a little bit of ruggedness, which we need. But he's going to play a big role for us hopefully down the stretch."
Hunter, who dealt with a severe leg injury in his redshirt freshman season, has always had potential but hasn't ever fully put it together at the college level. With Indiana's depleted frontcourt, Hunter has the ability to provide much-needed depth at the four position.
• Turnovers remain a major issue: Indiana turned the ball over 17 times on Wednesday night, tying a season-high. Minnesota turned those mistakes into 25 points, which was more than one-third of its total points.
Phinisee and Al Durham each had four turnovers. Hunter tallied three while Jackson-Davis had two. Jordan Geronimo and Trey Galloway were the only two Hoosiers that saw time on the floor and didn't commit a turnover.
"Offensively we were pretty efficient when we weren't turning it over," Miller said.
Turnovers have been a constant issue over the last couple of weeks. The Hoosiers have given the ball away at least 11 times in five of the last six games. Limiting turnovers has been a point that Miller has hammered home all season long.
In reality, Indiana could have won by 20 points had it been able to cut the number of turnovers in half.
• Indiana uses second-half spurt to pull away: With 8:17 remaining in the game, the score was knotted at 55. Then, over the next five minutes, Indiana embarked on an 18-4 run, surging to a 73-59 advantage and shutting the door on the win.
At times throughout the season, Indiana has shown the ability to put together potent offensive stretches but hasn't been able to consistently close out games. On Wednesday, though, Indiana stretched the lead and didn't look back.
The run began with back-to-back 3-pointers from Al Durham and Armaan Franklin. Then there was a slew of made free throws. Jerome Hunter added four points during the stretch. Phinisee and Jackson-Davis also got in on the scoring barrage.
"It was a big turn in the game," Miller said.
On the other end of the floor, Indiana's defense held strong, forcing six consecutive Golden Gopher misses. Ultimately, those five minutes were the difference in the game.
• Indiana puts together impressive offensive performance: For the first time since the win against Penn State, Indiana shot better than 50 percent from the field as a team. On Wednesday, the Hoosiers shot 58 percent in what was a rare offensive outburst.
Jackson-Davis led the way with 20 points. Indiana's starting backcourt of Franklin, Phinisee and Durham all scored in double-figures, too.
Indiana was also extremely efficient from the 3-point line, shooting an impressive 7-of-12 from beyond the arc. Franklin was 3-of-3, while Durham and Hunter were both 2-of-2.
Free throws, which have been a problem all year, steadied Indiana down the stretch. The Hoosiers made 14-of-18 free throws in the second half after struggling in the first half.
Overall, the floor spacing and offensive motion were as good as they've been all season. There were few possessions where it took Indiana a long period of time to get into its offensive flow. Besides the turnovers, this may have been one of Indiana's best offensive showings this season.
Filed to: Jerome Hunter, Robert Phinisee