6-Banner Sunday: Indiana falls to 3-4 in Big Ten play with loss to Purdue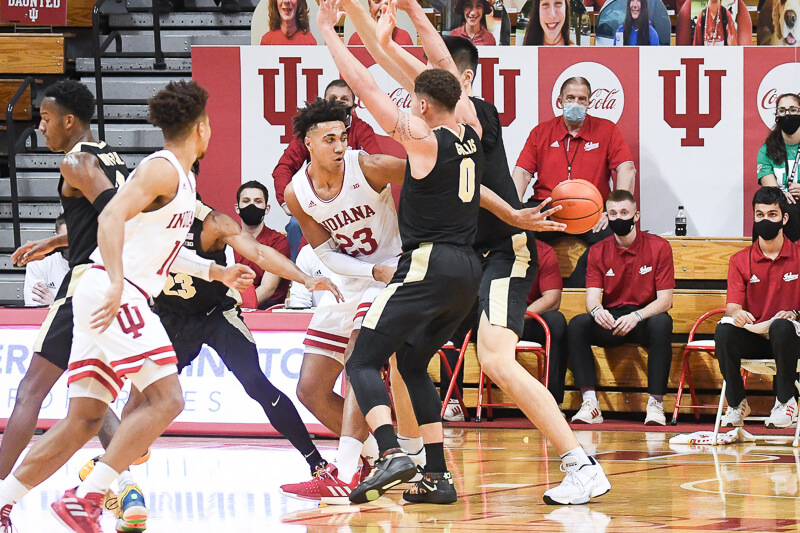 6-Banner Sunday is Inside the Hall's weekly newsletter in partnership with The Assembly Call. More than 7,500 Indiana fans receive the newsletter each week. In addition to appearing each week on the site, you can also opt to receive 6-Banner Sunday by email. A form to subscribe via email is available at the bottom of this week's 6-Banner Sunday.
Welcome to another edition of 6-Banner Sunday, a joint production between The Assembly Call and Inside the Hall where we highlight the five most essential IU basketball stories of the past week, plus take a look at how the other IU sports programs are doing.
Indiana split its two games last week, beating Nebraska on the road before dropping a contest to Purdue at home. The Hoosiers are 8-6 overall and 3-4 in the Big Ten.
Archie Miller has continued to struggle against Purdue in his tenure at Indiana. After the loss on Thursday, his Indiana teams are 0-6 overall and 0-4 in Bloomington against the Boilermakers.
"I give Purdue a lot of credit," Miller said after the game. "I thought they played with a lot of edges and great confidence."
Indiana was originally scheduled to play at Michigan State on Sunday, but COVID-19 concerns within the Spartans' program caused the game to be postponed.
The Hoosiers will now have a week to regroup before going on the road to take on Iowa Thursday at 9pm on FS1. One of the lone bright spots from the game against Purdue was that sophomore guard Armaan Franklin who made his return to the court after suffering an ankle injury two weeks ago.
On Saturday, Jon Rothstein reported that the Big Ten is considering moving its conference tournament from Chicago to Indianapolis this spring.
You can listen to the newest edition of Podcast on the Brink here and this week's Assembly Call postgame show here.
• Indiana falls to Purdue in Bloomington
• Hoosiers sneak past Cornhuskers
• Indiana heads to Iowa to take on top-10 ranked Hawkeyes
• Former IU basketball player Wayne Radford dies at age 64
• Trayce Jackson-Davis takes conference Player of the Week honors
• Hoosier Roundup
Banner #1
Indiana falls to Purdue in Bloomington
Indiana's woes against in-state rival Purdue continued as the Hoosiers fell for the eighth consecutive time to the Boilermakers by a score of 81-69 on Thursday.
The game was essentially decided from beyond the 3-point arc. Purdue shot a red-hot 11-of-17 (65 percent) from three, despite entering the game at just 30 percent. Contrast that with Indiana, who converted on just 3-of-18 attempts from long range.
Free throws were also a factor in the loss. The Hoosiers only made 16-of-29 (55 percent) from the stripe, while Purdue knocked in an underwhelming, but still more efficient 20-of-31 (65 percent).
"When you don't shoot the ball well, your defense is really going to have to have to be good and tonight it wasn't," Miller said. "That's what happens in this league if you don't have that side of the ball in check."
Trayce Jackson-Davis and Armaan Franklin carried IU again, combining for 39 points, but it wasn't enough for IU to keep close amid Purdue's dominant offensive performance.
Banner #2
Hoosiers sneak past Cornhuskers
After losing in double-overtime to Wisconsin, Indiana responded by topping Nebraska 84-76 to close out its two-game road trip.
With the absence of Armaan Franklin, junior guard Rob Phinisee stepped up, scoring 16 points in the first half and shooting 3-of-4 from beyond the arc. Phinisee finished with 18 points and Al Durham also contributed 17 points.
"Armaan, he's a big piece in our offense so we obviously knew, just being the upperclassmen that we had to step up," Phinisee said.
Indiana was able to shut the door down the stretch thanks to their ability to take care of the ball along with an impressive offensive rebounding effort. The Hoosiers only committed eight turnovers while grabbing 12 offensive boards.
Banner #3
Indiana heads to Iowa to take on top-10 ranked Hawkeyes
The next part of the Big Ten gauntlet could be Indiana's most difficult yet. In the next five games, Indiana plays Iowa (twice), Rutgers, Michigan and Illinois. All of them except Rutgers are in the top-25, although the Scarlet Knights were in the rankings earlier in the season before a recent slide.
That stretch is scheduled to begin on the road against Iowa on Thursday night at 9 p.m. Entering Sunday, the Hawkeyes have an 11-2 overall record and 5-1 mark in the Big Ten. Their only losses came to No. 1 Gonzaga and Minnesota in overtime.
Led by All-American Luka Garza, Iowa has one of the most potent offenses in the country. They also have a variety of shooters like Jordan Bohannon, Joe Wieskamp and CJ Fredrick to space out the floor around Garza.
Indiana will have to play a near-perfect game in order to come out with a win.
Banner #4
Former IU basketball player Wayne Radford dies at age 64
Former IU basketball player Wayne Radford, who was a member of the Hoosiers' 1976 national championship team, passed away at age 64, it was announced Monday.
"Wayne did all of that because he loved IU and IU Athletics, and he was committed to making a difference on behalf of our student-athletes," IU athletic director Scott Dolson said in a statement. "Our thoughts and prayers go out to Kathy and the entire Radford family."
Before his time at IU, Radford scored 1,307 points in his career at Arlington High School in Indianapolis. In 1974, he was named as an Indiana All-Star.
In his four-year career at IU, Radford averaged 8.7 points, 2.7 rebounds and 1.5 assists per game.
"Every time I saw him he had the biggest smile on his face," Archie Miller said on his radio show last week. "He loved to talk basketball, constantly upbeat and positive about the kids."
Banner #5
Trayce Jackson-Davis take conference Player of the Week honors
For the second time this season, Trayce Jackson-Davis was named the Big Ten Player of the Week. He shared the award with Iowa's Jordan Bohannon.
Jackson-Davis collected three double-doubles and averaged 20 points and 12.7 rebounds per game while shooting 52 percent from the field during the week.
Against Maryland, Jackson-Davis had a stat line of 22 points and 15 rebounds. He followed it up with 23 points and 12 boards in the loss to Wisconsin. In the final game of the week, Jackson-Davis had 15 points and 11 rebounds in the win over Nebraska.
Jackson-Davis has consistently been in the top-5 of KenPom's Player of the Year rankings. The matchup with Luka Garza in Iowa City may be Jackson-Davis' biggest test of the year.
Banner #6
Hoosier Roundup
While football season ended with some big honors, three more IU sports (Wrestling, Swimming and Diving and Track and Field) opened their season and a fourth (Volleyball) does so later this week. They join Men's and Women's Basketball which have been underway for a couple months.
• IU Football coach Tom Allen received a huge honor being named National Coach of the Year, while the team finished the season ranked No. 12. They also added an offensive lineman and defensive lineman, but lost RB Stevie Scott, OL Harry Crider, DB Jamar Johnson, DL Jovan Swann and DT Jerome Johnson to the NFL Draft.
• Women's basketball knocked off Wisconsin and dominated arch-rival Purdue to improve to 6-1 in conference. They are scheduled to return to action Thursday against Michigan State, after Monday's game against Rutgers was postponed as a result of COVID in the Scarlett Knights program.
• Former Hoosier baseball player Kyle Schwarber is moving from Chicago to Washington DC after agreeing to a deal with the Nationals.
• Volleyball hosted a virtual media day in preparation for their season opener this week.
• IU had several swimmers named to the 2021 National Junior Team. They also opened their season against Michigan and Northwestern
• Wrestling lost its season opener to Illinois.
• Track and Field opened its season in Michigan.
Thanks for your continued support for The Assembly Call. We'll be back next weekend with a new roundup.
Now go enjoy yourself a 6-banner Sunday.
Tyler Tachman – Student Intern The Assembly Call
Filed to: