Five takeaways from Indiana's loss to Purdue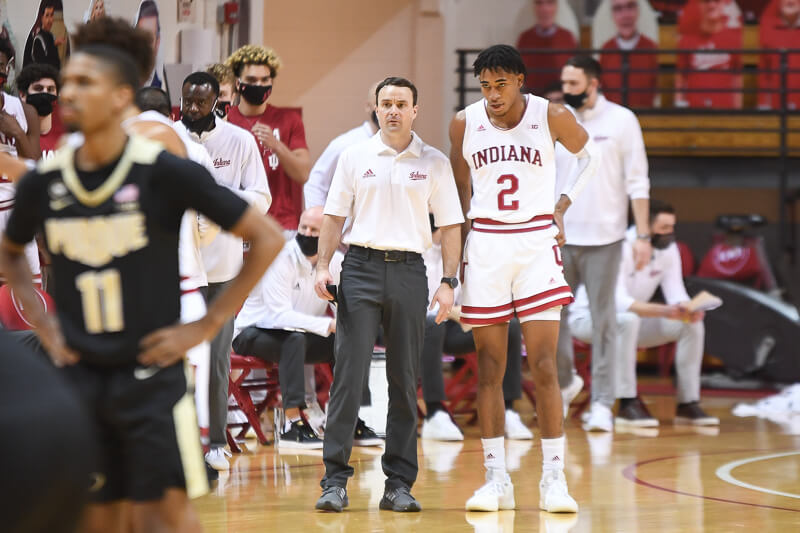 Indiana dropped its eighth straight game to Purdue on Thursday night as the Boilermakers continue to dominate the in-state rivalry. The 81-69 loss dropped the Hoosiers to 8-6 overall and 3-4 in Big Ten play.
Indiana will now have a week off before its next game as Sunday's game in East Lansing was postponed due to COVID-19 issues with the MSU program.
Here are five takeaways from the loss to the Boilermakers:
• Indiana's shooting problems persist: This is not news to anyone who has been following Indiana basketball since Archie Miller took over the program in the spring of 2017, but the Hoosiers have a shooting problem that has yet to be sufficiently addressed.
The problem has been a glaring issue when the Hoosiers matchup with Purdue, which has built its offense around big men that draw attention in the post and shooters who are actual threats to make opponents pay from deep.
Thursday's loss to the Boilermakers was the most recent example of Miller's failure to equip the program with enough players that can make shots around a star frontcourt player in Trayce Jackson-Davis. Indiana was 3-of-18 on 3s and Purdue was 11-of-17. At its root, basketball is simple: you have to make shots consistently to win consistently. Indiana doesn't do that and thus, its results have varied wildly under Miller.
A quick glance at the shot chart from Thursday's loss (via ESPN) easily illustrates why Miller is now 0-6 against Purdue: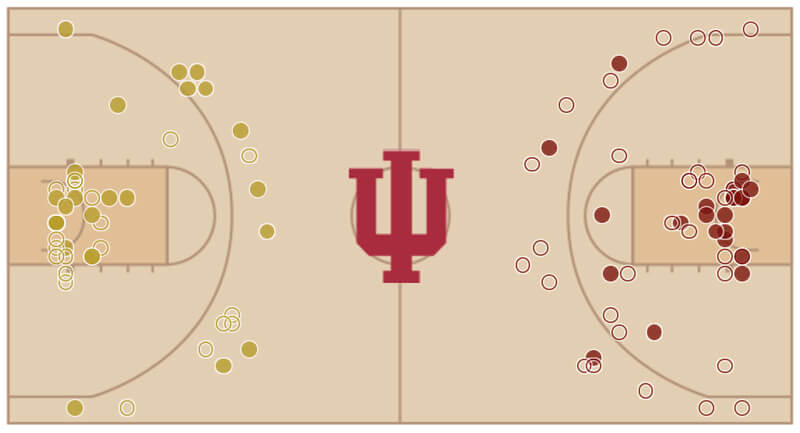 In its six games against Purdue under Miller, Indiana is now 27-of-124 on 3s (21.7 percent). In his postgame press conference, Miller stated that "offense is hard" and "sometimes you're not going to shoot the ball well." Unfortunately for the Hoosiers, sometimes has been every game against their rival under Miller.
• Defense continues to flounder in Big Ten play: Indiana built its 5-2 non-conference resume on the strength of its defense. The Hoosiers didn't give up more than a point per possession in any of their non-conference games.
In seven Big Ten games, six of IU's opponents have scored more than a point per possession. Only two of IU's seven Big Ten opponents have scored fewer points per possession than their average thus far in league play (Illinois and Maryland).
Big Ten opponents are shooting 40.4 percent on 3s against the Hoosiers as the game plan has been to space Indiana out in the halfcourt, attack off the dribble and then find ways to kick it out for open shots.
"We are going to have to figure some things out defensively," Miller said. "Because if we do not have that then we will be in big trouble going forward."
The schedule doesn't get any easier from here. Indiana will have to contend with the nation's second-best offense on Thursday in Iowa City. Four of its next five games are against teams in the top 10 of the KenPom ratings.
• Franklin returns, plays 33 minutes off the bench: There was doubt as to whether Armaan Franklin would even suit up against Purdue as Miller called the sophomore guard a "game-time decision" earlier in the week.
Not only did Franklin play, he was Indiana's most productive guard in the contest. The Cathedral product didn't shoot it well (6-of-15 from the field), but he was the second-leading scorer with 14 points. Franklin also had seven rebounds and three steals.
If there was a positive to come out of Thursday's loss, the return of Franklin is the headline as Indiana enters the toughest part of the Big Ten slate.
"I am sure he will be sore tomorrow as he played a lot of minutes tonight," Miller said. "I thought he was very aggressive but it was his first game back and he did not shoot as well. He had seven defensive rebounds and three steals so I thought he made some good things happen. It is good to have him back."
• Upperclassmen guards turn in unproductive nights: Al Durham Jr. and Rob Phinisee entered last night's game with some confidence after finding success over their last four games.
Durham Jr. came in averaging 15.8 points over his last four games and Phinisee was averaging 11 points over that same span. Neither player came close to those numbers offensively on Thursday as both were thoroughly outplayed by Purdue's guards on both ends of the floor.
Durham Jr. was 1-of-5 from the field and Phinisee, who clearly wasn't 100 percent due to a sprained knee, was just 2-of-5 from the field in 23 minutes. The duo combined for just eight points.
Purdue's upperclassmen guards, Eric Hunter Jr. and Sasha Stefanovic, combined to shoot 6-of-11 from the field and scored 19 points.
• Free throw shooting also remains an issue: Getting to the free throw line wasn't a problem for Indiana on Thursday night.
Converting on those opportunities, however, was a major problem.
Indiana posted a free throw rate (FTA/FGA) of 50.9 percent, its highest mark yet in league play. But the Hoosiers only made 16-of-29 from the stripe for 55.1 percent.
IU is now shooting 67.5 percent from the line in Big Ten play, which is 11th best in the conference. If the trend holds, it would be Miller's fourth straight team to shoot under 68 percent from the line in Big Ten play. Each of his previous three teams finished 11th or worse in free throw shooting percentage in league play.
Filed to: Aljami Durham, Archie Miller, Purdue Boilermakers, Robert Phinisee, Trayce Jackson-Davis