Big Ten Power Rankings: January 11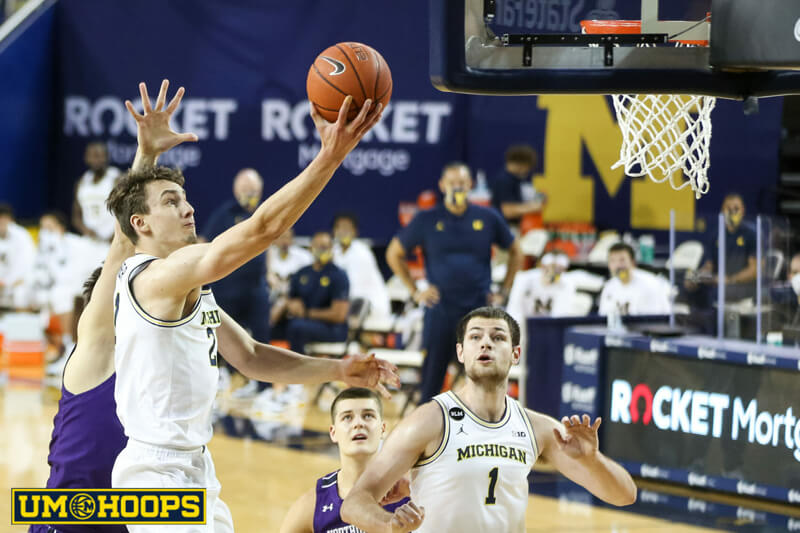 The race for the Big Ten title is starting to get more clarity as four teams are ahead of the pack in terms of efficiency margin and record as league play is now in full swing.
With less than two months remaining in the regular season, here's a look at how the league currently stands in our power rankings, which are available each Monday:
14. Nebraska (0-5, .925 PPP, 1.138 PPP allowed)
It's not that Nebraska hasn't been competitive at times over five league games, but the Huskers are having major trouble closing games. On Sunday in an 84-76 loss to Indiana at Pinnacle Bank Arena, Nebraska battled all the way back from an 18-point deficit to take a lead late in the second half. Missed free throws and blown defensive assignments down the stretch, however, made the comeback for naught as the Huskers dropped their fifth straight game. Tennessee transfer Derrick Walker, who played in his first game on Sunday, should help bolster a thin frontcourt rotation.
13. Penn State (0-3, 1.048, 1.156 PPP allowed)
The Nittany Lions haven't played since their Dec. 30 loss to Indiana in Bloomington and are currently shut down due to COVID-19. The program will be shut down through at least Tuesday, Jan. 12 and Penn State will attempt to reschedule games against Ohio State, Michigan and Rutgers later in the season.
12. Maryland (2-5, .99 PPP, 1.096 PPP allowed)
An up-and-down season continues for Mark Turgeon and the Terps, who were blasted 89-67 at home against Iowa on Thursday before winning 69-66 at Illinois to close out the week. Maryland now has two of the best wins in league play at Wisconsin and Illinois, but the five losses can't be ignored. The return of Darryl Morsell gave the Terps a full assortment of players for the Iowa game, but point guard Eric Ayala missed the game at Illinois with a groin injury. At 7-6 overall with two marquee wins, Maryland is in the race for an NCAA tournament bid, but it needs to start winning home games in league play. So far, the Terps are 0-3 at the Xfinity Center in conference games.
11. Northwestern (3-3, 1.017 PPP, 1.107 PPP allowed)
The Wildcats started 3-0 in Big Ten play, but have now dropped three straight games to three of the Big Ten's top four teams. The problem isn't that the Wildcats weren't able to win those games, but more the matter in which they lost. Their most recent game, an 81-56 loss to Illinois at Welsh Ryan Arena, saw Northwestern get outscored 53-13 in the second half. With three of its next four games on the road, we'll soon find out if Northwestern is capable of mounting an answer following the embarrassing finish against the Illini.
10. Rutgers (3-4, 1.047 PPP, 1.101 PPP allowed)
Freshman Cliff Omoruyi has missed five straight games and Rutgers has dropped four of those contests. The Scarlet Knights are still in solid shape in terms of the NCAA tournament at 7-4 overall, but are trending in the wrong direction. Defense has been a major issue for Rutgers in Big Ten play as the Scarlet Knights are allowing 1.101 points per possession, which is fourth-worst in the league. Another significant issue for Rutgers in Big Ten play has been free throw shooting. The Scarlet Knights are a league-worst 56.8 percent from the stripe in seven Big Ten games.
9. Michigan State (2-4, .977 PPP, 1.023 PPP allowed)
Just when it looked like Michigan State might be turning a corner when it hammered Rutgers 68-45 on Jan. 5 at the Breslin Center, the Spartans showed how far they have to go on Friday night in a loss to Purdue. Michigan State led Purdue by as many as 17 points before collapsing down the stretch in a stunning 55-54 loss. The Spartans led 54-50 and had possession with 11.9 seconds to play and still found a way to lose. Things don't get any easier this week as Michigan State travels to Iowa on Thursday before hosting Indiana, which it hasn't beaten since February of 2018, on Sunday.
8. Minnesota (3-4, 1.020 PPP, 1.079 PPP allowed)
It was a tough week for the Golden Gophers, who were crushed by 25 at Michigan on Wednesday and then lost by 15 at Iowa to close out the week. Minnesota is shooting just 29.9 percent on 3s in Big Ten play, which is second-worst in the conference and only 43.5 percent on 2s, which is the worst in the league. Point guard Marcus Carr really struggled in the two losses last week as he shot just 5-of-16 at Michigan and 5-of-19 at Iowa.
7. Purdue (3-3, .981 PPP, 1.024 PPP allowed)
The Boilermakers avoided a three-game losing streak with a miracle win on Friday night at Michigan State. Trevion Williams doesn't get talked about much nationally, but he's in the midst of a terrific junior season. In Big Ten play, Williams has the highest usage rate of any player and is making 58.1 percent of his 2s. He's fourth in the Big Ten in offensive rebounding percentage, third in defensive rebounding percentage and third in assist rate.
6. Indiana (3-3, 1.035 PPP, 1.046 PPP allowed)
After failing to capitalize on multiple opportunities to knock off Wisconsin at the Kohl Center on Thursday, Indiana closed the week out with a solid 84-76 win at Nebraska. The Hoosiers were without their second-leading scorer, Armaan Franklin, in both games last week. Trayce Jackson-Davis continues to shine as a sophomore and remains at No. 2 in KenPom's national player of the year standings.
5. Ohio State (3-3, 1.077 PPP, .994 PPP allowed)
From an efficiency margin standpoint, Ohio State is the fifth-best team in the Big Ten by a healthy margin. The Buckeyes already own a season sweep of Rutgers and their other league win was a 36-point beatdown of Nebraska in Columbus. Ohio State will be without CJ Walker for the foreseeable future due to torn ligaments in his hand.
4. Wisconsin (4-1, 1.089 PPP, .982 PPP allowed)
The Badgers avoided a second home conference loss when they outlasted Indiana 80-73 in double overtime on Thursday at the Kohl Center. Tyler Wahl gave the Badgers a huge boost off the bench in the win and hit two key 3-pointers in the second overtime that were decisive. This group may not have the NCAA tournament upside of the three teams ahead of it in this week's power rankings, but with a roster dominated by seniors, look for Wisconsin to remain in the title hunt all season. The Badgers have a key road game at Michigan on Tuesday before traveling to Rutgers on Friday.
3. Illinois (5-2, 1.125 PPP, .963 PPP allowed)
Illinois had a bizarre week as it outscored Northwestern by 40 in the second half on Thursday before falling by three at Maryland at the State Farm Center to close out the week. The loss to the Terps snapped a four-game winning streak and put Illinois two games behind Michigan in the loss column. Ayo Dosunmu really struggled in the Maryland loss as he shot 9-of-23 from the field and committed three turnovers.
2. Iowa (5-1, 1.18 PPP, 1.035 PPP allowed)
Unsurprisingly, Iowa has the Big Ten's best offense again this season, but the Hawkeyes are defending at a much more respectable level than in the past through six league games. Big Ten opponents are scoring 1.035 points per possession against Iowa, which ranks seventh-best in the conference. If Iowa can continue to defend at or near that level, the Hawkeyes are going to score enough to win plenty of games. Luka Garza remains the favorite for national player of the year with averages of 27.6 points and 8.6 rebounds per game.
1. Michigan (5-0, 1.135 PPP, .933 PPP allowed)
The Wolverines have played a favorable league schedule thus far with games against Penn State, Nebraska, Maryland, Northwestern and Minnesota, but are taking care of business with little trouble. Michigan leads the conference in efficiency margin and remains the only unbeaten team in conference play. Freshman Hunter Dickinson is not only the best newcomer in the league, but he's also in the conversation for All-Big Ten first team honors through five games. Dickinson is averaging 21.2 points and 8.6 rebounds in Big Ten play.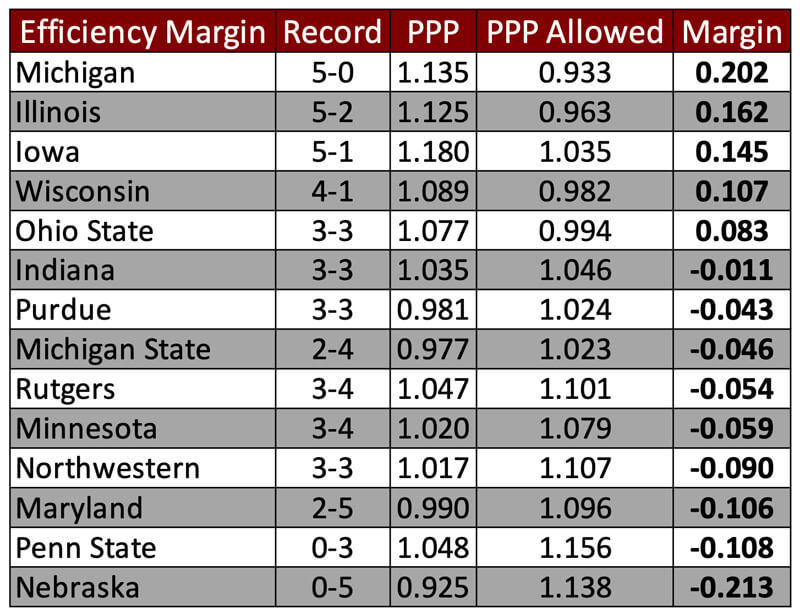 (Photo credit: Dustin Johnson/UMHoops)
Filed to: Big Ten Power Rankings