Five takeaways from Indiana's win over Nebraska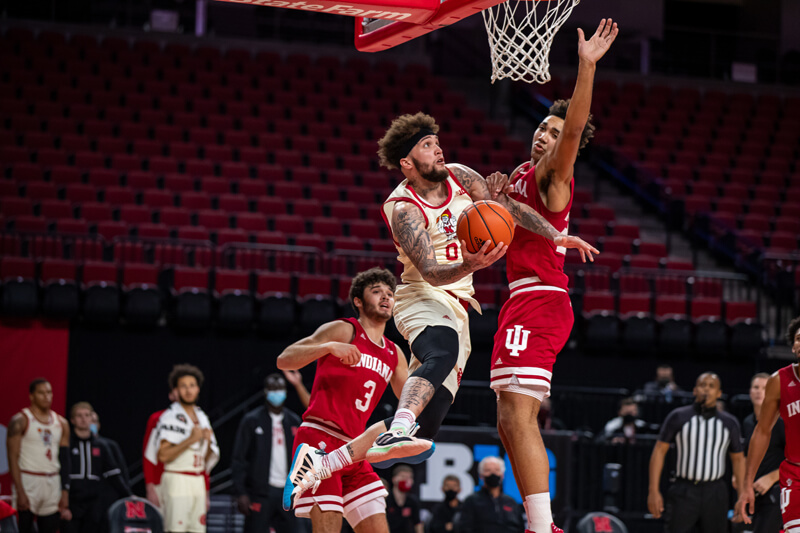 The sight in Lincoln, Nebraska on Sunday night wasn't pretty or poetic, but in the Big Ten this year, that doesn't matter. What's important is that Indiana did what it needed to beat a struggling Nebraska team 84-76 and cap off a two-game road trip with a win.
Out of the gate, it looked like Indiana was going to blow Nebraska out of the water. The Hoosiers grew an 18-point lead behind the exceptional play of junior Rob Phinisee. It wasn't long, though, before that lead evaporated to single-digits. At halftime, the Hoosiers pushed their advantage back to 12.
In the second half, Indiana displayed poor shooting while Nebraska got downhill and attacked the rim. With the score tight late in the game, the Hoosiers found themselves in a situation they know all too well. Against Florida State, Illinois and Wisconsin, they've failed to close out games. But on Sunday, the Hoosiers made the necessary plays down the stretch.
"Tonight, we got a couple of key stops, we were able to execute and we made a couple of free throws," IU head coach Archie Miller said postgame.
It allowed Indiana to even its Big Ten record to 3-3 heading into Purdue on Thursday. Had IU lost, it would've been a major hit to its tournament resume. But the Hoosiers escaped and head back to Bloomington with the victory.
Here of five takeaways from the win:
• Durham and Phinisee lead the way: Two weeks ago, Indiana's upper-class backcourt tandem of Al Durham and Rob Phinisee came under harsh criticism after their underwhelming play to begin Big Ten play. Archie Miller elected to take Phinisee out of the starting lineup in favor of freshman Trey Galloway. At post-game press conferences, Miller demanded more out of his experienced guards
Over the past couple of games, Durham and Phinisee have responded. That was the case again against Nebraska where the duo combined for 35 points and patched up the vacancy of sophomore guard Armaan Franklin, who's still sidelined with an ankle injury.
Phinisee was red hot from the start, scoring 16 points in the first half. He made 6-of-10 shots from the field and 3-of-4 from beyond the arc. There was a moment in the first half where Phinisee alone had matched Nebraska's total of 14 points.
"I just tried to be aggressive and take what the defense gave me," Phinisee said. "I fed off of my teammates. They gave me a lot of confidence."
Durham put up ten points of his own in the first frame, shooting 4-of-10 from the floor and 2-of-4 from distance.
Phinisee went down at the end of the first half with a leg injury but returned to start the second half. He wasn't as effective in the second 20 minutes, only putting in two points. But Durham contributed seven more, including some big baskets late while playing the entirety of the second half.
"Armaan, he's a big piece in our offense so we obviously knew, just being the upperclassmen that we had to step up," Phinisee said.
• Jerome Hunter provides a spark off of the bench: One of Miller's biggest concerns for his team has been a lack of production off of the bench. But ever since Armaan Franklin went down last week against Maryland, Jerome Hunter has stepped up to fill the scoring load.
Hunter had 12 points and seven rebounds in his best performance of the season against Wisconsin on Thursday. He provided another lift on Sunday, tallying nine points and six rebounds in 20 minutes off of the bench.
"Archie's giving me a lot of confidence right now," Hunter said on Saturday. "Especially leaving me out there longer. In more minutes, I think I can do more things. Him having confidence in me is giving me confidence. I do feel like I'm getting back to my regular self."
Indiana's bench added a total of 15 points Sunday and could become a weapon for the Hoosiers as Franklin returns. Freshman Anthony Leal only scored three points but is looking more and more comfortable as the year wears on.
• Indiana became too reliant on its inconsistent 3-point shooting: It didn't take long before Nebraska's defensive game plan became obvious: they wanted to take Trayce Jackson-Davis out of the game as much as possible. They double-teamed him in the post and baited IU's shooters to let it fly. At the end of the first half, Jackson-Davis and Race Thompson had combined for just two attempts from the field.
In the first half, that strategy didn't work out for Nebraska. The Hoosiers opened the night by knocking down 3-pointers from all over the court and finished the first half shooting 7-of-13 from deep.
"They decided not to guard some guys," Miller said. "They decided to leave them wide open."
In the second half, though, Indiana's shots wouldn't go down. The Hoosier offense came close to being one-dimensional as they kept throwing up 3-pointers and failing to get the ball to their centerpiece of Jackson-Davis.
Eventually, Jackson-Davis fought through the teeth of the defense, drawing fouls and finishing with another double-double. But the Hoosiers shot a horrid 18 percent from three in the second half and it was a major factor in letting Nebraska back in the game. IU's ability to operate successfully on offense if Jackson-Davis is smothered remains a concern moving forward.
"Purdue is going to do the same thing," Miller said. "They're going to trap Trayce in the post every single time he catches the ball. It's not going to be anything new."
• Offensive rebounding effort provides second chances: With Miller playing a more guard-oriented lineup, IU hasn't been the dominant force on the boards this season as it has been in recent years.
Against Nebraska, though, Indiana was able to make its work on the boards a strength. The Hoosiers outrebounded the Huskers by 11 while grabbing 12 offensive rebounds. Those second-chance opportunities led to 16 points.
One notable occasion was when Trey Galloway slammed in a miss at the first-half buzzer to extend IU's lead to 12. Another instance was with a minute and a half remaining in the game when Hunter scooped up his own missed shot and finished at the rim to give Indiana a cushion of four points.
"We talked a lot about it in the last three days," Miller said. "There's going to be a lot of opportunities with post traps and drives that you're going to have the opportunity to crash the lane."
• Indiana limits turnovers: Being that Indiana has a guard-driven rotation, Miller has hammered in the sentiment that the Hoosiers have to be the lowest turnover team that he's ever had in Bloomington.
Early in the year, there were many occasions where Indiana was whistled for moving screens or was caught throwing errant passes. Miller, along with every IU fan, has been adamant about eliminating those mistakes.
In the first couple minutes of Sunday's game, it appeared that IU would be headed down the turnover-ridden path again. By the first media timeout, they hadnalready committed two turnovers.
In the rest of the game, though, Indiana did a phenomenal job of taking care of the ball. The Hoosiers finished the contest with just eight turnovers, tying for their second-lowest total of the season.
Along with valuing the rock, Indiana also dished out 14 assists. Phinisee led the way with four and Galloway followed behind him with three.
(Photo credit: Nebraska Athletics)
Filed to: Nebraska Cornhuskers