6-Banner Sunday: Hoosiers drop nail biter to FSU in Big Ten-ACC Challenge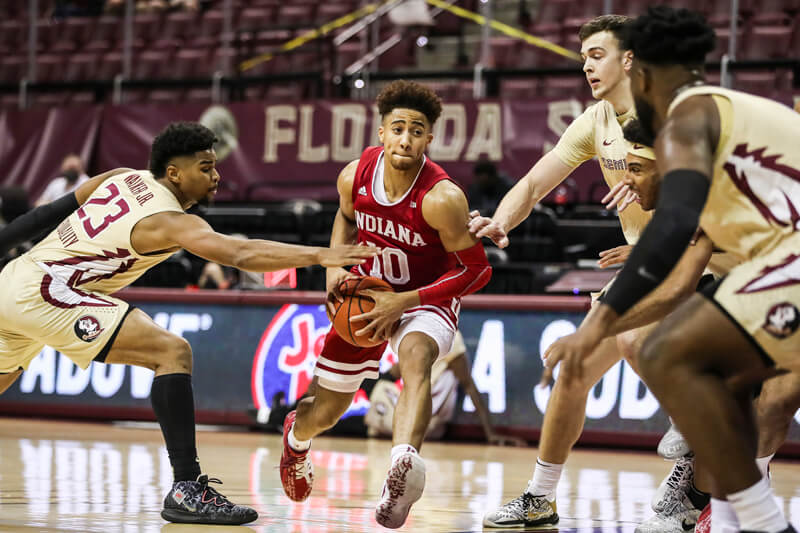 6-Banner Sunday is Inside the Hall's weekly newsletter in partnership with The Assembly Call. More than 7,500 Indiana fans receive the newsletter each week. In addition to appearing each week on the site, you can also opt to receive 6-Banner Sunday by email. A form to subscribe via email is available at the bottom of this week's 6-Banner Sunday.
Welcome to another edition of 6-Banner Sunday, a joint production between The Assembly Call and Inside the Hall where we highlight the five most essential IU basketball stories of the past week, plus take a look at how the other IU sports programs are doing.
In an overtime nail biter, Indiana fell to Florida State 69-67 in the Big Ten/ACC Challenge on Wednesday in Tallahassee, Florida. The contest was played in front of a small number of fans (2,956), which will most likely be the only time that'll happen for a Hoosier game this season.
The Hoosiers had a week to rest before taking on the Seminoles, after playing three games in three days at the Maui Invitational the week before. The extra time off allowed senior guard Al Durham to recover from a sprained ankle he suffered in the loss against Texas. However, senior forward Joey Brunk is still sidelined due to back soreness and isn't expected to return anytime soon.
The Big Ten took a 6-5 victory over the ACC to win the Challenge for the second consecutive year. There were however, three games that were canceled due to COVID-19. Duke head coach Mike Krzyzewski recently voiced his concern for the safety of players (which was brought more to light Saturday, after Florida star Keyontae Jonhson collapsed on the court during a game) and canceled the Blue Devils' remaining non-conference game.
Indiana, however, is expected to continue its schedule against North Alabama today at 12 pm today if no last minute COVID issues arise.
• Indiana falls to Florida State in overtime
• Recurring woes overshadow Indiana's energy in loss
• Indiana hosts North Alabama Sunday afternoon
• Trayce Jackson-Davis earns Player of the Week honors
• This week's podcasts
• IU sports roundup
Banner #1
Indiana falls to Florida State in overtime
With the game tied at 67 and eight seconds remaining in overtime, Florida State five-star freshman Scottie Barnes raced down the court and tossed up a floater, kissing it off the backboard and through the net to give his team a two-point lead. With only 1.8 seconds left on the clock, all Al Durham could do was throw up a half court heave that fell short.
Indiana came close to knocking off No. 20 Florida State on Wednesday in what would have been an important resume-building win, but, in the end, couldn't prevail. The Hoosiers were led by another phenomenal performance by sophomore forward Trayce Jackson-Davis, who put up 25 points and a career-high 17 rebounds. Durham, Race Thompson, Rob Phinisee and Armaan Franklin all added nine points apiece.
Florida State held the lead for a majority of the game but was never able to pull away. Near the end of the second half, Indiana claimed the lead in what was a back-and-forth final few minutes. Indiana's defense again carried its success as Florida State only shot 36 percent from the field. Barnes, who hit the game-winner, was held to just 3-for-10 shooting. Indiana wasn't, however, able to make plays in crunch time.
"Our inability to get some scrappy ones, our inability to get some big ones, just especially late, is disappointing," head coach Archie Miller said. "It's something that we can control."
Banner #2
Recurring woes overshadow Indiana's energy in loss
Following the loss, there were no concerns about Indiana's lack of intensity or energy. As the final buzzer sounded, Jackson-Davis dropped to his knees and slapped his hands on the Tucker Center hardwood. When the team got to the locker room, Jackson-Davis got after some of his teammates.
"I'm not going to lie, when I got in the locker room I was angry," Jackson-Davis said. "I was really mad because I don't think of us as any other IU team we've had in the past ten years. I'm trying to be different this year, to be different we have to win these games."
In order to win those games, Indiana has to not only show fight but also show drastic improvements on offense. On Wednesday, the Hoosiers shot 36 percent from the field and 27 percent from beyond the arc. Phinisee and Durham combined to shoot 5-for-20 from the field and 2-for-9 from three. There were also possessions where Indiana was clearly bothered by Florida State's length and wouldn't make the first pass until 15 seconds had already ticked off of the shot clock.
Another concern for Miller was the rebounding. The Hoosiers and Seminoles finished even on the boards with 44 each, but Florida State was able to corral some key rebounds late in the game. Last season, rebounding was one of IU's strengths.
"We got to be better earlier in the game setting the tone," Miller said. "I think that setting the tone earlier in the game, they were better, they were faster, they were quicker."
Banner #3
Indiana hosts North Alabama Sunday afternoon
The Hoosiers will look to bounce back from the loss as they take on North Alabama at 12pm today in Assembly Hall, assuming there are no last second Corona Virus issues. The game will be aired on the Big Ten Network.
Last season, Indiana defeated North Alabama 91-65 behind Jackson-Davis' 20-point outing. Phinisee, Durham, Damezi Anderson and Jerome Hunter all scored in double-figures in the victory, too.
This season, North Alabama was picked to finish sixth in the Atlantic Sun conference by three-man weave. The Lions are 2-1 and coming off a five-point loss to Troy on Thursday. Led by Mervin James, who's putting up 18 points per game, North Alabama has six players averaging in double-figures. As a team, they average nearly 90 points per game. However, both wins for the Lions have come against teams outside of Division 1 competition.
After the game today, Indiana is supposed to play Butler in the Crossroads Classic in Indianapolis next Saturday, in what is scheduled to be their final non-conference contest. However, the game against the Bulldogs is somewhat in doubt as they are currently paused for a COVID outbreak.
The Hoosiers next presumed opponent after Butler is on Dec. 23, when they open the Big Ten slate at home against Northwestern.
Banner #4
Trayce Jackson-Davis earns Player of the Week honors
Following the Maui Invitational, Jackson-Davis was named the Big Ten Player of the Week. It was the first time in his career that he picked up the honor after being selected as the Conference Freshman of the Week five times last season.
Over the three-game stretch in the Maui Invitational, Jackson-Davis averaged 20 points and 5.7 rebounds per game, while taking a spot on the All-Tournament Team. His best performance came against Stanford where he scored a career-high 31 points and converted on 10-for-16 of his attempts from the field and 11-for-14 from the free-throw line.
The week prior, Jackson-Davis was included on the 50-man Wooden Award watchlist. So far this season, he is averaging 22.2 points, nine rebounds and 1.4 blocks per game.
"He was a warrior for us," Miller said after the game against Florida State. "Clearly he's showing right now that he's one of the best players in college basketball and he's just got to keep growing. He's got to keep growing and keep being a positive leader, which he is."
Banner #5
This week's podcasts
Inside the Hall's Alex Bozich was joined by Zach Osterman of the Indianapolis Star on this week's edition of Podcast on the Brink. Bozich and Osterman discussed Indiana's struggles shooting the ball and why its two-point shooting may be more of a concern than missed 3-pointers.
Indiana's lack of production from the bench was also identified as a potential problem moving forward. The Hoosiers only had six bench points in the loss to Florida State, all coming from Jerome Hunter.
Assembly Call hosted its weekly show to break down the game against Florida State. Special guest Tony Adragna from IU Film Room spoke with some optimism about IU's offense despite the troubling numbers, citing good spacing.
"I think one play that sticks out in a lot of people's minds is Race Thompson setting that ball screen, rolling to the basket, getting that beautiful bounce pass from Armaan Franklin and jams it home," Adragna said. "I also point out in my film room that there are times where IU just stands."
Banner #6
Hoosier Sports Roundup
• Like many other teams, IU Football is now on pause for COVID-19 related issues, causing the cancellation of the Old Oaken Bucket game against Purdue this week. With the Hoosiers ranked 12th and on the fringe of earning their first New Year's Six Game since the 1967 Rose Bowl, they are now scoreboard watching to see how other teams around them do, which will determine what Bowl they get sent to. Indiana got some help with losses by No. 6 Florida and No.10 Miami. However, victories by No. 13 Coastal Carolina, No. 14 Northwestern and No. 16 Iowa did not help the Hoosiers cause.
• Besides the COVID-19 issues, the Hoosiers got bad news this week when Ohio State was picked to represent the Big Ten East in the Conference Championship instead of IU. Here's a column on the decision for the Assembly Call website earlier this week.
• In other Football news, defensive coordinator Kane Wommack was named head coach at South Alabama, but will coach the Hoosiers till their season ends. Wommack's ability to turn IU's defense into a top unit has not gone unrecognized as he was named a nominee for top assistant in the country. Awards were also plentiful this week for other Hoosiers, as linebacker Micah McFadden was named National Defensive Player of the Week after the victory over Wisconsin. McFadden and punter Haydon Whitehead earned honors from the Big Ten as well. Whitehead, was also named a semifinalist for the award for best punter in the nation while Ty Fryfogle was a semifinalist for the award for best WR in the nation.
• Women's Basketball fell to Kentucky. They also had their game against Butler cancelled yesterday, as the Bulldogs' women's team is having similar COVID-19 issues to the men's team.
• Men's Soccer announced their captains for the presumed upcoming spring season.  
• IU athletics as a whole had 114 players honored for academic excellence.
Thanks for your continued support for The Assembly Call. We'll be back next weekend with a new roundup.
Now go enjoy yourself a 6-banner Sunday.
Tyler Tachman – Student Intern The Assembly Call
(Photo credit: IU Athletics)
Filed to: