Recurring woes overshadow Indiana's energy in loss to Florida State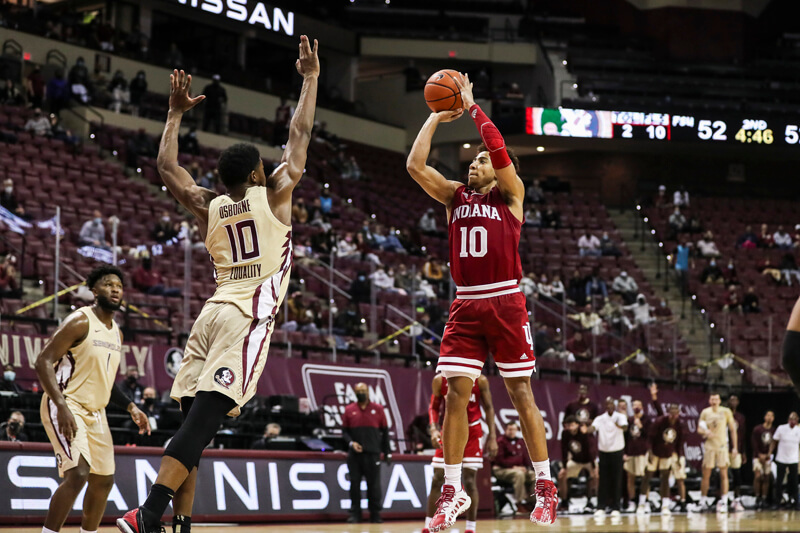 Inside the Tucker Center's visiting locker room, Trayce Jackson-Davis couldn't hold in his frustration. He had just put up 25 points and a career-high 17 rebounds before watching the Hoosiers fall in overtime to No. 20 Florida State. After the game, Jackson-Davis got after some of his teammates. Head coach Archie Miller said it was a locker room atmosphere unlike any he's experienced since he's been at IU.
"I'm not going to lie, when I got in the locker room I was angry," Jackson-Davis said.
Moments before, as the buzzer sounded and Al Durham's halfcourt heave came up short, Jackson-Davis' passion was evident. He dropped to his knee and bowed his head. He slapped the hardwood with both hands and walked off of the court with his lips pursed.
On the other side of the court, Florida State freshman Scottie Barnes wore a giddy grin on his face as his teammates surrounded him.
With just under nine seconds remaining in overtime, Barnes took the ball coast-to-coast and euro stepped through Indiana guard Armaan Franklin before kissing it off of the glass in what was the eventual game-winning shot, giving Florida State a 69-67 victory. Up to that point, Barnes, who was a five-star recruit, was held to just 2-for-9 from the floor.
"I'll put the coast-to-coast layup at the end of the game on me," Miller said. "We got to be better in special situations. We can't let a guy get a full head of steam and go coast-to-coast and that's on me."
It was an ugly, high-paced, Big Ten-ACC Challenge matchup between the Hoosiers and Seminoles in Tallahassee, Florida Wednesday night. There were airballs. There were players spilling onto the floor in every which way. But in the end, Indiana's recurring problems on the boards and on the offensive side of the floor proved to be too much to overcome.
There was some growth, though. A little more than a week ago, Indiana was drubbed by a long and athletic Texas team in the Maui Invitational. In that game, Indiana was stunned right out of the gate and was never able to recover.
Indiana faced a similar task against Florida State who, as usual, had a roster full of long bodies that head coach Leonard Hamilton could deploy in waves. On Wednesday, Indiana was hit in the mouth again, falling in an early 8-2 hole.
"We got to be better earlier in the game setting the tone," Miller said. "I think that setting the tone earlier in the game, they were better, they were faster, they were quicker."
Unlike the game against Texas, Indiana quickly worked their way back into the game and didn't let the slow start derail them.
Despite the energy that IU showed, it didn't change their recurring offensive woes. The Hoosiers shot just 37 percent from the field and 27 percent from beyond the arc. Rob Phinisee and Al Durham, who need to be relied on as steady forces in the backcourt, combined to shoot 5-for-20 from the field.
Florida State's continuous full-court pressure took Indiana out of the little offensive rhythm that it had. On one possession, freshman point guard Khristian Lander dribbled the ball around the floor for around 15 seconds before finally making a pass. Another time, there were no passes at all before Durham bailed Indiana out with a blow-by layup.
The number one concern, though, for Miller has been rebounding. With senior forward Joey Brunk out and the Hoosiers putting a smaller lineup on the floor, Indiana hasn't been as dominant on the glass as Miller would like. Indiana finished even with Florida State at 44 apiece, but the Seminoles pulled down 19 offensive boards to IU's 15. Last season, the Hoosiers outrebounded their opponents by an average of about five boards per game.
The theoretical upside of having a more guard-oriented lineup this season was that Indiana would be faster with more perimeter threats. The problem is, when those guards aren't shooting well, the smaller lineup doesn't really do any good. And as a result, a presence on the glass is sacrificed.
"Our inability to get some scrappy ones, our inability to get some big ones, just especially late, is disappointing," Miller said. "It's something that we can control."
Rebounding almost cost the Hoosiers the game at the end of regulation. Florida State grabbed three offensive boards and controlled the ball for the last 51 seconds, but wasn't able to cash in.
In overtime, Jackson-Davis asserted himself quickly with a 3-point play. But then, with Florida State fronting Jackson-Davis in the post, he didn't touch the ball on the next two possessions and Indiana's offense went silent. Jackson-Davis finished with all five of Indiana's overtime points.
"He was a warrior for us," Miller said. "Clearly he's showing right now that he's one of the best players in college basketball and he's just got to keep growing. He's got to keep growing and keep being a positive leader, which he is."
There's no doubt that Indiana had enough effort and spirit. They nearly went on the road to a top-25 Florida State team that had won 24 consecutive home games and their last nine overtime contests. But that only goes so far when you can't shoot. Or don't have good attention to detail.
In all, there were just too many mistakes for Indiana's energy to overcome.
And that brings us back to Jackson-Davis' postgame fervor. It's obvious he won't be complacent with Wednesday's outcome. Eventually, that energy will have to turn into more made shots from his teammates.
"I was really mad because I don't think of us as any other IU team we've had in the past ten years," Jackson-Davis said. "I'm trying to be different this year, to be different we have to win these games."
"At the end of the day, it's all love. But that's that."
Filed to: Florida State Seminoles