What to expect: North Alabama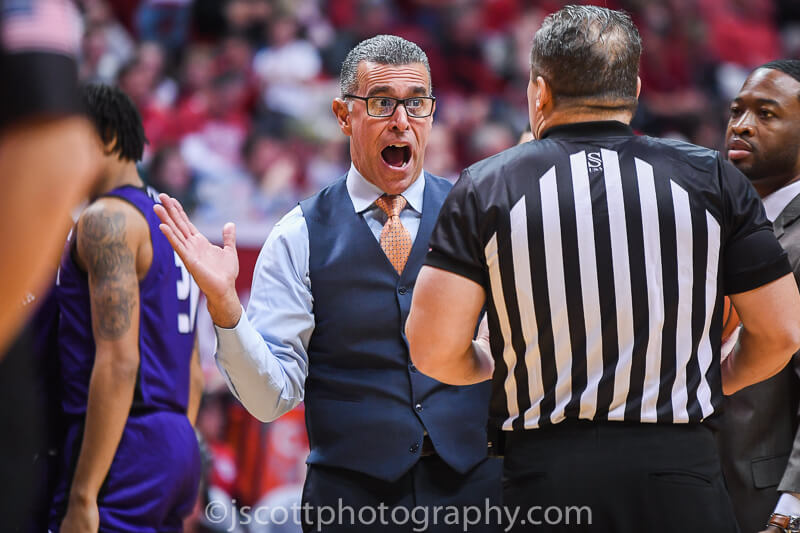 For the second straight season, Indiana will host Division I transition program North Alabama at Assembly Hall. The Lions, members of the Atlantic Sun conference, are 2-1 with both wins coming over non-Division I competition.
Sunday's game is scheduled to tip at 12 p.m. ET on BTN with Chris Vosters and Brian Butch on the call:
Indiana's ambitious non-conference schedule will finally relent on Sunday afternoon in Bloomington.
After four straight games against teams currently ranked in the top 64 of the KenPom ratings, the Hoosiers will host North Alabama. North Alabama is one of only two guarantee games on Indiana's seven-game non-conference schedule. The Lions finished last season 13-17 and are not eligible for the NCAA tournament until the 2022-2023 season due to their ongoing transition to Division I.
Through five games, Indiana's non-conference strength of schedule ranks 30th in the country according to Pomeroy's ratings, which should provide a solid baseline for an NCAA tournament resume. Ultimately, however, the direction of Indiana's season will be determined by its performance in Big Ten play, which tips off in less than two weeks.
MEET THE LIONS
Picked to finish sixth in the nine-team Atlantic Sun, North Alabama has a pair of preseason all-conference selections.
After last season's leading scorer Christian Agnew transferred to UTEP in the spring, junior Jamari Blackmon is coach Tony Pujol's top returnee. The 6-foot-1 guard shot 36 percent on 3s last season and averaged 12.4 points per game. He's off to a cold start from the perimeter this season (6-of-27). As a sophomore, he ranked 12th in the Atlantic Sun in assist rate.
The other preseason all-conference player on the roster is junior Emanuel Littles. At just 6-foot-7, he averaged 10.3 rebounds per game last season, which led the Atlantic Sun. Littles had 15 games last season in which he grabbed 10 or more rebounds and also shot close to 55 percent on 2s.
Senior wing Payton Youngblood has already attempted 18 3-pointers this season and is averaging 11.3 points per game. As a team, North Alabama is attempting nearly 30 3-pointers per game through three games.
Sophomore forward Mervin James had 11 points in the team's most recent game – a 62-57 loss to Troy – and had the highest usage rate on North Alabama's team last season as a freshman.
Senior guard CJ Brim had 15 points, seven rebounds and five assists in North Alabama's season-opening win on Nov. 25, but hasn't played since due to quarantine. The same is true for senior forward James Anderson, who scored 15 points in the opener. The status of both players for Sunday is unclear.
Junior forward Isaac Chatman, who sat out last season after transferring from Campbell, had six points in 26 minutes off the bench in the loss to Troy while freshman guard Detalian Brown had five points in 29 minutes off the bench.
KEYS TO THE GAME
• Continue to play inside-out: The Hoosiers have done an excellent job getting the ball inside through five games. The shooting results at the rim and in the paint haven't been ideal – Indiana is only shooting 49.5 percent on 2s – but North Alabama doesn't have the size or the talent inside to slow the Hoosiers down inside. If Indiana continues to execute its offense and doesn't settle for shots early in possessions, the result on Sunday will be layups and dunks against an overmatched opponent.
• Defend the 3-point line and control pace: North Alabama isn't shy about shooting 3s or trying to force the issue offensively. The Lions were 83rd nationally in Pomeroy's adjusted tempo metric and are going to hoist a ton of shots from the perimeter. North Alabama was a decent 3-point shooting team last season at 33.5 percent and has already made 30 3s through its first three games. The context there, of course, is that two of those three games came against non-Division I teams.
• Get the young guys some reps: This is the last scheduled game against a low major team this season and thus, is the final opportunity for Indiana's freshmen to gain valuable experience. Anthony Leal and Jordan Geronimo did not get off the bench the last two games and Sunday could be a chance to give both players some minutes.
WHAT IT COMES DOWN TO
After four games in eight days to start the season, Indiana's schedule allows for some breathing room and more practice times as finals and the start of Big Ten play approaches.
More than anything else, Indiana needs this game to get its younger players and its bench some confidence. Depth looked to be a major strength entering the season, but that hasn't been the case due to Joey Brunk's injury and a freshman class that has looked overwhelmed at times.
The Pomeroy projection is Indiana by 22 and the Sagarin ratings like the Hoosiers by 26.5. This game shouldn't be close and should play out in a similar fashion to last season's 91-65 rout.
Filed to: North Alabama Lions