Five takeaways from Indiana's loss at Florida State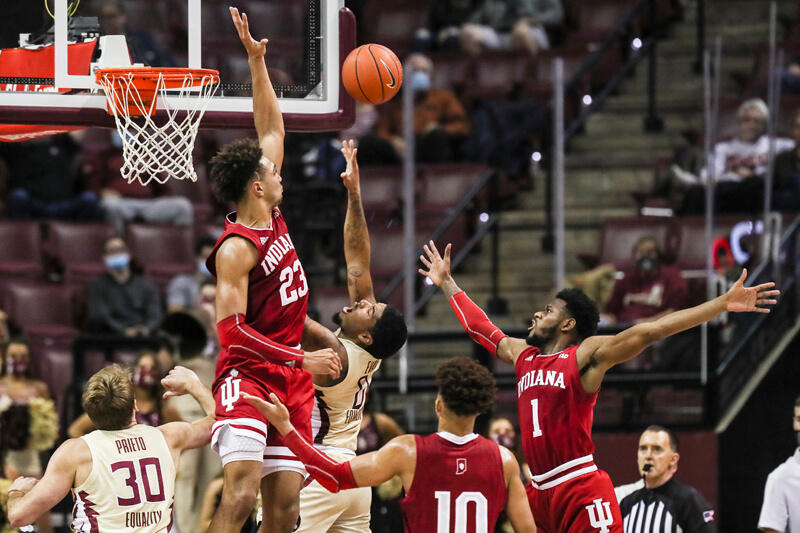 Indiana dropped to 3-2 with a 69-67 overtime loss at Florida State on Wednesday night in the Big Ten-ACC Challenge.
The Hoosiers held the Seminoles under a point per possession, but as been the case for the entirety of the Archie Miller era, shooting remains a major challenge.
Here are five takeaways from the narrow loss:
· Indiana continues to be limited by poor shooting: Through five games, Indiana's defense has been elite. As of this writing, Indiana's adjusted defensive efficiency ranks No. 12 nationally according to Ken Pomeroy's metrics.
Shooting, however, remains a major issue that hasn't been adequately addressed.
On a night it held Florida State to just 34.7 percent shooting on 2s, the Hoosiers could never extend the lead because of an inability to make perimeter shots. Indiana was just 4-of-15 on 3s on Wednesday night. Through five games, the Hoosiers are shooting just 28.8 percent on 3s.
This is not a new issue for Indiana under Miller, but it is one that persists as year four of his tenure gets into full swing. Indiana's starting guards went 2-of-11 on 3s on Wednesday. In overtime, no IU player scored a point besides Trayce Jackson-Davis, who continues to carry this team offensively. Miller has built Indiana with a defense-first mindset, but the program's inability to recruit and develop shooters continues to hamper its progress.
· Jackson-Davis is playing like a star: Through five games, Jackson-Davis is performing like a bonafide All-American candidate.
Florida State's length and athleticism is typically a problem in the post, but it was no problem for Jackson-Davis on Wednesday night. The sophomore forward torched the Seminoles for 25 points and 17 rebounds in 40 minutes. He got to the free throw line 12 times and connected on nine of those attempts.
"He was a warrior for us," Miller said of Jackson-Davis. "He's showing why he's one of best players in college basketball. He has to keep growing and be motivated to take the team to another level."
After a freshman season in which his usage rate lagged behind many of the top frontcourt players in the Big Ten, Indiana is making Jackson-Davis the focal point of the offense this season. He's using 33.8 percent of the team's possessions and is attempting nearly 10 free throws per game.
· Following a rough start, Indiana adjusts to Florida State's pressure: Early on, Indiana appeared to be overwhelmed by Florida State's defensive pressure.
Through the first 20 minutes, the Hoosiers turned it over nine times for a first half turnover percentage of 28. Many of the miscues were a result of soft, lazy passes and being too casual with the ball.
Indiana was much better, however, over the game's final 25 minutes in terms of taking care of the ball. The Hoosiers committed just five turnovers total in the second half and overtime and finished with a turnover percentage of 20. Indiana outscored Florida State 15-12 in points off of turnovers.
· Indiana showed it belonged against a top 25 team on the road: There have been countless examples over the past few seasons of the Hoosiers going on the road and quickly letting things get out of hand against ranked opponents.
That wasn't the case on Wednesday night.
Despite falling short and leaving Tallahassee with a missed opportunity rather than a victory, Indiana gave itself a chance to win against a quality opponent away from home.
"That locker room was different than a lot of locker rooms," Miller explained postgame. "This is a very upset team."
How Indiana responded from taking a punch early – the Hoosiers trailed 8-2 to start the game – was encouraging. Late in the first half when Florida State led by six, Indiana closed the gap and went into halftime trailing by just two points. In the final 51 seconds of regulation, Indiana kept getting stops to force overtime.
All of these small victories within the game didn't lead to a win, but they can be viewed as growth and valuable experience as Indiana prepares for the start of Big Ten play in two weeks.
"I was really mad," Jackson-Davis said of the loss. "We're trying to be different this season, and to be different, we have to win these games."
· Hunter provides first half spark off the bench: Jerome Hunter has been quiet early this season, but the redshirt sophomore provided a huge first half boost with a pair of 3-pointers off of the bench.
Hunter logged just 16 minutes and finished with six points, but was the only bench player to score in the game.
As Indiana's freshmen continue to adjust to the rigors of college basketball, Hunter looks like a resource that should be tapped into more often, particularly as perimeter shooting remains a struggle.
It's a limited sample size, but Hunter is 4-of-9 from behind the arc and appears to be a better option to take perimeter shots at this point than all of the other bench options.
(Photo credit: IU Athletics)
Filed to: Florida State Seminoles, Trayce Jackson-Davis