6-Banner Sunday: Silver Creek star Trey Kaufman sets decision date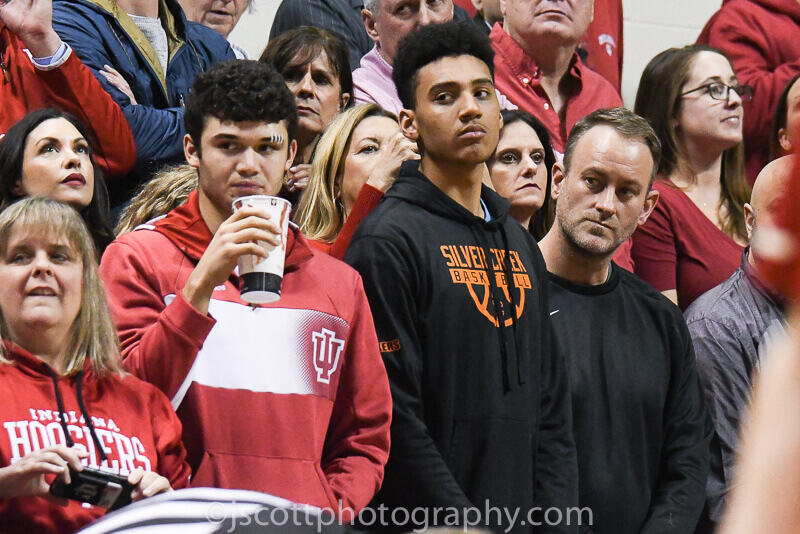 6-Banner Sunday is Inside the Hall's weekly newsletter in partnership with The Assembly Call. More than 7,000 Indiana fans receive the newsletter each week. In addition to appearing each week on the site, you can also opt to receive 6-Banner Sunday by email. A form to subscribe via email is available at the bottom of this week's 6-Banner Sunday.
Welcome to another edition of 6-Banner Sunday, a joint production between The Assembly Call and Inside the Hall where we highlight the five most essential IU basketball stories of the past week, plus take a look at how the other IU sports programs are doing.
Exactly one month from today is the start date for the 2020-21 college basketball season. Indiana has completed its second week of official preseason practices, but hasn't released a full game schedule yet. As of right now, Indiana's first known game is against Providence at the Maui Invitational in Asheville, North Carolina on Nov. 30. It's possible that the Hoosiers could schedule another game in the five days before they tipoff in North Carolina.
There was some concerning news from the college basketball landscape this week. The men's basketball programs at Marquette and UNC-Greensboro were forced to pause workouts and enter a 14-day quarantine due to positive COVID-19 tests. The two-week long hiatus could be problematic for a teams' development as the season nears.
A surprising announcement also came out of Happy Valley on Wednesday. Pat Chambers stepped down as the head men's basketball coach at Penn State due to an ongoing investigation within the university. Chambers' decision comes one season after the Nittany Lions posted one of the best seasons in program history. In non-basketball news involving Penn State, IU Football pulled it off its first win over a top team since 1987 by beating the Nittany Lions.
Back to basketball, the highly-anticipated announcement of 2021 four-star power forward Trey Kaufman will be coming next Friday. With the possible departure of Trayce Jackson-Davis after this season, Kaufman is an important piece for Archie Miller to land at Indiana. All of that, plus what a silent Assembly Hall could look like through the eyes of longtime public address announcer Chuck Crabb and a recruiting update with a 2022 four-star prospect.
• Trey Kaufman sets decision date
• Chuck Crabb discusses a fan-less Assembly Hall
• Class of 2022 wing Tyler Nickel talks Indiana offer
• NCAA announces college basketball gameday guidelines
• Inside the Hall concludes Big Ten previews
• Hoosier Sports Roundup-Football gets first top 10 win since October 10, 1987
Banner #1
Trey Kaufman sets decision date
The long awaited college decision of 2021 four-star power forward Trey Kaufman will come on Friday, October 30th.
Kaufman, a 6-foot 8-inch 210 pound Sellersburg, Indiana native, has been one of Archie Miller's top targets over the past year. Kaufman released his top five schools of Indiana, Purdue, Virginia, North Carolina and Indiana State in early September. Indiana and Purdue have both been involved in Kaufman's recruitment for a significant amount of time, while Virginia and North Carolina both came on strong in the spring.
Kaufman averaged 25.8 points, 9.6 rebounds and 1.6 blocks per game, while helping lead Silver Creek to a 25-2 record last season. He is the No. 41 prospect in the nation and No. 2 in the state of Indiana, according to 247Sports. Kaufman is an early front runner for Indiana Mr. Basketball, and Miller has brought in the last three Mr. Basketball's, including the most recent winner in current freshman Anthony Leal.
"You wake up everyday and you have a different team that you could see yourself, and see the pros of this team," Kaufman told Inside the Hall in September. "There's not one team that's in the lead, but I think these five teams, every other day I'll switch and say 'oh, maybe I want to go to this team, or maybe I want to go to that team.'"
Now, more than one month later, it appears he's found his team.
Banner #2
Chuck Crabb discusses a fan-less Assembly Hall
For years, Assembly Hall has been one of the most daunting venues for opposing teams to travel to. There's a variety of aspects that contribute to this sentiment: The deafening cheers from more than 17,000 fans, the booming sound system and the steep angle of the seats.
"It's one big musical instrument on a game night," longtime public address announcer Chuck Crabb said. "…I feel the air move."
This season, Assembly Hall may be silent. An official ruling on whether fans can attend games hasn't been released yet, however the Big Ten decided that football stadiums across the conference would be empty this fall. While Indiana basketball may lose its boost from the home crowd, it will also make playing on the road against Big Ten foes less intimidating.
Crabb, who has been with IU for more than 40 years, recalled his favorite stories of fans, including some with Bob Knight.
Banner #3
Class of 2022 wing Tyler Nickel talks Indiana offer
Indiana extended a scholarship offer to 2022 Elkton, Virginia wing Tyler Nickel last week. With the offer, the Hoosiers continue their recent pursuit of Virginia area prospects, a recruiting aspect that has been a focal point for co-associate head coach Kenya Hunter.
Nickel is ranked at the No. 66 overall player in the nation and No. 3 recruit in Virginia, according to 247Sports. He averaged 26.7 points, 7.8 rebounds, 3.2 assists and 1.3 steals last season. Standing 6-feet and 8-inches tall and weighing 210 pounds, Nickel can handle the ball and shoot efficiently from the perimeter.
Nickel told Inside the Hall that he's also recently been in contact with LSU, Virginia, Virginia Tech, Purdue, Memphis, Ohio State and North Carolina.
"Obviously they have a rich basketball history," Nickel said of Indiana. "They are a basketball state. They take that beyond serious… I know that they haven't been to the level that they expect themselves to be at recently. Coach Miller is just trying to get that back to the trend that it used to be."
Banner #4
NCAA announces college basketball gameday guidelines
The NCAA released its recommended college basketball gameday guidelines on Wednesday. It isn't a mandate, and conferences, similar to football, can decide on specific regulations.
The purpose of the guidelines is to keep the court in a "bubble" and limit interactions between those that are frequently tested and those who aren't. The NCAA divided individuals that are necessary to host a basketball game into three tiers. Tier one includes player and coaches, tier two includes athletic department staff and tier three includes media and gameday assistants. Fans were not included in either of the three tiers.
If possible, individuals from tier one and two are not allowed to venture onto the concourse or into the stands, in order to limit interaction. Players' towels and water bottles must be limited to one per person. It's recommended that the bench is formatted in an "L" shape that wraps around the baseline. Masks can be taken off once players reach the bench.
If fans are allowed, it's advocated that there's a minimum of 12 feet between the bench areas and general seating.
Banner #5
Inside the Hall concludes Big Ten previews
Inside the Hall released its final installment of Big Ten previews on Friday with one of the conference's presumed favorites Wisconsin. Last season, they won a share of the Big Ten regular season title. The Badgers are returning their entire starting lineup, all of whom are now seniors.
This week, Inside the Hall also took an in-depth look at Michigan, Michigan State, Illinois and Iowa. All four of those programs are projected to finish near the top of the Big Ten this season. Inside the Hall will continue will Indiana player profiles next week.
In other preseason previews, ESPN's Jeff Borzello ranked the top 80 impact newcomers for the 2020-21 season. Indiana's five-star freshman point guard Khristian Lander was touted at No. 46. Former Indiana forward Justin Smith, who transferred to Arkansas in the offseason, came in at No. 32.
Lastly, in Jeff Goodman's preseason top 50 rankings, Indiana was ranked at No. 34. Iowa was the highest ranked Big Ten team at No. 4, followed by Wisconsin at No. 6.
Banner #6
Hoosier Sports Roundup-Football gets first top 10 win since October 10, 1987
IU sports is back for the first time this fall with the return of football this weekend. It could not have started in a more exciting and thrilling fashion as the Hoosier knocked off the number eight Penn State Nittany Lions 36-35 in Bloomington. The victory came when IU quarterback Michael Penix made a lunging dive for a two-point conversion in overtime at the pylon that barely made it.
Below are some articles and videos recapping the win:
• Pete DiPrimio of iuhoosiers.com wrote a recap of the game. Also, the website posted quotes from the IU press conference afterward and some notes about the game.
• A full radio broadcast of the win that includes Don Fischer's exciting calls late in the game was posted to YouTube.
• Jon Blau and Jeremy Price of the Herald Times did an extended recap of the win in their Scoop Talk afterwards.
• The Indianapolis Star's Greg Doyel wrote a column about the win.
• IU also caught national attention for the victory as ESPN's Bill Connelly wrote an article that was linked from the website's front page much of the night.
In a couple non-football items:
• IU's new Pfau Golf Course was ranked the number four collegiate golf course in the country.
• Water Polo picked up a big time transfer this week.
• DiPrimio also wrote a feature story earlier this week about the upcoming start to the women's basketball season.
Thanks for your continued support for The Assembly Call. We'll be back next weekend with a new roundup.
Now go enjoy yourself a 6-banner Sunday.
Filed to: