6-Banner Sunday: Maui Invitational bracket set, De'Ron Davis begins pro career in Ireland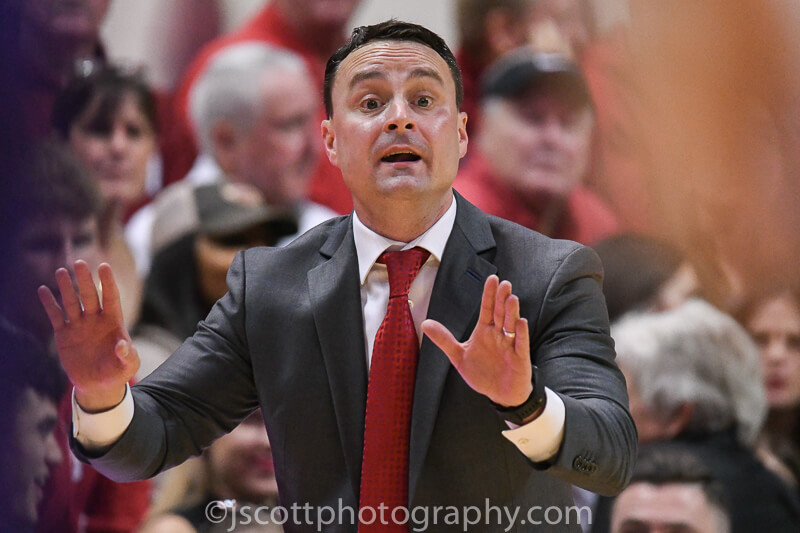 6-Banner Sunday is Inside the Hall's weekly newsletter in partnership with The Assembly Call. More than 7,000 Indiana fans receive the newsletter each week. In addition to appearing each week on the site, you can also opt to receive 6-Banner Sunday by email. A form to subscribe via email is available at the bottom of this week's 6-Banner Sunday.
Welcome to another edition of 6-Banner Sunday, a joint production between The Assembly Call and Inside the Hall where we highlight the five most essential IU basketball stories of the past week, plus take a look at how the other IU sports programs are doing.
In less than one week, college basketball's official preseason practice begins. Programs can begin practicing for up to 20 hours per week, including a maximum of four hours per day. Media day is set for Tuesday, as Indiana fans will get insights on how head coach Archie Miller and the players have been preparing for the season. In the meantime, Indiana football will be taking the field against Penn State two weekends from now.
As the start date for official practices nears, clarity about Indiana's scheduling is finally taking form. The bracket for the Maui Invitational (in Asheville, North Carolina) was released last week, along with an update about conference scheduling and some discouraging news about the Gavitt Games.
While Indiana is getting ready for their season, former Hoosier De'Ron Davis has successfully moved to Dublin, Ireland after signing a contract with the Killester Basketball Club. Inside the Hall recently caught up with Davis, covering everything from his graduation to his new home.
Plus, an exciting announcement from the a member of the Hoosier coaching staff.
• Maui Invitational (in Asheville, North Carolina) bracket unveiled
• De'Ron Davis reaches his next proving ground
• New scheduling news/preseason predictions released
• Inside the Hall releases Big Ten team previews
• Graduate manager Johnny Jager announces engagement
• Hoosier Sports Roundup
Banner #1
Maui Invitational (in Asheville, North Carolina) bracket announced
Indiana will face off against Providence in the first round of the Maui Invitational at 2:30 p.m. on Nov. 30, organizers announced Wednesday.
The tournament, which was originally scheduled to take place in Hawaii at the Lahaina Civic Center in Maui, was recently moved to Asheville, North Carolina due to the COVID-19 pandemic.
Providence was ranked 30th in Any Katz's preseason power 36 rankings. The Friars are returning three of their top six scorers from last year, including junior guard David Duke, who averaged 12 point per game. They also add St. Joseph guard transfer Jared Bynum, who sat out last year and will be eligible this season. Bynum averaged over 11 points and four assists per game as a freshman and should challenge Indiana's backcourt.
Indiana is set to take on either Texas or Davidson in the second round, depending on the outcomes of the games. North Carolina, Alabama, UNLV and Stanford are all on the bottom half of the bracket. The Hoosiers could clash with one of them later in the bracket.
Banner #2
De'Ron Davis reaches his next proving ground
One day after it was announced that De'Ron Davis had signed a professional contract with the Killester Basketball Club, he arrived in Dublin, Ireland.
It's been a busy couple of months for Davis. He graduated from Indiana in the spring. Over the summer, he trained in Colorado while seeking an opportunity to play professionally. A couple of weeks ago, a deal with Killester developed, and soon after Davis was on his way to a new country.
He flew from Colorado to Texas. Then to England. And finally to Ireland, where now he's cooped up for his 14-day quarantine period. Davis is still getting used to a new lifestyle where cars drive on the left side of the street and the metric system is used for measurements. But Davis still has hopes of working his way to the NBA. Killester, who plays in the SuperLeague, often acts as a springboard to the G League.
Davis' career at Indiana was riddled with injuries and untapped potential. He put up his most productive season as a sophomore, averaging 9.6 points and 4.3 rebounds per game. But he never improved on, or regained, the success from that season. Now, Davis will look to prove himself again.
"I just got to work my way up the ladder," Davis said. "You got to start somewhere."
Banner #3
New scheduling news/preseason predictions released
After revisiting the scheduling guidelines earlier this week, the Division I Basketball Oversight Committee reaffirmed that the maximum number of games permitted this season is 25, or 27 if a program competes in a multiple team event. There was some discussion about the fairness of the ruling since it provides teams that play in tournaments more opportunities to build a resume for March. Recently, many multiple team events have fizzled due to various roadblocks.
Jon Rothstein reported that some leagues will not be releasing their conference slate until at least Nov. 1. That's less than a month before the season is scheduled to start on Nov. 25. Rothstein also reported that the Gavitt Games, a crossover competition between the Big East and Big Ten, is unlikely to happen this year, but hopes are it resumes in 2021-2022. That would allow an opening for the Hoosiers to schedule another non-conference opponent. Indiana's updated schedule was discussed on this week's edition of Assembly Call Radio.
This week, sophomore forward Trayce Jackson-Davis was touted at No. 9 on Andy Katz's 10 Player of the Year contenders for the upcoming season. Jackson-Davis averaged 13.5 points and 8.4 rebounds last year as a freshman. He was joined on the list by fellow Big Ten players Luka Garza and Ayo Dosunmu.
Speaking of Jackson-Davis, the Herald Times' Jon Blau explored how much the IU forward could theoretically make off of name, image and likeness and forecasted the future of amateurism. Indiana University recently struck a deal with Opendorse, an athlete marketing solutions company, signaling their willingness to evolve as the landscape of college sports continues to change.
Banner #4
Inside the Hall releases Big Ten team previews
With the season approaching, Inside the Hall has started its series of Big Ten team previews.
So far, many of the teams likely near the bottom of the standings have been previewed, including Nebraska, Northwestern, Maryland, Minnesota and Penn State.
A plethora of last season's Big Ten talent has departed. Dominant players like Cassius Winston, Xavier Tillman Anthony Cowan Jr., Jalen Smith, Daniel Oturu, Kaleb Wesson and Lamar Stevens have all either graduated or left to pursue a NBA career. But there's still a variety of returning talent like Iowa's reigning conference Player of the Year Luka Garza, Illinois' Ayo Dosunmu and Kofi Cockburn, Michigan State's Rocket Watts and Aaron Henry and Michigan's Franz Wagner among others.
The Big Ten is expected to be one of the most competitive leagues in the country again this season.
Banner #5
Graduate manager Johnny Jager announces engagement
Indiana men's basketball graduate manager Johnny Jager shared some exciting news on Thursday.
In front of Assembly Hall, Jager dropped to one knee and proposed to his girlfriend Maddie.
"3 letters.. one word.. is all it took to make me the happiest man in the world today. She said YES!!!" Jager wrote on Instagram.
Jager, who was a two-year walk on at Indiana, is now in his second year on the coaching staff. He was named to the Academic All-Big Ten team twice. In his prep years, he attended Bloomington South, earning Herald-Times Player of the Year honors as a senior.
Current IU players, as well as the Indiana basketball Twitter account, congratulated Jager on the news.
Banner #6
Hoosier Sports Roundup
With seasons underway or about ready to crank up across the sports landscape this month, an increase in off-field news occurred as teams continue to navigate around the COVID-19 Pandemic.
• Several Hoosiers continue to compete in the NFL.
• Former Basketball manager Lawrence Frank was named executive of the year for the Los Angles Clippers.
• IU announced it has gotten all its athletes registered to vote on 10 of the 24 varsity teams for the upcoming election.
• As football season nears, the Hoosiers once again had media availability on Monday, Tuesday, Wednesday, Thursday and Friday.
• Also, with fans not allowed at games this season due to COVID-19, IU announced it is selling the opportunity to buy a cardboard cutout of one's self to put in the seats instead.
• Women's Soccer announced the unfortunate passing of former player Tracy Grose at just 43 years old.
• Men's Golfer Mitch Davis tied for second at the Hoosier Amateur, while Women's Golfer Angela Aung finished eighth at the same event.
Thanks for your continued support for The Assembly Call. We'll be back next weekend with a new roundup.
Now go enjoy yourself a 6-banner Sunday.
Filed to: