In Ireland, De'Ron Davis reaches his next proving ground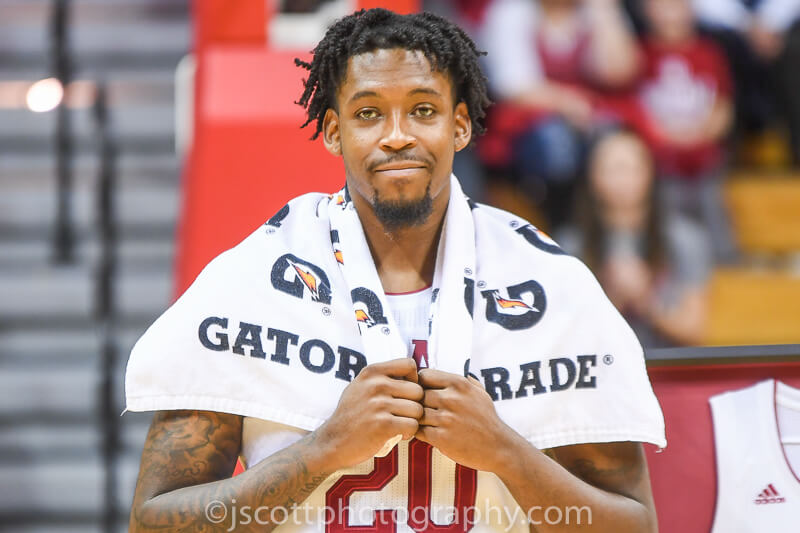 It's just after 2:30pm Eastern time when De'Ron Davis dials a number on his phone. He just got off a call with his mother, who's living Colorado and in a time zone that's seven hours behind Davis. It's already dark outside Davis' new apartment in Dublin, Ireland and the burnt orange lights illuminate the street so cars can sweep through a roundabout. Davis' mother updated him on how his five-year-old brother is faring in school. They talked about COVID-19.
And Davis needs some more hoodies. It's been rainy lately. Davis' roommate at Indiana, Devonte Green, who departed a while back to start his professional career in Greece, advised Davis to pack extra toiletries. So, Davis sacrificed clothing space for way too many bottles of Cantu hair products, Head & Shoulders, Jergens lotion and Old Spice.
Now, he just needs some hoodies.
Davis has been in Ireland for around 36 hours. It was announced Friday that he penned a contract with Killester Basketball Club in Dublin. His plane touched down on Saturday, and he began his 14-day quarantine. Davis' sleep schedule has been thrown off. He was up until around 1 a.m. Monday watching game three of the NBA finals, the screen flickering into the night. "Jimmy (Butler) ain't no bum," Davis said before predicting the Lakers will win the series. "I'll bet my last dollar on LeBron."
He's been playing Call of Duty on his PlayStation, but eventually got cooped up and strolled to a park and then a local grocery market. There were shelves full of toothpaste and lotions.
"I could've actually packed a few more things that I actually needed," Davis said.
A lot has happened since the buzzer sounded in Indianapolis back in March, signaling an Indiana Big Ten tournament win over Nebraska and also the end of Davis' four year collegiate career. He concluded his injury-riddled time at Indiana averaging 5.4 points and 2.6 rebounds per game.
For the first couple of weeks after the NCAA tournament was canceled and students were sent home, Davis stayed in Bloomington. Even though the weight room was closed, he knew the door to the gym was left unlocked. Davis would wake up at 7:00 am and sneak in to do some body weight exercises.
One day, Davis woke up a bit later and arrived at 8:00. At the end of his session, someone spotted Davis and told him that he wasn't allowed there any more. The next day, Davis waited until late at night to try again. When he tried to scan in, his key card was denied.
Around mid-May, Davis was set to head back to his home in Colorado. Before he left Bloomington, Davis stopped by a family-owned eatery that he frequented across from his Evolve apartment. The staff was always friendly and he loved the BLT and chicken sandwiches. He snagged a breakfast burrito for the final time.
When Davis returned to Colorado, his family threw a graduation gathering. On graduation day, Davis learned that he became the first man in his family to become a college alum, completing a degree in sports communication. To celebrate, Davis grilled steaks, chicken, burgers and corn for his family. His sister whipped up mac and cheese. His mom made potato salad. His mom's boyfriend made greens and cornbread.
Then it was back to work, as Davis eyed a professional career. He trained at his old high school gym and purchased a membership at a 24-hour fitness club. He met up with a couple of friends. When the gyms closed, he did what he could on outdoor courts.
As the summer wore on, Davis' agent heard a little bit from one of the top-tier European A1 league teams and some from the A2 league. The organizations were weary of his Achilles injury from his sophomore year. Davis also had an ailing left ankle during his junior year. They didn't have enough game film from his senior year to evaluate him.
Green signed his deal in mid-August and Davis was getting restless. Then, about one month ago, Davis' agent told him about an opportunity in Ireland. He didn't know very much about the tiny island off the coast of the United Kingdom, besides that Conor McGregor, who is one of his favorite UFC fighters, is from Ireland.
"I'm just blessed to have this opportunity," Davis said.
A few weeks later, the contract to play with Killester in the SuperLeague, the top division in Ireland, was official.
The first leg of Davis' trip was from Colorado to Dallas-Fort Worth. He didn't have the luxury of flying on a charter plane like during his time at Indiana where he could spread his nearly 7-foot frame across a row. But, people on the plane were thoughtful.
"They see how tall I am and they see what seat I'm at and say 'do you want an exit row?'" Davis said with a laugh. "I got blessed on that one."
The next portion of the journey was from Texas to London. The plane was mostly empty, so Davis was able to stretch out across multiple seats for the long flight. He watched The Equalizer 2 and The Lion King. Then, he fell asleep to a Disney documentary about bears.
After arriving in London, Davis was crammed into his seat for the final one hour plane ride to Ireland.
Davis' new coach was there to greet him at the airport once he touched down in Ireland. Davis then naturally walked up to the righthand door of the car.
"I looked in and was like 'whoa, the steering wheel is on this side,'" Davis said.
When his coach pulled into the airport toll booth on the left side of the street, Davis started to say 'whoa,' again before stopping himself and realizing vehicles drive on the other side of the road in Ireland.
As they rumbled through the Irish countryside, Davis was reminded of his home in Colorado. There was a lot of greenery and trees. Cows and llamas grazed in the field. Houses were perched on the top of hills. During the one and a half hour drive to Dublin, Davis and his coach talked about the team's playing style.
Now, Davis is in his quarantine home for 14 days before he'll move to his permanent residence. He points to the double-decker bus that's rolling through the paved oval.
"The roundabouts are going toward the left. Instead of that way, you know what I mean, they're going this way," Davis says pressing his finger against the apartment window.
He strolls through the dim hallway, stopping to show the bathroom. The light switch is located outside of the room, instead of the inside. Sometimes, Davis will walk into the pitch black room and forget to flip on the lights.
He's still working through all the nuances of moving to a new home, fidgeting with the microwave, sink and oven. Containers in the refrigerator are marked in liters. Adjusting to a new country is just one aspect of the sacrifices Davis has made to keep his basketball dream afloat.
In his bedroom, Davis' Indiana sweatshirt spills out on the floor as reminder of his alma mater. He picks up his red Adidas basketball shoes.
For the first time in four years, Indiana isn't the focus for Davis. Killester is preparing for the season right now, and after Davis' quarantine period is up, he'll jump right into games. It's possible though, after a recent spike in COVID-19 cases in Ireland, the start of the season will be pushed back.
The SuperLeague doesn't get much attention from NBA scouts. It does, however, provide an opportunity to move into the A1 or A2 leagues, and also acts as springboard to the G League. Davis' contract has a buyout, so he can progress to another organization if the opportunity arises.
Davis, who never reached his full potential at Indiana and failed to officially make an NCAA tournament, has reached his next proving ground. He'll fix his sleep schedule. He'll talk to his mom into the night. He'll wait for his hoodies.
"I just got to work my way up the ladder," Davis said.
"You got to start somewhere."
Filed to: Deron Davis