Kenya Hunter brings more to Indiana than just recruiting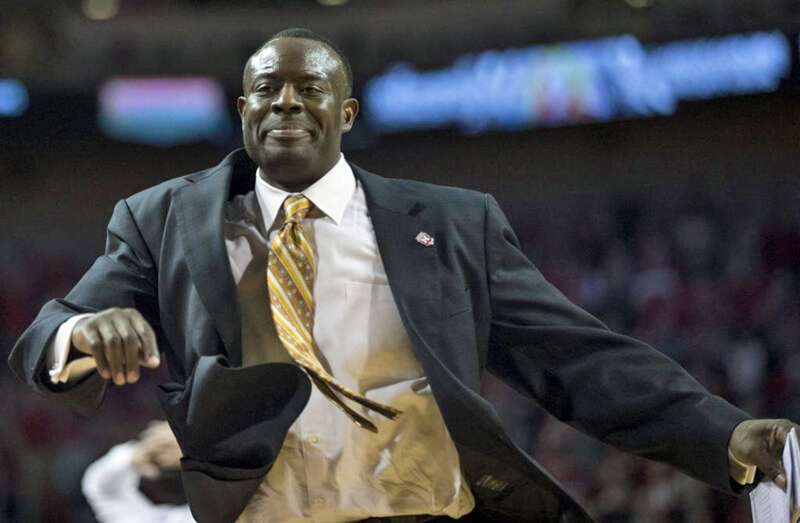 In the two weeks since Kenya Hunter was introduced as Indiana's co-associate head coach, his recruiting prowess has already been well established. And for good reason. At Georgetown, Hunter helped bring in three top-25 classes and at UConn he was vital in landing consecutive top-20 groups.
It's a trait that Hunter hasn't shied away from, either.
While speaking to local media for the first time last Friday, Hunter was asked about what he hopes to bring to the program. He answered promptly:
"Don't get it twisted, I'm here to recruit."
Over the past two weeks, that's what he's done. Hunter has connected back to his roots, pitching 2022 DMV prospects Justin Taylor, Rodney Rice, Masai Troutman and Favour Aire on the opportunity that awaits in Bloomington. Indiana has also moved into the rotation for 2021 combo guard and Nebraska native Hunter Sallis thanks to a preexisting relationship with Hunter.
Hunter's recruiting skills have been evident to high school and AAU coaches, too.
Sallis' high school coach Tim Cannon praised Hunter's willingness to communicate. Hunter visited Cannon's classroom at Millard North and frequently reached out on the phone.
Taylor's AAU coach Doug Martin has known Hunter for 15 years and said of Hunter: "He's a worker. From everything that I've been around and understood, he's always present with the players and their families and recruits them the right way."
Tracking back to that question during the media availability on Friday, Hunter pivoted his response to an aspect of his resume that hasn't received as much attention.
"But I also think I can bring value on the basketball part of it as well," Hunter said. "That's one thing that Arch and I talked about, to the question we had earlier about just being on the court and developing kids. I think that he feels confident in me, I can go out there and skill development and really help a kid get better."
Over the years, Hunter, along with other coaches on the staff, have been attributed as essential factors to the development of their players.
During his time at Nebraska from 2013-18, Hunter guided the on court maturation of Terran Petteway. Before transferring to Nebraska, Petteway averaged 3.1 points and two rebounds per game in his freshman year at Texas Tech. After sitting out a year, Petteway transformed his production, notching 18.1 points and 4.8 rebounds in his first season at Nebraska. That year he led the conference in scoring and picked up all-conference honors. The following year, Petteway dominated again with 18.2 points and 4.9 rebounds per game.
Nebraska guard Shavon Shields also saw similar advancements in his game under Hunter. From his freshman to senior season, Shields nearly doubled his points per game (from 8.6 to 16.8) while spending around the same amount of time on the floor. He concluded his career as one of five players in the program's history to rack up 1,500 points along with 600 rebounds.
Hunter's success developing players continued during his two-year stint at UConn. Center Josh Carlton increased his scoring from 4.4 to nine points per game from his freshman to sophomore years. He also grabbed 6.2 rebounds in his sophomore season compared to the 3.7 the year prior. His growth resulted in being named the AAC's most improved player in 2018-19.
On top of that, Hunter also knows what next level talent looks like, having worked with his share of professionals. Hunter was coaching at Georgetown when future NBA players Roy Hibbert, Greg Monroe and 2012-13 Big East player of the year Otto Porter came through the collegiate ranks.
Now, Hunter's history becomes meaningful for Indiana as many Hoosiers are entering a season that could be a turning point for the trajectory of their careers.
The obvious figure is sophomore Trayce Jackson-Davis. Last season, Jackson-Davis dropped 13.5 points and grabbed 8.4 rebounds per game on his way to taking a spot on the Big Ten all-freshman team. There's been a resounding buzz surrounding Jackson-Davis as he nears his sophomore year and is one of the top returning players in the country. A dominant year could establish him as a first round NBA draft pick.
For that to happen, Jackson-Davis will have to tend to his glaring weaknesses: the ability to use his right hand and consistently make jump shots.
Then, there's redshirt sophomore Jerome Hunter and redshirt junior Race Thompson, both of whom have faced crossroads in their career and will need to make jumps in production this season for Indiana to contend.
After playing his first full season and regaining comfort on the court, many are expecting Hunter to have a breakout year. And Thompson, who became a key contributor late last season, will be relied on in an expanded role this year.
"I just feel like I can come in and be a person that, however it was running before and they've had success, I want to be able to add to that," Hunter said.
So far, Hunter has only spent about one week on the court with his new team before workouts were suspended due to positive COVID-19 tests. The sessions were voluntary, yet Hunter said he saw all of the guys make an appearance at the facilities.
"That right there tells me it's a good sign for this team," Hunter said.
Miller hasn't decided whether Hunter will be focusing on the front court or back court players. As of right now, he's coaching everyone.
At first glance, the hiring of Hunter appears to be driven by recruiting. But Hunter's knowledge and experience guiding players could emerge as the most vital aspect of his coaching repertoire. And, eventually, it could propel Indiana's hopes to step into relevancy again.
Filed to: Kenya Hunter