Q & A: Coach of 2022 center Favour Aire talks IU offer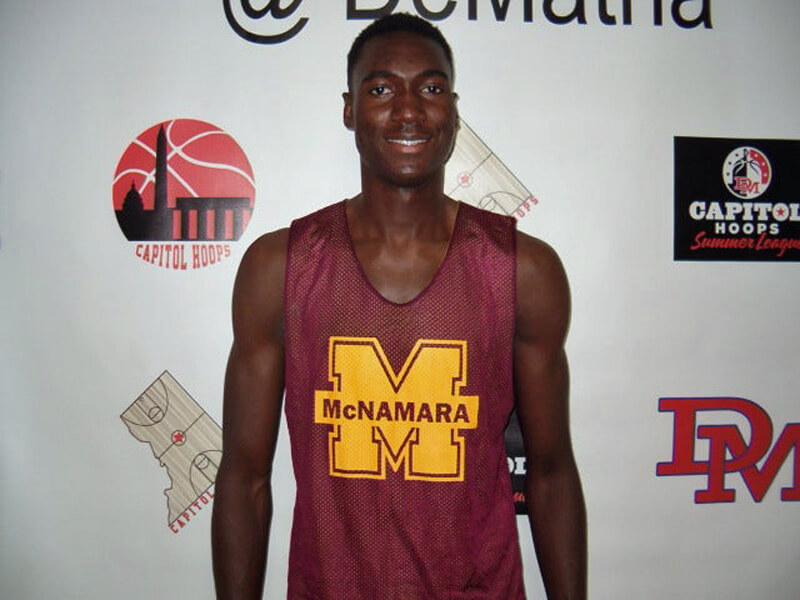 Indiana continued its recent recruiting ambitions in the DMV, extending an offer to 2022 District Heights, Maryland, center Favour Aire in late August.
Aire, who stands 6-feet and 11-inches tall and weighs 215 pounds, is ranked as the No. 4 prospect in Maryland and No. 14 center in the class. Aire has accumulated offers from Virginia Tech, Louisville, Georgetown, Georgia, LSU and Maryland among others.
Aire joins a handful of 2022 DMV prospects, including shooting guard Masai Troutman and small forward Justin Taylor, to earn offers from Indiana following the hiring of Kenya Hunter to the IU coaching staff.
In 2017, Aire moved to the U.S. from Nigeria and now lives with his AAU coach Taj Hawkins, who is the founder of the New World Basketball organization.
Inside The Hall spoke with Hakwins about Aire's recruitment and relationship with Indiana:
How have you seen Favour adjust after arriving from Nigeria?
"He adjusted pretty well. When he came here he was a lot smaller. He's grown a lot. He's a really good kid, so it's been an easy adjustment for him. He was very raw on the basketball court. He's also a really good student, a 4.0 student."
What was your first impression of him on and off of the court?
"He's a humble kid, wants to work and is very smart. Even now when he's started to blow up more, getting more offers, he doesn't let it get to his head. A lot of these schools, with the tradition and the backgrounds of the schools, he only knows from what he's seen the last couple of years."
How have you seen him grow from year to year?
"On the court, he had struggled offensively. He came over here initially just being a get in the way shot blocker and didn't really know the game at all. He's learned the game a lot just watching, playing and getting games under his belt."
Was there a moment that you realized he was a special player?
"Last year he was 16 and we had him play up with the 17's, it was the class that graduated last year and he played extremely well and was kind of dominating the game. This summer, just working out with college guys that are more athletic and stronger. These guys go to Big East schools and really good programs and just knowing that he has two years of high school left and he can go out there with those guys and play with those guys."
Have you talked with him since he got the offer from Indiana?
"He's definitely excited about the Indiana offer. Coach Kenya recruited him when he was at UConn so he's familiar with him there. Victor Oladipo is around the program and came to some of our games last weekend. He (Favour) knows Vic went there. He doesn't really know a lot about the tradition. He knows a little bit about Indiana. He knows that it's a big time school, but he's still learning about a lot of these schools as we go along."
What type of relationship does he have with coach Hunter?
"It's really something that's building right now. Coach Hunter is from the area and has been impressed by him. He kind of wants him (Favour) to stay under the radar because he thinks that he's a big time player. Coach Kenya is a really good recruiter and really gets in touch with the kids, so they're building a relationship."
How do you think Favour could fit into the system at IU?
"Knowing just how much coach (Archie) Miller works in the gym, I know that the preparation and the stuff that they do. Those guys have been around the game, they'll know how to use him (Favour) effectively. I think a player like him fits pretty much any style because of how athletic he is and improving his skills set. Any program he plays for he'll fit in because he's good defensively, shot blocker, rebounder, catching alley-oops, he's a great athlete. I think he'll pretty much be able to fit in with anything they have."
What can Favour bring to a collegiate program?
"He's such a big time athlete. If you watch his highlight videos, he can do so much more than what the highlight videos show. A program is going to find a big that can guard multiple positions on the floor, work hard, compete and do everything he can do to get better."
(Photo credit: 247Sports)
Filed to: Favour Aire