Q & A: Class of 2022 wing Masai Troutman talks IU offer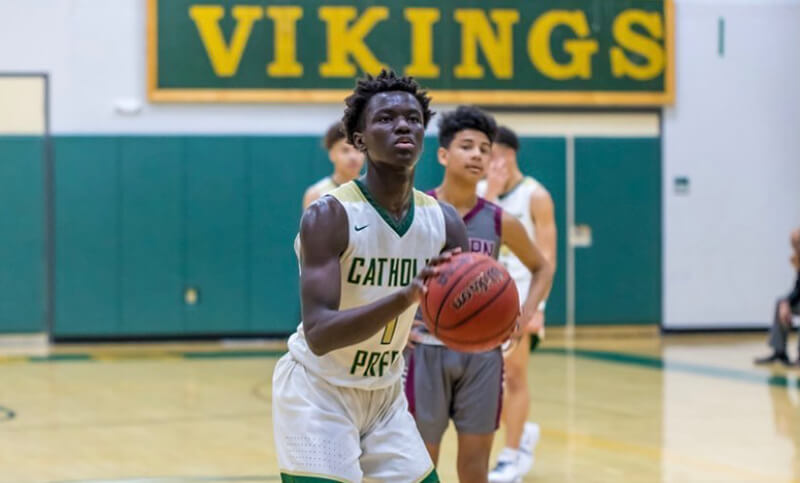 Indiana extended a scholarship offer on Monday to class of 2022 St. Andrews Episcopal (Md.) wing Masai Troutman.
The 6-foot-5 wing averaged 15.7 points and 6.7 rebounds as a sophomore at St. John's Catholic Prep before transferring to St. Andrews. In addition to his scholarship offer from Indiana, Troutman also recently landed offers from Georgetown and Florida.
Inside the Hall spoke with Troutman on Tuesday and our full Q & A with the rising junior is available below:
On receiving the scholarship offer from Indiana:
"I first got on the phone with assistant coach (Kenya) Hunter on Sunday. We just talked about how he sees me doing great things, how I fit into the program and his connections to the DMV. And then on Monday, the head coach, (Archie) Miller, I got a text from him. And then he called me and that's when he officially offered me (a scholarship). And we just talked about how he sees me being like Victor Oladipo coming from the DMV and being a guard. He thought that was a great comparison and he sees the potential in me."
On whether he had a pre-existing relationship with Kenya Hunter:
"No, I did not."
On whether he's been under the radar to this point in terms of his recruiting and getting attention nationally:
"This offseason is when it really exploded. I was a late bloomer because previous summers, I was either dealing with injuries or didn't have good exposure. But everything went good this summer (with Team Takeover) and my recruitment is going great."
On his game, his strengths and weaknesses:
"I would describe myself as an athletic, two-way wing. I can guard, I can get buckets and I love slashing to the basket and pulling up in the midrange. I can also shoot the 3-pointer. That's an area I'm trying to stay more consistent at is just hitting the 3. And I'm also trying to be more of a leader on the floor and talking more and being a better communicator. I also like to push the break. I love to run and play fast."
On the summer and what he was able to accomplish with Team Takeover:
"I got to play on a shoe circuit team, my AAU team, which is Team Takeover, they really helped boost my exposure. They put my name out to coaches and I'm just hearing a lot of great feedback from coaches saying, 'hey, we've heard great things about you from this Takeover coach.' Just having that connection from them has helped me."
On what he thinks when he hears the name Victor Oladipo:
"When I hear that name, I see a person that I can strive to be. I play almost exactly like he plays. I see him as an image of what I could be in a few years."
On his recruitment and the schools he's hearing from in addition to IU, Georgetown and Florida:
"Pittsburgh, George Washington, Virginia Tech, St. Joseph's, JMU, Marquette. I can't remember the rest, but there are a few more."
On talking to coaches and building relationships despite not being able to take visits right now:
"I've just been on the phone talking with coaches. I still feel like it's great communication and just getting on the same page with them and hearing what they say about me is great. And for me to hear where they are coming from and they hear where I'm coming from, it's great two-way communication for both of us."
On Kenya Hunter and his impressions of him:
"He seems like a great, great guy and a great coach. He seems like he's going help the program out a lot. With his reputation and the places he's come from, he just seems like a great dude to be around really."
@DMVeliteNews @theLegitCEO @MarcusHelton @CapitolHoops @AyalewAdam @all_metelite @TTOBasketball @CoachJbrooks3 @m_troutman @PHCircuit pic.twitter.com/mHVYOzWzTF

— Masai Troutman (@MasaiTroutman) March 30, 2020
Filed to: Masai Troutman