'It's disrespectful to me honestly': Justin Taylor isn't content with just being an elite 3-point shooter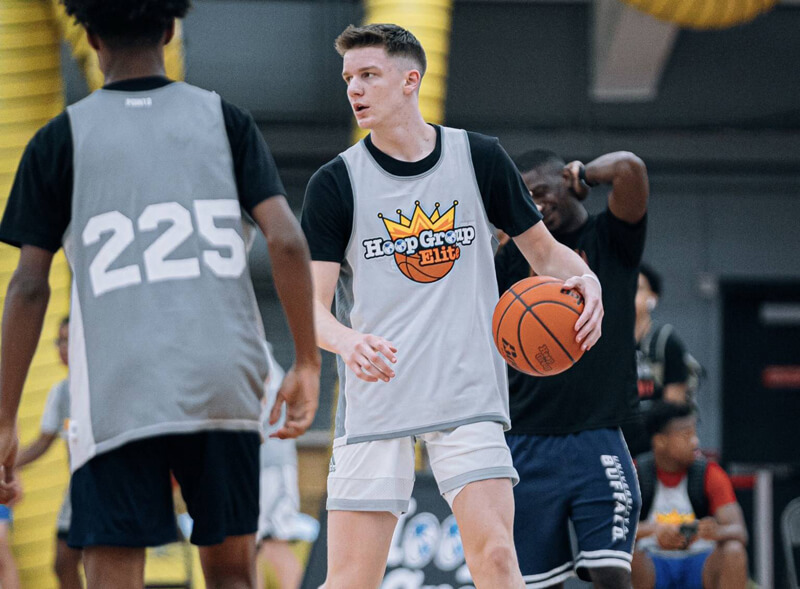 As a child, like many budding young basketball players, Justin Taylor struggled to get enough arc in his shot. And his mother Kerri, who played at James Madison, couldn't ignore it.
Kerri showed Taylor how to lift the ball over his head, so he could quickly fire off shots over converging defenders.
Now, all these years later, as a rising junior small forward at St. Anne's-Belfield in Charlottesville, Virginia, Taylor's jump shot is what has driven him to be the No. 75 prospect in the class of 2022, according to the 247Composite. Last week, he added Indiana to his list of scholarship offers.
Back when his jump shot was still a work in progress, Taylor used to tag along to his older sister Ashley's tournaments and practices, sometimes joining in on the drills. Taylor and Ashley would also work out and play 1-on-1, too.
Taylor watched Ashley spend long hours in the gym, which eventually led to attention from college coaches. In the end, Ashley committed to William & Mary.
"I saw how hard you have to work to get to that spot," Taylor said.
By the time he was a freshman in high school, Taylor had grown to around 6-feet tall and had mastered the art of the jump shot. And, of course, he could beat Ashley in 1-on-1.
"It's not really a competition now," he said with a laugh.
In his first season with St. Anne's-Belfield, Taylor posted 13.3 points, 5.1 rebounds and 1.5 assists per game. More importantly, he shot a scorching 47 percent on 3s, connecting on 80 of his 171 attempts from distance.
Taylor displayed his lethal 3-point shooting in a variety of ways. He curled off of screens, set picks, camped in the corner and created separation off of the dribble. Every time, though, Taylor's release was consistent. He raised the ball over his head, flicking his wrist in a machine-like manner, allowing him to swiftly get the shot off over defenders. Just like Kerri taught him.
Throughout that summer, Taylor collected offers from James Madison and Old Dominion.
During that time, though, Taylor grew tired of being labeled a shooter. He knew he could be much more than a one-dimensional scorer.
"It's disrespectful to me honestly," Taylor said.
So, Taylor focused on finishing through contact at the rim, dropping floaters off of one leg, adding a consistent pull-up jumper and maneuvering the lane with crafty drives to the rim.
"I think that him working on not just being a shooter is going to be what elevates him to the levels that he wants to play at, college and beyond," Taylor's AAU coach Doug Martin said.
In Taylor's sophomore year, despite notching 15.4 points and 5.3 rebounds per game, his 3-point percentage took a significant hit, finishing at 34 percent. There were a handful of games where he struggled to put the ball in the basket. He went 0-of-7 from three against Bullis, and only converted on combined 14-of-52 shots from the field in three contests against Trinity Episcopal.
"I don't like to call it a slump because I don't like to use that word," Taylor said.
On days when his shooting wasn't a threat, Taylor could still affect the game in other ways, something that he wouldn't have been able to do in the past. He changed direction in transition, scooped the ball in with acrobatic finishes and fed crisp passes to his teammates.
All the while, Taylor kept a composed demeanor, "workman-like," as Martin described it.
"He's a get back on defense kind of guy," Martin said. "If you looked at his face you'd never know whether he was winning or losing the game."
In December, Taylor's profile took off when he caught the attention of national recruiting expert Evan Daniels at the Sleepy Thompson Tournament. Two months later, he received an invite to the Team USA Camp, which has since been postponed due to the COVID-19 pandemic.
His work culminated with multiple phone calls on June 15, the first day that college coaches can directly contact recruits in the class of 2022. Taylor stayed up late in the night and earned offers from Maryland, Bryant and St. Joseph's all after 12 a.m. He admits it was difficult to sleep that night.
This summer was supposed to be Taylor's first time playing for Team Takeover after switching from his previous organization, Team Loaded. But the team wasn't able to compete in any tournaments as a result of the pandemic. Still, Martin frequently talked with Taylor about training and quickly learned how Taylor carries himself off of the court, too.
Team Takeover organized a Zoom call following the death of George Floyd. The 2022 team gathered virtually to have an open discussion about race. Being his first year with the program, Taylor didn't really know any of his teammates. Regardless, speaking from the perspective of a White player in a minority driven sport, Taylor was vocal about his frustrations with the fact that everyone couldn't be treated equally.
"It was indicative of how he was raised and what he stands for," Martin said. "A lot of times what you get from them is unabashed truth because they don't know any other way. They're not in a position where they're trying to have people like them."
On the court throughout the summer, Taylor has continued to sharpen his ever-developing versatile skill set. Having grown to 6-feet and 6-inches, he's been keying on his lateral quickness so he can still keep up with point guards. He's been pushing sleds, throwing medicine balls, dead lifting and testing his vertical jump.
During a workout late in the summer, Taylor exploded off of a screen and threw down a hammer on the defender.
"I had never seen him do that before," Martin said. "If you want to get that non-athletic knock, and he is pretty athletic for his size, but if you want to kill that notion you can't just lay the ball in. You have to at least attempt to dunk it."
Meanwhile, coaches kept calling. Marquette, Butler, Richmond, Georgetown and Syracuse all extended offers. He's also utilized what he learned from watching Ashley go through the recruiting process to help steer his decisions.
Last week, Indiana was the most recent program to reach out. Taylor talked to Kenya Hunter, Indiana's recently hired co-associate head coach. Then, he spoke with Archie Miller.
"Their program kind of speaks for itself," Taylor said. "The type of basketball culture and history that they have there. It's definitely a school where they love basketball and you come in and fit in right away with their playing style. They've had a lot of good shooters in the past."
In a basketball event last weekend, Taylor met Victor Oladipo. During his time on the AAU circuit, Oladipo also played for Team Takeover.
Oladipo told Taylor to keep working hard, take the recruiting process patiently and know that everything will fall into place.
If it falls into place for Indiana, they'll be bringing in a top-tier 3-point threat, an attribute that they've lacked the past couple of years. Last season, the Hoosiers were 219th in the country in 3-point percentage and the season prior, they were a laughable 317th.
Indiana would also be getting a player with a maturing game, who can't stand being knocked as just a shooter. Right now, knowing he still has another summer on the AAU circuit ahead of him, Taylor taking Oladipo's advice and doesn't have a timetable for a decision.
"I honestly think that at the end of two years he's definitely a top-25 player and a candidate for McDonald's All-American," Martin said.
(Photo credit: HoopGroup)
Filed to: Justin Taylor