'I think he would definitely consider them': Why Indiana could be in the mix for Hunter Sallis despite a late recruitment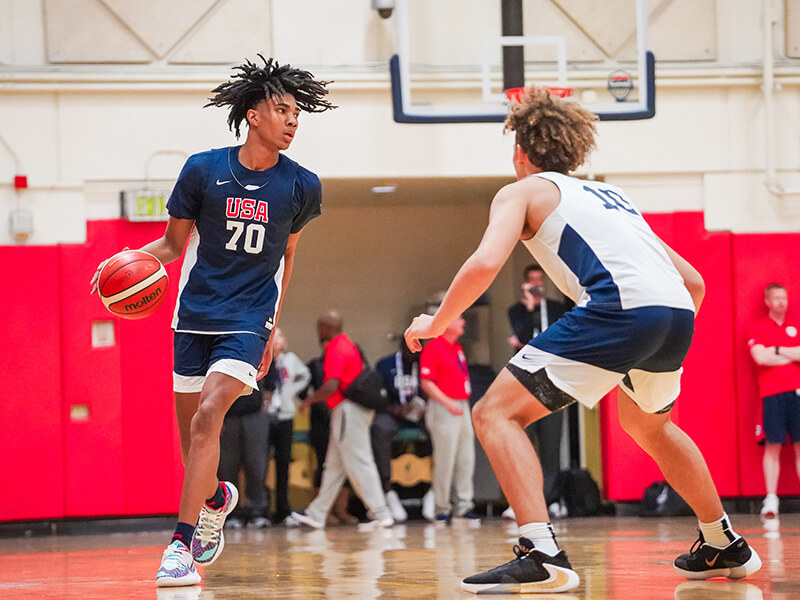 On Aug. 23, five-star combo guard Hunter Sallis announced his top 12 schools on social media. Michigan, Kentucky, Oregon, North Carolina, Kansas and Gonzaga were all among the universities eager to sign the 2021 prospect from Millard North High School in Omaha, Nebraska.
Five days later, Indiana extended a scholarship offer to Sallis despite not having any prior involvement in his recruitment. Even in such a quick development, it left Sallis' high school coach Tim Cannon saying: "I think he would definitely consider them."
What changed?
Indiana hired Kenya Hunter to the coaching staff.
Hunter has an established relationship with Sallis that tracks back to when Hunter coached at Nebraska from 2013-18. Hunter's son played at Creighton Prep High School, a rival of Millard North's in Omaha. Hunter was familiar with the Omaha hoops circuit while Sallis was a burgeoning recruit.
Sallis has developed into a star in the midwest. He's currently ranked No. 19 overall and the No. 2 combo guard in the nation by 247Sports.
As a freshman, Sallis was so skinny they called him Bambi. He was around six feet tall, quick and "real slithery," Cannon said. With his game still largely undeveloped, Sallis didn't start as a freshman, averaging just over 12 minutes on the floor and 4.3 points per game.
After his freshman season, as he became more physically mature, his recruitment picked up momentum.
"All of a sudden, he started jumping over people to dunk," Cannon said.
By August entering his sophomore year, Sallis picked up an offer from Ole Miss. Then, more offers from power five conference programs started rolling in: Creighton, Iowa State and Nebraska.
Sallis' growth was on full display in his sophomore year as he averaged 18.2 points, 3.8 rebounds and 2.8 assists per game, while shooting 40 percent from three.
"When he gets in the open court he finds a way to get to the basketball, but he also has become better and better at passing," Cannon said. "He'll give it up to people. He's getting to the point now where he can finish around the rim in a lot of tough situations."
The summer following his sophomore year, Sallis earned an offer from Hunter and UConn. During Hunter's time on the Huskies' staff, he traveled to at least one Millard North game and one practice to watch Sallis while continuing to develop their relationship. Hunter also came to Cannon's classroom at Millard North to talk and would check in with him on the phone.
"He always told me at different times, he would always say UConn was one of the schools he was considering strongly," Cannon said. "That connection is really big."
As a junior, having grown to 6 feet and 4 inches tall, Sallis upped his scoring average to 22.2 points per game, while adding 4.6 rebounds and 3.8 assists per game. By that time, major blue bloods were on the line with him. He also had his share of highlight reel plays, boasting his springy athleticism with windmill, tomahawk and 360 jams.
In a game last season, Sallis drove the baseline and leapt over a defender to dunk. He got undercut, ending up almost parallel to the hardwood and knocking his head on the floor.
After the game, Sallis' mother Jessica Haynes, who played basketball at San Diego State, turned to Cannon and said: "Hunter has learned how to fly. Now, he needs to learn how to land."
"He dunks it all the time," Cannon said. "Sometimes, he misses the dunk because he's getting too enamored with the super windup."
Off of the court, Cannon frequently talks to Sallis and taught history to him one year. Sallis was quieter at the beginning of his time at Millard North, but has grown to be more vocal.
One time, Cannon's grandson Eli was rebounding for Sallis in a pre-game shoot around. When they were finished, Cannon watched Sallis thank 8-year-old Eli for his time.
"Hunter, that was really nice that you said thank you to an eight year old," Cannon recalls telling Sallis.
"That's what you should do, but a lot of guys don't do it," Cannon said.
Later, before another game, Sallis returned the favor and rebounded for Eli.
With his senior year underway, Cannon said that Sallis originally planned on committing around November, but all of the uncertainty caused by COVID-19 will most likely alter his decision. Recently, Cannon has been trying to schedule a time to talk to Sallis after school about his recruitment. But most of the time, Sallis has already left school. He goes right after classes to workout with a trainer, where his high-flying nature will continue to take off.
Sallis is still considering 12 schools, so there's a long way to go in his recruitment. Indiana is in an interesting position in Sallis' recruitment, having jumped into the mix late, but still holding a strong connection with Hunter's history. Currently, the Hoosier just have a single commitment in the 2021 class from center Logan Duncomb.
With Al Durham graduating after this season, and the possibility of Khristian Lander departing for the NBA, Archie Miller and his staff have been targeting perimeter additions. Sallis' ability to shine in fastbreak opportunities aligns well with Miller's uptempo philosophy.
"I've never had a player that I can see visibly improve as consistently as he does," Cannon said. "He just keeps improving."
Just as Sallis' game has steadily grown over time, there's a chance Indiana can do the same with their recruitment of him.
Filed to: Hunter Sallis, Kenya Hunter