6-Banner Sunday: Indiana makes top five for Silver Creek star Trey Kaufman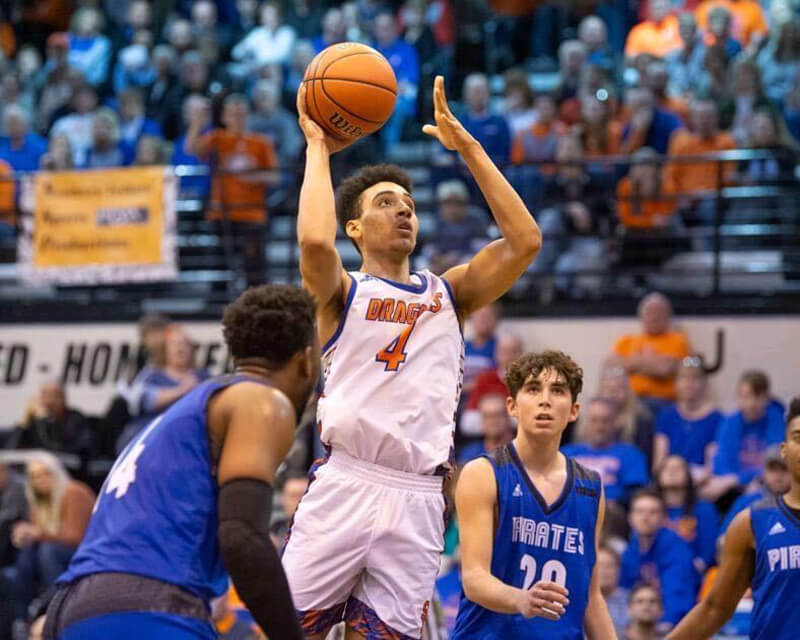 6-Banner Sunday is Inside the Hall's weekly newsletter in partnership with The Assembly Call. More than 7,000 Indiana fans receive the newsletter each week. In addition to appearing each week on the site, you can also opt to receive 6-Banner Sunday by email. A form to subscribe via email is available at the bottom of this week's 6-Banner Sunday.
Welcome to another edition of 6-Banner Sunday, a joint production between The Assembly Call and Inside the Hall where we highlight the five most essential IU basketball stories of the past week, plus take a look at how the other IU sports programs are doing.
Even with the pause in Indiana basketball's workouts due to positive COVID-19 tests last week, news around the program and in the sphere of college basketball hasn't slowed one bit.
Indiana's new co-associate head coach Kenya Hunter made his first appearance in front of the media Friday morning. Hunter, who was on University of Connecticut's coaching staff last year, was originally introduced to the program in early September.
Since arriving on the Indiana staff, Hunter, an Arlington, Virginia native, has prioritized recruiting in the DMV. A variety of offers have recently been extended to 2022 prospects from Hunter's old stomping grounds, including small forward Justin Taylor and center Favour Aire. Inside The Hall recently posted articles featuring insight on both players.
In other recruiting developments, the Hoosiers made the top-5 list for top 2021 in-state target Trey Kaufman.
All of that, plus turning back the clock to Christian Watford's game-winner and an update on the current state of the college basketball season.
Also, you can listen to the most recent episode of Assembly Call radio featuring Chronic Hoosier here.
• Relationships driving Kenya Hunter to Indiana and beyond
• Top recruit Trey Kaufman releases top-5 schools
• 2022 small forward Justin Taylor is emerging as a top 3-point threat
• Reliving Indiana's win over No. 1 Kentucky
• College basketball scheduling rumors continue
• Hoosier Sports Roundup
Banner #1
Relationships driving Kenya Hunter to Indiana and beyond
In his first time speaking to the media, Kenya Hunter made it clear why he decided to join IU's coaching staff.
"Because of who wanted me to be here with him: Archie Miller," Hunter said in the press conference.
Hunter's relationships with Miller stretches all the way back to Miller's days playing AAU ball. Eventually, the two would meet up again at North Carolina State, where Miller competed on the hardwood and Hunter served as the director of basketball operations.
When Bruiser Flint took a job at Kentucky under his former boss John Calipari, Miller turned to Hunter to fill Indiana's vacancy. Hunter will attempt to boost IU's recruiting, which has already brought in the last three Indiana Mr. Basketball's.
Banner #2
Top recruit Trey Kaufman releases top-5 schools
With an announcement on social media last Tuesday, the list of potential suitors to land four-star forward Trey Kaufman has dwindled to Indiana, Virginia, Purdue, UNC and Indiana State.
Last season, Kaufman averaged 25.8 points, 9.6 rebounds and 1.6 blocks per game, while helping Silver Creek to a 25-2 record before the state tournament was canceled midway through due to the COVID-19 pandemic.
Kaufman is a top-ranked prospect in Indiana and has been on Archie Miller's radar for awhile now. The Hoosiers have been a constant favorite in his recruitment, although UNC and Virginia have made up substantial ground over the last couple of months.
Last weekend, Kaufman toured the campuses at both UNC and Virginia before he released the list.
Kaufman broke down his decision and the weekend visits in a recent interview with Inside The Hall.
Banner #3
2022 small forward Justin Taylor is emerging as a top 3-point threat
Last week, Indiana extended an offer to four-star recruit Justin Taylor. The Charlottesville, Virginia native joins a handful of other 2022 DMVelite prospects, including Masai Troutman and Favour Aire, to be offered by the Hoosiers.
In his freshman season at St. Anne's-Belfield, Taylor averaged 13.3 points, 5.1 rebounds and 1.5 assists per game. He also shot a scorching 47 percent on 3s, dropping in 80 of his 171 attempts from distance.
As Taylor's stature grew to 6-feet and 6-inches, he also wanted his game to grow along with it. He became tired of being labeled a one dimensional player and decided to focus on other aspects of his game.
While Taylor is still a lethal 3-point threat, he's added a plethora of skills to his game, included a reliable pull-up jumper and improved finishing ability at the rim.
Taylor still has a long way to go in his recruitment, but Indiana's depleted perimeter shooting could receive a boost in the future if they're able to land him.
Banner #4
Reliving Indiana's win over No. 1 Kentucky
Christian Watford's 3-pointer has gone down as one of the greatest shots in IU's history. All aspects of the play have been relived time and time again: the way the ball cut through the net, Watford's follow through, the court-storming, even the oddly disgusted look on Tom Crean's face.
Through it all, the shot has become entrenched in the history of Indiana basketball. It's become the shot. Last season, there was even a promotion at an IU game where contestants tried to recreate the iconic moment
Inside The Hall's Cameron Drummond collected perspectives from a variety of sources, including players that were on the court, to put into perspective what the shot meant to the program.
Banner #5
College basketball scheduling rumors continue
Flurries of reports and news about the future of the college basketball season have appeared over the past week as theoretical scheduling continues to take shape.
On Wednesday, Jon Rothstein reported that the ACC was set to propose a plan that every Division I team would make the 2021 NCAA Tournament. Later, Duke head coach Mike Krzyzewski and Notre Dame head coach Mike Brey, both released a statement supporting the idea.
There has been controversy surrounding the notion, as fans have voiced their displeasure about a possible 300-plus team event. Others have dubbed it a celebration of college hoops. Any version of a tournament, though, would be better than none at all.
In other news, Rothstein also reported that several conference executives have told their programs to anticipate playing a non-conference schedule of up to eight games. Obviously, the weight of these games would shift depending on how many teams were to make the NCAA Tournament.
Lastly, Indianapolis has become another possible site for the Maui Invitational. Last week, Asheville, North Carolina, emerged as a potential host to the tournament. Indiana is scheduled to play in the eight team event. There have also been talks of the Big Ten/ACC challenge taking place in Orlando, Florida.
Banner #6
Hoosier Sports Roundup
• Football had a feature story written about the stolen Oaken Bucket. Also, several Hoosiers will compete when the NFL opens up its season today.
• Former Hoosier pitcher Jonathan Stiever will make his MLB debut for the White Sox today.
• Also, iubase.com interviewed Assistant Director of Academics and Certification Tyler Wright.
• Lastly, the Herald Times' Jon Blau wrote a feature this week on former pitcher Aaron Slegers. I wrote a story about Slegers last year when he visited Victory Field in Indianapolis.
• Blau also spoke with athletic director Scott Dolson about when IU sports and especially football might resume.
Thanks for your continued support for The Assembly Call. We'll be back next weekend with a new roundup.
Now go enjoy yourself a 6-banner Sunday.
Filed to: