6-Banner Sunday: Big Ten fall sports set to only play conference games as the basketball season remains unknown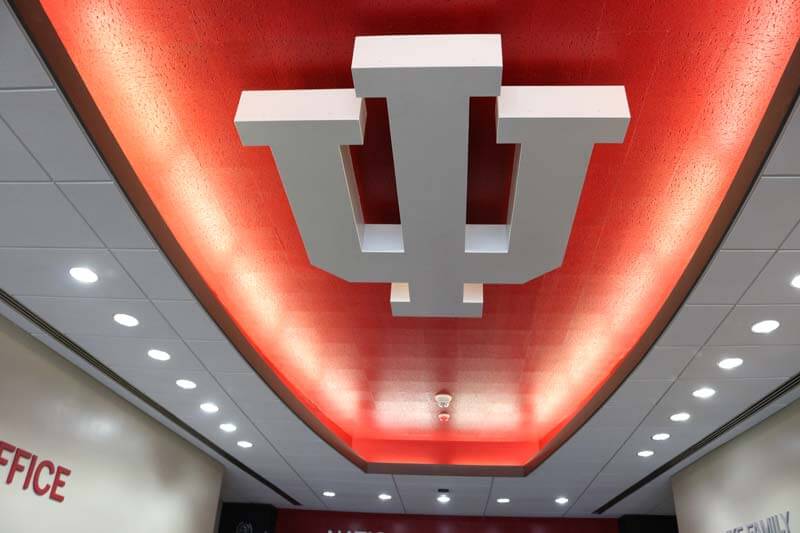 6-Banner Sunday is Inside the Hall's weekly newsletter in partnership with The Assembly Call. More than 7,000 Indiana fans receive the newsletter each week. In addition to appearing each week on the site, you can also opt to receive 6-Banner Sunday by email. A form to subscribe via email is available at the bottom of this week's 6-Banner Sunday.
Welcome to another edition of 6-Banner Sunday, a joint production between The Assembly Call and Inside the Hall where we highlight the five most essential IU basketball stories of the past week, plus take a look at how the other IU sports programs are doing.
It's been a whirlwind of a week in terms of learning how different and limited college sports are going to be in the fall.
College sports don't have the luxury of creating safe bubbles in a city like many of the pro sports are doing now. As a result, conferences all around are coming up with decisions on how to proceed, whether that's postponing fall sports altogether or only playing conference games to have better "control" of the situation.
Whatever happens in the fall, whether good or bad, will most likely affect the decision-making when it comes to college basketball. As of now, college basketball is planned to start as scheduled, but the chances of that remaining the same are in doubt.
All of that news, mixed in with some Hoosier analysis and recruiting, rounds out this week's Indiana basketball content.
• Big Ten announces that fall sports, if they happen, will only play conference games
• Next round of COVID-19 testing gets released from IU with four positive results
• Indiana Elite brings an exciting trio to Bloomington this fall
• Two potential Indiana targets talk IU interest and more
• Lance Stemler Q&A, POTB on Victor Oladipo
• Hoosier Sports Roundup
Banner #1
Big Ten announces that fall sports, if they happen, will only play conference games
A large domino fell on Thursday afternoon when the Big Ten announced that its fall sports schedule will consist of conference games/matches only if the league is able to participate.
The Ivy League announced recently that there will be no sports in the fall and the spring will be evaluated later, but the Big Ten is the first of the power five conferences to make a decision regarding collegiate sports in the fall.
IU's fall sports are men's and women's cross country, field hockey, football, men's and women's soccer, and women's volleyball.
Some of those sports carry into November, which is right around the time college basketball season starts back up. As of now, there have been no announcements regarding what the limitations might be for basketball season.
Indiana is scheduled to compete in the Maui Invitational from Nov. 23-25. In a report by Jon Rothstein on Wednesday, he said the invitational still intends to operate as scheduled. The Hoosiers are one of eight teams in the field, along with Alabama, Davidson, North Carolina, Providence, Stanford, Texas and UNLV.
All of this is subject to change based on what happens with the COVID-19 pandemic, and there's no guarantee for anything at this point. Big Ten commissioner Kevin Warren said on Thursday when discussing the Big Ten's conference-only announcement that there might not be sports at all in the fall.
All of this, as well as some solid Trayce Jackson-Davis analysis, was discussed on this week's edition of Assembly Call Radio.
Banner #2
Next round of COVID-19 testing gets released from IU with four positive results
During the first few weeks of voluntary workouts returning to campus at IU, there were no positive COVID tests.
On Friday, IU athletics announced that it administered 112 COVID-19 tests from June 24-July 8 for student-athletes, coaches and staff, with four positive and 108 negative tests reported.
Since workouts and testing began on June 8, four positive and 295 negative tests have been received overall.
Indiana University just recently announced that before students return to campus for the fall semester, they are all required to get a COVID-19 test.
Although this isn't completely related to IU in the present time, a former Hoosier has recently tested positive for COVID-19. Thomas Bryant, who played at IU from 2015-2017, will not be joining the Washington Wizards for the NBA restart in Orlando because he tested positive.
Banner #3
Indiana Elite brings an exciting trio to Bloomington this fall
Three of the four incoming freshmen for IU this season hail from the state of Indiana, and despite playing on different high school teams, they have all played together before.
Trey Galloway, Anthony Leal and Khristian Lander all played with one another at Indiana Elite, an AAU program that brings in the best players in the state and makes them join forces for a summer.
Lander recently reclassified to join the Hoosiers in 2020, but before he did that, he already played up a year with Indiana Elite 2020, which is why he was able to play alongside Galloway and Leal.
Inside the Hall's Cameron Drummond recently caught up with Mike Fox, the head coach of Indiana Elite, and talked to him about the trio and their continuity.
"They have great chemistry. They know how to play the game," Fox said. "Really early on with Khristian they knew how to move the ball and find the (open) guy. They've acted like they've played with each other for years."
That's a promising sign for Indiana fans whenever these three, as well as Jordan Geronimo, can make their Indiana debut.
Banner #4
Two potential Indiana targets talk IU interest and more
The list of targets for the class of 2022 is growing rapidly for Archie Miller and company, and there's a lot of talent they are looking at.
Two of those players were featured this week at Inside the Hall.
Alex Karaban is a 6-foot-8 small forward from New England, and he is following a similar path as Jordan Geronimo, who played in the same conference as Karaban.
Karaban was offered an IU scholarship in March after he averaged 20 points, 8.8 rebounds and 3 assists per game.
The second player who talked to Inside the Hall was Will Lovings-Watts, a 6-foot-4, four-star shooting guard out of Jeffersonville, Indiana.
Lovings-Watts is the 75th-best player nationally and the fourth-best player in Indiana in his class by 247Sports behind a trio of other IU recruiting targets: Jalen Washington (Gary West Side), Kamari Lands (La Lumiere) and D'Ante Davis (Lawrence Central).
He spoke with Cameron Drummond for a Q&A about his recruiting process and his game.
Indiana has not offered him yet, but they have shown interest.
"I just talked to Archie Miller the other day," Lovings-Watts said. "He was telling me how I'm on their radar and how they really like the style I play. They said they want to get me on campus."
Banner #5
Lance Stemler Q&A, POTB on Victor Oladipo
Alex Bozich of Inside the Hall caught up with former IU basketball player Lance Stemler, who played under Kelvin Sampson at IU where the Hoosiers went to two NCAA Tournaments.
But Stemler also played during the dreadful season in 2007-08. In the Q&A, Stemler revisited all the good and bad memories at IU and explained why he still loves the university even after a bumpy close to his career.
"As frustrating and as hard as it was at times, to me there was nothing like putting on the candy stripes and running out. And playing at Assembly Hall," Stemler said. "As you get away from it, I tend to focus on the positives overall and let the negative portion go. Because overall, it was a good experience for me."
To follow the trend of former Hoosiers, probably the most well-known modern-day Hoosier shook up the Indiana Pacers organization when he announced he wouldn't be competing in the NBA restart, scheduled at the end of July in Orlando.
Victor Oladipo had recently returned from a ruptured quadriceps tendon and was just getting into a rhythm before the season was put on hold. Oladipo thinks he's more susceptible for injury if he goes back into playing after months off, which is why he is opting out. He will still travel with the team, though.
As discussed in a column by the Athletic's Bob Kravitz, after indicating he was undecided on playing July 1, Oladipo told Shams Charania of the Athletic he was not playing on July 3. It was later found out when speaking with Pacer coach Nate McMillan that Oladipo had not informed the Pacers of his intentions not to play before telling Charania.
This has caused many Pacers fans to be concerned, since Oladipo is a free agent after the season ends, so he has the choice to leave Indiana if he wants.
The entire Oladipo situation was discussed on this week's edition of Podcast on the Brink when Bozich was joined by Scott Agness.
Banner #6
Hoosier Sports Roundup
• While IU and by extension college sports remain uncertain with the Covid 19 pandemic, several Hoosiers outside of Oladipo are ready to compete when pro sports resume this month.
• Even though Oladipo has opted out of playing, six other former Hoosiers will compete when the NBA resumes at the end of the month.
• Another former Hoosier was added to a major league roster in anticipation of Baseball's upcoming restart. Also, Indiana released a video touring Bart Kaufman Field which is IU's home park.
• Football added a late addition to the offensive line for this coming season.
• A Q and A was done with IU Swimming and Diving's Brandon Hamblin.
• 29 Hoosiers were named to the Scholar All-American Team.
Thanks for your continued support for The Assembly Call. We'll be back next weekend with a new roundup.
Now go enjoy yourself a 6-banner Sunday.
Filed to: