Q & A: Class of 2022 shooting guard Will Lovings-Watts talks IU recruiting interest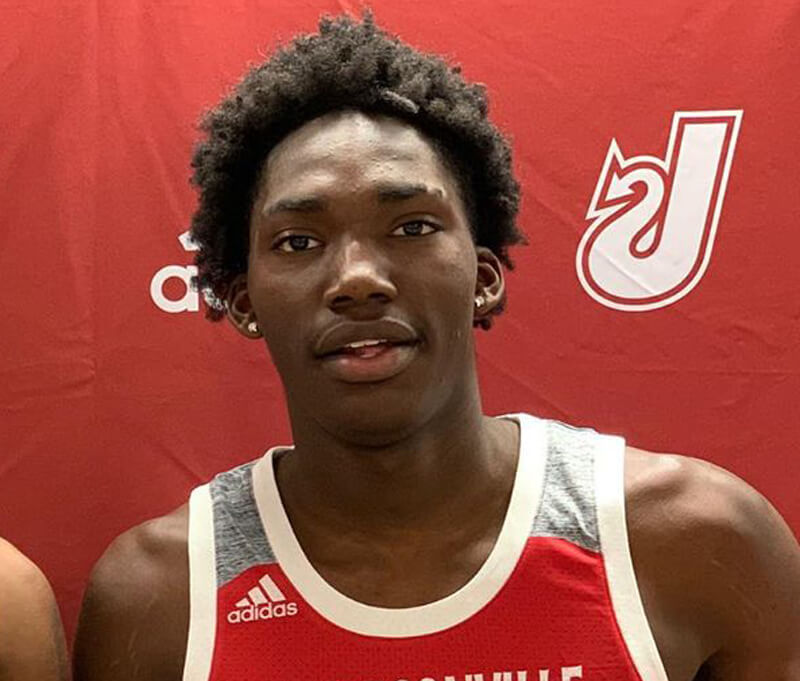 Will Lovings-Watts is a class of 2022 shooting guard that has gained national attention in a short span of time.
The 6-5, 170 lb. rising junior is rated as a 4-star prospect, the 75th-best player nationally and the fourth-best player in Indiana in his class by 247Sports behind a trio of other IU recruiting targets: Jalen Washington (Gary West Side), Kamari Lands (La Lumiere) and D'Ante Davis (Lawrence Central).
Davis and Washington already have scholarship offers from IU, and while one hasn't been extended yet to Lovings-Watts, he's been in conversation with Archie Miller about the value Indiana sees in him as a recruit.
Inside the Hall spoke with Lovings-Watts to learn more about his game, what his role has been playing AAU basketball for Indiana Elite and at Jeffersonville High School (Jeffersonville, Indiana) and what the recruiting process has been like for him so far.
Our full Q & A is below:
Q: For people who have never seen you play before, how would you describe your game?
A: I would say I'm more of a drive-first guy that can get my teammates open for shots, but I can still shoot. I need to.
Q: Going off of that, why do you think those are your biggest strengths as a player? Why do you prefer a drive-first mentality?
A: Well, because I'm taller. I'm 6-5, and I have length and my wingspan is pretty long. So it's easier for me to do that.
Q: From an early age, how did you try and use your height to your advantage when driving to the rim or just playing in general?
A: When I was younger my uncle always used to take me to the gym and teach me (how to do) the scoop layups and how to finish out in front of me and stuff like that. That's how I got really good at it.
Q: Watching some of your game tape it seems pretty impressive the way you're able to control your body on drives and around the rim given your size and wingspan. How did you learn to do that and how effective do you think your body control is?
A: Well, my coaches and trainers, they all use the pads to hit me while I'm going into the lane. So I can focus on my body control when working out in practice so I can implement it into the game.
Q: Describe to me your basketball progression. I guess, when did you start playing and why did you start playing?
A: I've been playing basketball all my life. When I was a lot younger, basketball was always my favorite sport. I used to always shoot around in my house and stuff like that. I used to play football and basketball. I used to play both, but basketball was really like my main sport.
Q: Was there anyone you watched play basketball growing up that made you want to play the sport more or something like that?
A: Kevin Durant was always my favorite player. I used to watch him all the time when he played for Texas. That was one of my main inspirations.
Q: When did you start playing at shooting guard and how have you fit into that position?
A: Well when I worked out with my trainer, I always worked on my handles and I always learned (how) to be a big guard. I always wanted to be a tall player that played the point guard or the shooting guard position.
So when I was in the gym, all I would work on was my ball handles so I could bring the ball up the court. I worked on it super hard to get my handles where they are now.
Q: You're pretty highly ranked by all the recruiting services and stuff. What's it like being a player with all that attention?
A: It's pretty cool. But I don't really look at stuff like that. I just try to work as hard as I can to be the best player I can be.
Q: Does it feel like extra pressure at times? How do you try and not let that affect you?
A: It definitely does, when other teams have their best defenders face guarding you and stuff like that, but in practice I work on stuff like that now because I know that other teams will do that, double team me and stuff like that. I work hard to (learn) how to get around double teams and stuff.
It's happened a lot. Almost every team we play in school basketball, they would double team me or face guard me.
Q: What have your two seasons at Jeffersonville been like, and how do you think you've adapted to playing at the high school level?
A: It's been super fun. All the teams are really good around here and we've been pretty good for the last couple years too, so it's been fun to compete.
Q: You're about to have your third high school coach in three seasons. Is that something that's difficult to adjust to and how do you as a player try and stay consistent when things are changing around you?
A: It's difficult because it's just a year in between the coaches and we've got to adapt to a new playing style and stuff like that, but I just try to talk to our new coaches as much as I can, get to know them and know what they're going to let me do on the court and how I can help our team.
Usually I'll guard the best players on each (opposing) team. Most of my role is to play defense on the best player and put the ball in the basket on the offensive end.
I usually just tell them (the coaches) that whatever positions they think I'll be best at is where I want to be played at. I don't want to talk to the coach and tell them where I want to be placed at. I'd rather him tell me what he wants me to do.
Q: I spoke with Mark Adams, your coach with Indiana Elite, and he expressed how happy he is to have you as part of the program and how much he likes the size you offer on the court. So on the AAU front, what's your time with Indiana Elite been like and are there differences in the way you're used in AAU compared to high school?
A: It's been great. We've had two great teams (with Indiana Elite).
There's definitely a difference because in school basketball I shoot more because our team (Jeffersonville) needs me to shoot more. For AAU, we have these big guys from all over, from like Ohio and all over, that are super good so I can pass it around, drive and kick for 3s, stuff like that.
Q: Is there a role you prefer?
A: I like the Indiana Elite playing style where I don't have to go every time we need a bucket. I can distribute it around and pass it around and take shots.
Q: Recruiting wise I know you already have offers from Bradley and Wichita State, but what has it been like going through the recruiting process with everything being virtual in recent months?
A: When the offers first opened up (coaches being allowed to contact players after their sophomore year) on June 15th, the T-Mobile line went down. So I couldn't call or make any calls or talk with coaches or anything. So that was a big part of it.
I was supposed to talk to Cincinnati and a few other schools that haven't reached out yet because of my phone being down that day.
Q: You've mentioned Indiana, Louisville and Purdue before as three of the schools you're most interested in. Obviously they're all pretty close to home for you, but what about each of those schools makes you so interested in them?
A: For sure the coaching staffs. The coaching staff at Louisville, Coach Mack, he's a great guy. I've sat down and talked to him, I think on their campus, and he was telling me how I would fit their playing style really well.
I just talked to Archie Miller the other day. He was telling me how I'm on their radar and how they really like the style I play. They said they want to get me on campus.
Then for Purdue, I talk to Purdue all the time since they'll text me or call me. They came to one of my basketball games. I went on a visit there and watched one of their games. They're really persistent when recruiting me and that's what I really like about Purdue.
When I went to their basketball game, the crowd was really crazy. They were really excited for their basketball team at Purdue.
Q: Looking at Indiana specifically, what have your conversations been like with coaches?
A: Really all they said was stuff like they're interested in me and they know I'm a top player and they're going to get me out for a visit soon.
Q: What are you trying to work on right now with your game?
A: Right now I'm just trying to get stronger. I'm lifting weights and stuff. I'm getting as many shots up as I can. I'm trying to get up 200, 300 shots per day.
Q: Is there any specific routine you're doing this summer to help address parts of your game?
A: Just shooting the 3. Going around the arc and shooting the 3 and then doing drives to the lane, then doing one-dribble pull ups and two-dribble pull ups. Stuff like that.
Q: Going into your junior year, are there any specific goals you have for your AAU and high school seasons, things you want to show people?
A: Honestly, there are not any certain goals that I want to have. I just want to make sure we win. I just want to win, that's really all I want to do.
Filed to: Will Lovings-Watts