Indiana Elite's influx of talent set to help IU's continuity next season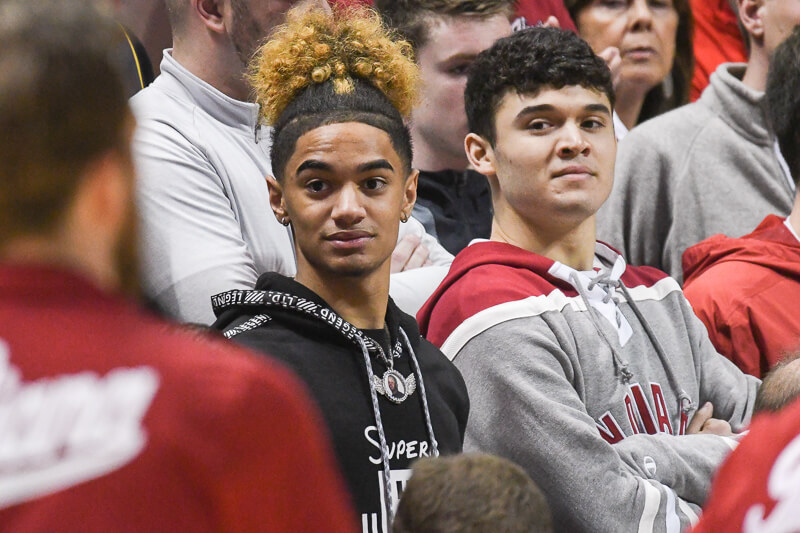 Archie Miller's first three seasons at Indiana have all been defined, at least partially, by the continuity of his roster.
Whether it was Miller inheriting a senior backcourt of Josh Newkirk and Robert Johnson in his first season or integrating freshman stars Romeo Langford and Trayce Jackson-Davis in following seasons, Indiana's recent history has been defined by Miller helping acclimate newcomers to the team.
This process is largely the same for most college coaches, but what differs from the norm is the type of cohesion that recently arrived in Bloomington as part of Miller's 2020 recruiting class.
Three of Indiana's four incoming freshmen — guards Trey Galloway, Khristian Lander and Anthony Leal — all played AAU basketball together on the same Indiana Elite 2020 team coached by Mike Fox.
"They have great chemistry. They know how to play the game," Fox said. "Really early on with Khristian they knew how to move the ball and find the (open) guy. They've acted like they've played with each other for years."
Lander played up a year when he joined Galloway and Leal on the Indiana Elite 2020 squad, as the 5-star guard didn't reclassify to become a 2020 recruit until May.
It was already a successful team when he arrived, as Fox noted he doesn't think Galloway and Leal lost more than 10 games while playing together with Indiana Elite over three years.
The transition incorporating Lander into a winning environment went smoothly, which Fox said was a product of trust on the court, understanding the game in a similar way and knowing how to recognize when teammates had offensive advantages.
"Understanding that if I'm driving baseline, the other player is drifting, that they know the skip (pass) is there," Fox said. "They just know how to play with each other."
This speaks to an element of AAU basketball not often focused upon. While impressive individual performances obviously lead to increased recruiting attention for AAU players, Fox and his fellow Indiana Elite coaches stress the need to show college coaches the ability to play in a team setting.
That perspective shapes how Fox approaches his hands-off role as an AAU coach, and also explains why the trio of Galloway, Lander and Leal functioned well together.
"You try and push and mold a bit, but it's really about the kids," Fox said. "You try not to overcoach and you make it about the kids and their success."
For each of Galloway, Lander and Leal, successful stints with Indiana Elite turned into IU scholarship offers, although a package deal scenario isn't the reason all three players came to Bloomington.
Instead, Fox attributes it to being a result of circumstance, as well as Miller's focus on in-state recruiting.
"It just seems like lately we've had several guys go to Bloomington," Fox said. "I think Coach Miller and Coach Ostrom have really put a focus on recruiting Indiana kids and it's really them recruiting the kids. It's not us."
While the rarity of three AAU teammates all joining the same college program has long been recognized, it's not necessarily new for Indiana Elite.
The 2012 class featured five players — Yogi Ferrell, Ron Patterson, Jeremy Hollowell, Peter Jurkin and Hanner Mosquera-Perea — who all joined Indiana, although only Ferrell finished his career at the school.
It could also happen again as soon as next season with an Indiana Elite 2021 team that features IU commit Logan Duncomb and another IU recruit in Trey Kaufman.
Regardless of where their college choices take them, Fox and Indiana Elite continue to do their part by providing a platform for players to showcase their skills, something demonstrated by three of this year's IU freshmen.
"It's really about giving guys opportunities and the chance to take advantage of it, and they (Galloway, Lander and Leal) did," Fox said.
Filed to: Anthony Leal, Indiana Elite, Khristian Lander, Trey Galloway