Roundup: Glass honored with President's medal for excellence, freshmen move in, more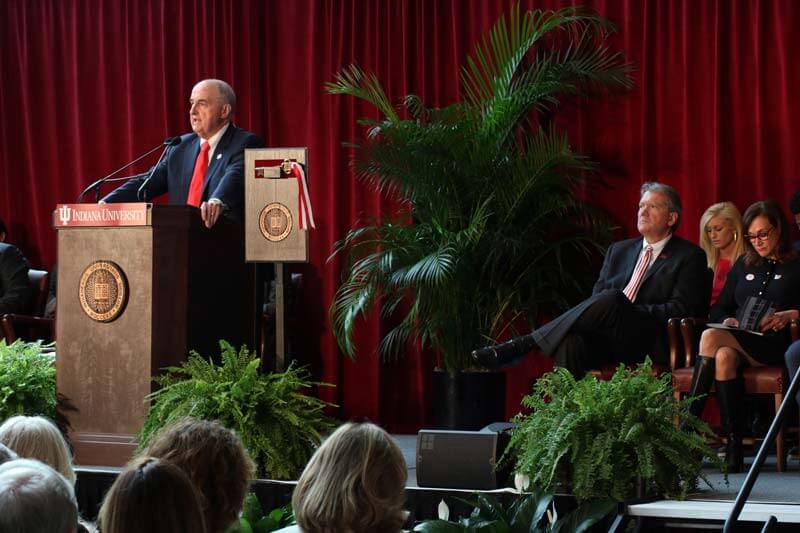 Indiana Athletic Director Fred Glass will retire from his post today and on Monday, he was honored by president Michael McRobbie for his contributions to the university with the President's Medal for Excellence.
Glass, who spent 11.5 years as IU's athletic director, will be replaced by Scott Dolson.
Here's a list of the accomplishments of the department under Glass, which were included in a release issued on Monday:
– IU Athletics' Graduation Success Rate has climbed from 77 percent to 91 percent and has equaled or established a new record score in each of the last seven years
– 25 team and 210 individual Big Ten championships
– 28 individual and one NCAA team championship
– 46 Big Ten Athletes of the Year
– 537 All-America honors
– 1,318 Academic All-Big Ten honors
– Introduced groundbreaking initiatives, including the Student-Athlete Bill of Rights and the Sexual Violence Disqualification Policy
– Created the Excellence Academy program, the most innovative and comprehensive personal development program in all of intercollegiate athletics
– Comprehensive overhaul of IU Athletics facilities has included:
• $49 million for Memorial Stadium North End Zone facility
• $48 million for the Excellence Academy facility on Memorial Stadium's south end
• $45 million renovation of Simon Skjodt Assembly Hall
• $24.6 million for construction of Cook Hall
• A combined $50 million plus for construction of Wilkinson Hall, Bart Kaufman Field, The Pfau Course at Indiana University, and Andy Mohr Field
– No major NCAA rules violations
There have been 143 recipients of the President's Medal for Excellence, but only five previous recipients had direct ties to athletics – Bob Knight (1987), Ed Williams (1992), Jerry Yeagley (2018), Lin Loring (2018) and Hobie Billingsley (2018).
#ThankYouFred ??? pic.twitter.com/QUaiYvFfIq

— Indiana Hoosiers (@IUHoosiers) June 29, 2020
FRESHMEN MOVE INTO EVOLVE
IU basketball's Twitter account released video on Monday of freshmen Anthony Leal and Jordan Geronimo moving into Evolve, an apartment complex near the athletics campus in Bloomington.
The video, which is 59 seconds long, has brief comments from both freshman at the conclusion.
Fresh new digs for our Freshmen: @anthonyl3al & @JordanGeronimo2 pic.twitter.com/lv2uY0UQsY

— Indiana Basketball (@IndianaMBB) June 29, 2020
BATES COMMITS TO MICHIGAN STATE
The top high school player regardless of class, Emoni Bates, committed to Michigan State on Monday.
The 6-foot-9 forward, who hails from Ypsilanti, Michigan, is the No. 1 player nationally in the class of 2022.
If he attends Michigan State rather than pursuing a professional route, he would be the first No. 1 player nationally to play for a Big Ten school since Eric Gordon suited up for Indiana in the 2007-08 season.
MILLER TO DONATE PART OF SALARY TO IU ATHLETICS
As part of a plan to cover a budget shortfall of $12.1 million, Archie Miller has agreed to donate 10 percent of his salary for the upcoming year back to the department, according to Zach Osterman of The Indianapolis Star.
Glass, Dolson and football coach Tom Allen will also donate 10 percent of their respective salaries back to the department.
For Miller, the donation will total roughly $330,000.
Filed to: Anthony Leal, Archie Miller, Fred Glass, Jordan Geronimo