Silver Creek forward Trey Kaufman continuing to expand his game and his athleticism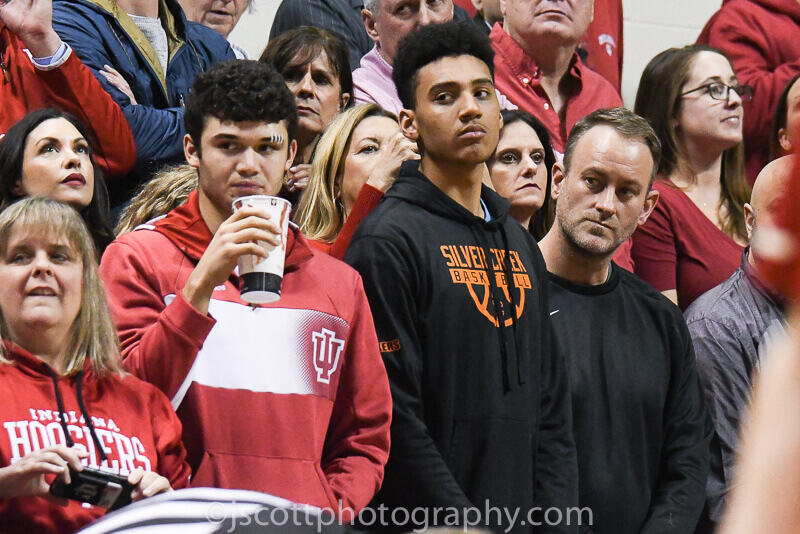 Class of 2021 Silver Creek forward Trey Kaufman will be one of the favorites for Mr. Basketball next season.
The Indiana recruiting target led the Dragons to a 25-2 record last winter as a junior before the season was cut short due to the COVID-19 pandemic.
As a sophomore, Kaufman helped lead Silver Creek to a 25-3 record and a Class 3A state championship.
But even with a lofty national ranking and a long list of suitors and scholarship offers, the 6-foot-9 forward is still hungry to improve his game.
Kaufman's coach at Silver Creek, Brandon Hoffman, hasn't been able to work with his players since the season ended. But he's been following their progress from afar and said Monday that the gains that Kaufman has made over the past few months are substantial.
Recent videos on social media showed Kaufman hitting the 12-foot mark on a vertical machine. Hoffman said his vertical jump has improved "five or six inches."
Check out our guy Trey Kaufman spending quarantine days making himself better. Hits 12 foot on the vertical machine! #nodaysoff #IEFamily pic.twitter.com/diu8iEMn9B

— Indiana Elite (@IndianaElite) May 19, 2020
"He's obviously done a lot of work on his body," Hoffman said. "We're going to find out here soon, when we're able to get back into the gym together, the ones who invested their time and the ones who wasted it. And Trey definitely invested. He's been working with a trainer and has gotten a lot more athletic."
Hoffman said one of the knocks on Kaufman as a sophomore was that he operated primarily in the paint. So last season, the rising senior showed off his versatility by stepping out and shooting better than 40 percent from beyond the 3-point line.
His stellar junior season – he averaged 25.8 points, 9.6 rebounds, 2.9 assists, 1.6 blocks and 1.1 steals – was rewarded with Gatorade Player of the Year honors in the state.
As a senior, Kaufman, who is a 4.0 student and is ranked No. 1 in his class academically at Silver Creek, is likely to show that he used the time away from organized basketball as an avenue to improve his game.
"A lot of kids, they just like to do what they are good at. They like to work on what they are good at or what is easy for them," Hoffman explained. "I think with Trey, he likes to point out the things that are maybe seen as weaknesses or areas of improvement. With him, I think the balance and lateral quickness was something that he really wanted to attack. He's worked a lot on that. When he is told he needs to improve on something, he really focuses on it."
In addition to all of the work to improve his game, Kaufman is also managing a recruitment that has drawn interest from all over the country.
Indiana, Louisville, Purdue, Xavier and Virginia have all made him a top priority and given that college coaches can't have any in-person contact with recruits through at least the end of July, Kaufman spends a lot of time each day interacting over the phone and building relationships that way.
"This is when he would have been playing during the evaluation period and going on visits," Hoffman said. "Coaches could have seen him in person and now the only thing they can do is call. And they've really amped that up. He's got to answer a lot of phone calls. There's a lot of interest in him from a lot of different schools."
Filed to: Trey Kaufman