Q & A: Lance Stemler talks IU career, Kelvin Sampson and the tumultuous 2007-08 season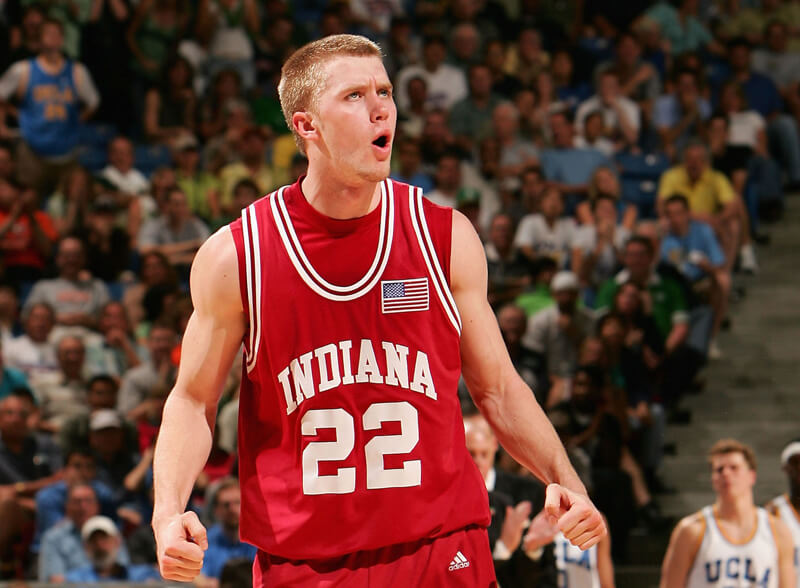 Lance Stemler spent two seasons at Indiana under former coach Kelvin Sampson and made two NCAA tournament appearances.
Stemler, who now resides in Sellersburg, spoke at length recently to Inside the Hall about his time in Bloomington, the tumultuous 2007-08 season and why he still loves the program despite the tough ending to his career.
Here is a full transcript of our Q & A:
Inside the Hall: I want to go back to the beginning in terms of your recruitment to Indiana. How did you end up in Bloomington?
Lance Stemler: It's kind of a weird way that I ended up at IU. I actually went to junior college first. I never really played AAU. I played a lot of soccer in high school. I think I was 6-6, 175 and I wanted to play basketball. Junior college was the first time I really played full time and focused on it. That first year, I grew about an inch and put on about 25 or 30 pounds and I redshirted. So then Bradley came into open gyms after my redshirt freshman year. So I went there and played my freshman year. It was a weird situation and after my freshman year there, I went back to the same junior college and played my sophomore year. And that's when things took off.
ITH: How did things take off?
Stemler: It was a lot of just growth, maturity and obviously I put on muscle and focused on my body, focused on the sport. And being at Bradley for that year opened my eyes to what it took. I was around a lot of good players that I was able to see the work that they put in. And then when I got back to junior college, the program that I went to, Southwestern Illinois College, it was an established program with a great coaching staff that put me in the best position possible. We had a really good team and things just took off.
ITH: The recruiting process has changed so much since you went through it, but what was it like at that point in time being recruited by Indiana?
Stemler: It was funny because they really didn't recruit me until the end just because if you remember, coach (Mike) Davis got fired after that 2005-06 season. And they didn't really hire coach (Kelvin) Sampson until late. The recruitment … social media wasn't big yet and text messaging was just kind of starting. It was a lot of phone calls through coaches and old school ways. But then as far as IU is concerned, Rob Senderoff was at Kent State and when I went back to junior college, he was one of the first Division I assistants to come to open gym. We started talking and Kent State was one of my first offers when I was back at JUCO. So we started building a relationship. It's funny how things work out, but I was 95 percent sure I was going to go to Marquette and play for coach (Tom) Crean. And then late in the recruitment, I told everyone I wasn't committing on a visit because I had been through the process and I kind of knew … so coach Senderoff called my coach and told him that he took the job at IU and he thought I could fit in and just wanted to make sure I didn't commit on a visit. And I didn't and it opened up the door for one more visit to IU. I grew up in Illinois, unfortunately as an Illinois fan, which I'm obviously not anymore. But I was a Big Ten fan, so I wanted to play in the Big Ten versus the Big East. The campus at IU kind of sold it.
ITH: It's interesting that you grew up an Illinois fan. The first season you were at IU was during the Eric Gordon recruitment. What do you remember about that? It was obviously a big deal within the program.
Stemler: Yeah, it was (a big deal). We didn't really pay much attention, as players, to recruitments of guys until they were on campus. And Eric obviously had relationships with Adam Ahlfeld and AJ (Ratliff) and different guys just from high school. The relationships were there. He had a ton of friends from his high school were students at IU. He was pretty comfortable. He meshed really well with the team. It really didn't get crazy until he got on campus and we had to play Illinois.
ITH: That first season at IU, you were a part of a very solid team. You lost to UCLA in the NCAA tournament. Looking back at the box score from that game, Russell Westbrook came off the bench for them, which is hard to believe. What do you remember about that season and that game specifically?
Stemler: That season, the main thing I remember is just building the culture and seeing how coach Sampson did that. We had a lot of older guys like (Rod) Wilmont and Earl Calloway who were mature and were coach Davis guys. D.J. (White) as well. Coach broke us down and molded us into his team. By the end of the year, we were playing more his style. I still have nightmares from the UCLA game. Really the only thing I remember is the turnover at the end after we got back into it. I was fortunate to make a couple of shots towards the end and we climbed back into it and we ran out of timeouts and taking the ball out three different times, the last time right in front of coach (Ben) Howland and the UCLA bench. And I just have flashbacks of that.
ITH: You mentioned building the culture, that was a foundation season for what Sampson was building towards the next season. The infusion of talent was coming. Is that how you viewed it, as a foundation season?
Stemler: Absolutely. It was laying the groundwork for the next season. We thought we were moving in the right direction and obviously, things took a turn. The two seasons, it's kind of crazy because they were just night and day. From how we started the first year and how we built the culture and everything and how things ended up the following year, it was apples and oranges.
ITH: It's been such a long time since that season, but I think fans still think about it. Most respect who Sampson was as a coach. Some of the things that he did that were NCAA violations at the time now aren't violations. What was it like to go through all of it as a player? You beat Michigan State and Purdue back to back at home …
Stemler: We were tied for first in the Big Ten. Wisconsin beat us on a buzzer beater …
ITH: That was Brian Butch …
Stemler: Yeah, he threw one in from like 25 feet. Banked it in. Even after that loss, I believe we were still tied for first in the Big Ten, top ten in the country. Coach Sampson, in my opinion, did a great job of shielding us from a lot of the negative stuff. Nowadays with social media, you have to be able to put blinders on to a lot of stuff, but back then it was probably easier to do. We tried to stay away from a lot of that and he did a good job, even with everything going on, he was the same coach every day. You couldn't really tell that anything was going on outside of the season. Just trying to keep us focused. And like you said, we beat Michigan State, we beat Purdue. Kind of thought we could get things going toward the end of the season and that's when they fired him. Looking back and watching what is going on in college basketball right now, and even kind of knowing some of the things that some of those programs were doing back then, it's probably the most frustrating part to me. But it is what it is.
ITH: There was a lot written about the culture when Crean took over about things being out of control and I don't want to get into specific guys, but from a high level view as a player, when you were there that season, did you get a sense that certain guys weren't doing what they were supposed to be doing?
Stemler: It was more of a story of the fracture than what was really there. There was some extracurricular stuff going on that some guys didn't partake in. Just like any normal student that goes to IU has the pressures and if you want to party and do stuff at IU, that's what makes it fun, right? But at the same time, if you can't control it, it can become an issue. And I think it was a learning curve for some guys and there were maturity issues with some. And as much as you try to corral it in, it can get away. But as far as relationships in the locker room, I never saw anybody have issues with each other. We got along great inside the locker room. It was more, 'what are you doing on your own time?' And then as far as when coach (Sampson) was there, you had some issues and in my view, and it's been a while, but when coach had a handle on stuff before all of the sanctions started and when they released stuff (regarding sanctions), I thought we had a pretty good grip on the team. We respected coach and he was a strong armed coach, but still was a father figure to us, to everyone. It was when things started to unravel that guys started going off the beaten path.
ITH: Before we dive a little more into that, I wanted to ask you about the Eric Gordon game at Illinois since you mentioned it earlier. What do you remember about that?
Stemler: I remember the 10 second call when he was walking the ball up the floor. I remember Chester Frazier giving him a chuck when we were trying to shake hands before the game, which got us going. Their fans were pretty hostile …
ITH: Could you feel that?
Stemler: Oh yeah. From day one. We brought our own security. We knew it was going to get ugly. I believe they had to bring some of our family from the top and add seats to right behind our bench because Illinois fans were being ignorant to our family section. Again, my family grew up Illinois fans and there's only a few of them left after that because my brother-in-law got harassed in the bathroom and had stuff thrown at him. Stuff that didn't need to happen outside of the game. And then karma comes back because when Eric hit that shot to take it into overtime and we were able to get out of there with a win.
ITH: How do you think Eric handled the pressure of that season? The only thing I've seen that is comparable to it is what Romeo (Langford) went through a couple of years ago and maybe that wasn't as much pressure as what he went through.
Stemler: Eric was kind of made for that. He was so even keel. Even when he did get worked up, which was rare, he never really showed it. He was pretty much trained that way. He went about it as a business from day one and just did his thing. He never let any outside factors affect him or his attitude his effort or how he showed up on a daily basis.
ITH: That second season, I know you didn't shoot the ball from the perimeter as well as you would have liked, what do you think contributed to that? Did you put too much pressure on yourself? Looking back on it, how do you reconcile the fact that you didn't shoot it as well as you were capable of?
Stemler: I don't think it was anything outside, I think it was more my role and what our team needed and the expectation of me wasn't to be a scorer or a shooter. Coming in out of junior college, I was a scorer. And a scorer's mentality is that I can shoot my way out of slumps. When you reverse roles and you get two shots per game, it was an adjustment. It's just different. To make no excuses, halfway through my junior year when I tore up my ankle, I finished that NCAA tournament basically with my ankle shredded …
ITH: You also had a concussion that season …
Stemler: I missed the Duke game and about a week and a half with a concussion. Literally two weeks after the season, my junior year, I had ankle surgery. Had I had time or not redshirted, I probably would have pushed to take my time coming back, but I didn't have it and I knew we were going to be good. It was more of a 'what can I do to help the team?' I never really felt right with my ankle until my first year over in Germany (playing professionally). That's an adjustment you make and I just tried to have the mentality of 'what can I do on the floor?' You've got Eric Gordon and D.J. White and Jordan Crawford and guys who can fill it up. It was in crunch time, 'can I make a shot?' I feel like I did that to a certain degree. And can I come up with loose balls and charges and lead the team? That's what I mainly focused on.
ITH: Once Sampson was let go and watching it from afar, it all seemed like a blur. From being top ten to the Arkansas game (NCAA tournament) and the season ending, what was that sequence like? And some of the games late in the season when Dan Dakich was the coach, there were some tough losses there, too. What was that like?
Stemler: I would just say a circus. Even before they fired him (Sampson) … he managed pretty well and then it got to be … days before the buyout and all of that stuff, it was sneaking in and out of Assembly Hall, meeting with Mr. Greenspan and going to (Michael) McRobbie's office. Me and D.J. and Adam and some of the older guys, we were literally just trying to keep what little bit of season we had left intact. We knew we had the talent to make a run, it's just a matter of having the buy-in. Once we realized that keeping coach and letting him finish the season wasn't an option, it was 'alright, who is going to coach us?' And 'who can get buy-in from the rest of the team?' They landed on coach Dakich and some of the guys didn't agree with that and he never really got the buy-in. The infamous first practice when basically it was me, Eric, (Kyle) Taber and a few of the managers helping with practice.
ITH: So that did happen?
Stemler: Oh yeah, 100 percent. And I had talked to some of the guys (who didn't show up). Some of them just needed to vent and needed time to process. I knew they were coming back. Some of the guys, whether they were going to go to Northwestern was up in the air. I talked to a handful of them. Like with D.J., some of it was just reopening old wounds with coach Davis. And having to switch coaches again, he had to process it. But there was no question in my mind that he was going to be there. Some of the guys probably just wanted a day off. Either way, they all showed up and we went to Northwestern and got that first win. But then things slowly started changing in terms of how things were done and the way we wanted to play. I just don't think coach Dakich got buy-in from a group of those guys.
ITH: Was that more or less an impossible situation that he (Dakich) was put into?
Stemler: I would say so. It was a difficult situation for everyone. Looking back, there were probably some things I would have said and done to try to get guys to do things a little differently. But hindsight is 20/20. When you are in that situation, it is hard to know. To me, the only way that situation could be successful was to let coach finish the year, but that wasn't an option. Or to keep all things the same instead of trying to go hard and strong arm some guys (for coach Dakich) and be a demanding coach. That's who coach Dakich was and that's fine, but he didn't have the buy-in to do it. So there was push back and at that point, a fracture in the team.
ITH: You graduated in May and were still on campus when Crean got the job. That, to me, was also a fascinating time because you had the uncertainty about who was going to come back and I believe that was when the Eli Holman plant incident happened. Were you mostly out of the mix at that point or were you still involved and trying to help the new staff get a handle on things?
Stemler: I was still working out at the facilities. And doing some workouts with some of the other guys and doing some workouts to get ready to go overseas. With my previous relationship with coach Crean, we met a few times and talked quite a bit. Talked about the guys who had already been kicked off the team, so to speak, and that sort of thing. And which guys could help. Things just didn't work out. Armon (Bassett) was checked out. Jordan (Crawford) … I thought if he could have kept Armon and Jordan and got their buy-in, they could have been really good the following year.
ITH: In terms of basketball after IU, you mentioned playing overseas, what was that experience like?
Stemler: It was good. It's a different experience when you are only playing basketball versus classes and the college life with basketball. It was a good experience. I lived in Munich, Germany for a few years and got to see some places that I wouldn't have gotten to see otherwise. Going into my second year, my ankle started to have some issues and it was time to hang it up. I ended up getting married and moving to southern Indiana.
ITH: You've spent some time coaching at Providence. What have you been doing to stay involved with basketball and what's your career now?
Stemler: When I first got back, I got into sales with a company in Louisville and coached at Providence the first time. My first stint helping out there. Yogi Ferrell's Park Tudor team beat us in semi-state that year. That was a tough team. And then we had our first child and coaching kind of took a halt. I focused on my career. Now I'm an insurance advisor for Shepherd Insurance, Logan Levelle Hunt locally in Louisville, which has allowed me to get back into coaching a little bit. So I'm helping out at Providence again. Last season was our first year back with them. We won a sectional and obviously with COVID-19, the regional was canceled. Other than that, been doing some workouts locally with some kids and just trying to stay involved somewhat. I have an eight year old and a five year old. So I'm staying involved and chasing them around and still trying to scratch my itch of higher level basketball.
ITH: Living in southern Indiana and being an IU guy, how was it to follow the Romeo Langford recruitment? And the other guy I want to ask you about is Trey Kaufman. What kind of player do you think he is?
Stemler: With the Romeo recruitment, I got to see him quite a bit. I wasn't coaching at the time, but obviously got to some of his games. My son was like five or six at the time and was just getting into basketball, so I took him to some games and he got into it. The Romeo craze around here was fun. When he made the announcement, I loved to see him go to IU. As far as Trey, I got to see him up close twice this year with Providence. He's a load. Still getting better, still growing. His upside is tremendous with his size and length and skill. We tried to do everything we could to frustrate him when we played him, but that's about all you can do is try to slow him down. They've (Silver Creek) got a good team with (Kooper) Jacobi and some kids around him. He's on a loaded high school team, but is obviously a mature and smart kid. I would love to see him end up in Bloomington and I think he could excel there, but it's up in the air.
ITH: We've talked about a lot of difficult things in terms of your career at IU, but one thing I've noticed is that you still make it a point to make it to games in Bloomington. What do you remember most that was a positive about your experience at IU and what keeps you coming back and staying involved?
Stemler: As frustrating and as hard as it was at times, to me there was nothing like putting on the candy stripes and running out. And playing at Assembly Hall. As you get away from it, I tend to focus on the positives overall and let the negative portion go. Because overall, it was a good experience for me. I picked IU based on the school, the campus and for what basketball was in the state, really. And how people followed and to be a part of that fraternity of former players, I embraced it from day one. That's what I wanted. It was a no brainer to me. If I live close, I'm going to try to be around and be involved as much as possible. Coach Crean started it and coach (Archie) Miller has done a good job of reaching out and kind of building a relationship with former players and getting involved and around the program. Which I think is big going forward.
Filed to: Lance Stemler