6-Banner Sunday: Bob Knight's return, Devonte Green's FSU performance headline season's top moments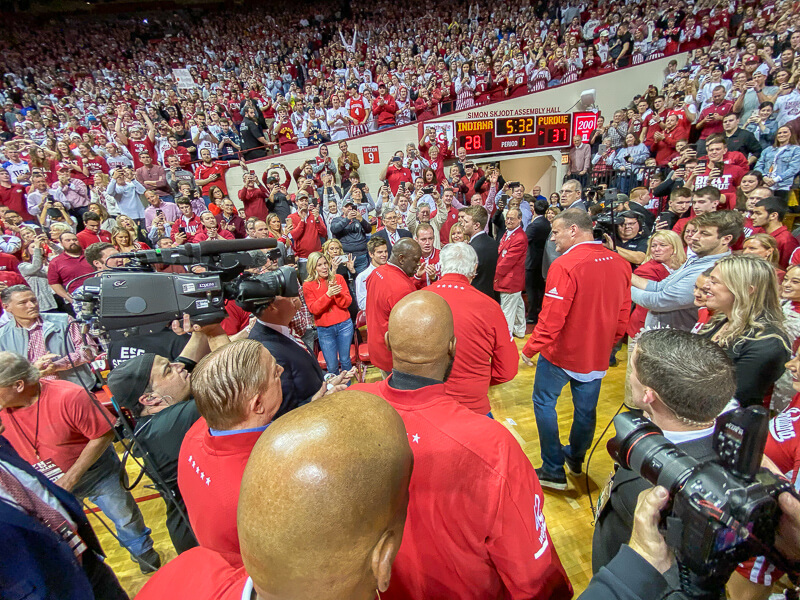 6-Banner Sunday is Inside the Hall's weekly newsletter in partnership with The Assembly Call. More than 7,000 Indiana fans receive the newsletter each week. In addition to appearing each week on the site, you can also opt to receive 6-Banner Sunday by email. A form to subscribe via email is available at the bottom of this week's 6-Banner Sunday.
Welcome to another edition of 6-Banner Sunday, a joint production between The Assembly Call and Inside the Hall where we highlight the five most essential IU basketball stories of the past week, plus take a look at how the other IU sports programs are doing.
The 2019-20 Indiana basketball season will be one to remember for a long time, and a lot of that has to do with what happened off the court. However, there are still plenty of positive memories on the court for the 20-12 Hoosiers, who were set for an NCAA Tournament appearance for the first time since 2015-16.
It leaves plenty to reflect on and look forward to, especially with the terrain of a talented Big Ten in question for next season. Both top moments from this past season and what next season could look like highlight the content this week in Indiana basketball.
• Top moments from the 2019-20 Indiana basketball season
• Who's staying and who's going from around the Big Ten
• Calbert Cheaney wins Greatest IU Basketball Player of All-Time bracket
• Q & A with James Blackmon Jr.
• Anthony Leal highlights
• Hoosier Sports Roundup
Banner #1
Top moments from the 2019-20 Indiana basketball season
The Hoosiers' season came to an abrupt end a little over a month ago, and when looking back on the season, there were plenty of moments to reflect back on in what would've been Archie Miller's first NCAA Tournament berth with Indiana.
So, Inside the Hall writers Cameron Drummond and Dylan Wallace came up with a ranking of the top 10 best moments from this past season. It's no secret that the top moment was when Bob Knight returned to Assembly Hall after nearly 20 years. Even though it didn't necessarily have to do with this year's team, it was an iconic moment for the program that will never be forgotten.
The second-best moment was no doubt the 30-point outburst from Devonte Green against Florida State. Green admits himself that his performance in that game was his favorite of his career. Other key moments include big shots from Armaan Franklin, dominant play from Trayce Jackson-Davis, the emergence of Race Thompson and Archie Miller's animated demeanor.
Speaking of top moments, this week's edition of Assembly Call Radio continued its player-by-player evaluation of their respective defining moment, which they define as a time in the season that the player showed what they are capable of moving forward.
They did all the bench players two weeks ago, so this week, the panel of Jerod Morris, Ryan Phillips and Andy Bottoms discussed the defining moments for the starters — Rob Phinisee, Al Durham, Justin Smith, Trayce Jackson-Davis and Joey Brunk.
Banner #2
Who's staying and who's going from around the Big Ten
When one college basketball season ends, it doesn't take long for talk regarding the following season to begin.
The Big Ten had a historic year this past season, with 12 teams fighting for an NCAA Tournament bid for most of the year. It looked as if 10 teams were surely going to make the Big Dance as well, which would be the most of any conference.
Each team seemed to respectively have an alpha player who has a bright future in basketball. That being said, how many of those players will be back next season?
Inside the Hall put out a detailed report on all 14 Big Ten teams, and it features every player returning, going to the NBA draft early, coming in as a freshman or departing (either from graduation or transferring).
The page will be updated as more players make decisions on their future. As of now, only one thing has changed since it was posted, and it was Illinois' Ayo Dosunmu declaring for the NBA draft.
Also on this week's edition of Podcast on the Brink, Jerod Morris and Alex Bozich were joined by Mike DeCourcy of The Sporting News to look ahead to the aforementioned 2020-21 Big Ten season.
Banner #3
Calbert Cheaney wins Greatest IU Basketball Player of All-Time bracket
The Greatest IU Basketball Player of All-Time Bracket, a weeks-long joint project between Assembly Call and Inside The Hall, finally reached its conclusion this past week.
After weeks of voting from all the IU fans on Twitter, by Tuesday morning, Calbert Cheaney was officially crowned the winner of the bracket, rightfully being named the greatest IU basketball player of all-time.
Cheaney defeated Isiah Thomas in the National Championship of the bracket, and he won with 72.4% of the votes. Those lopsided results were typical for Cheaney, who was a clear favorite to advance as far as he did.
In total, 129,635 total votes were cast on Twitter for 66 total match-ups. It was a fun project, and we couldn't have done it without the participation and passion of our readers and listeners out there.
Banner #4
Q & A with James Blackmon Jr.
Alex Bozich caught up with former Indiana basketball player James Blackmon Jr. earlier this week. Blackmon played with the Hoosiers from 2014-2017, and he is currently playing for Dolomiti Energia Trento in Italy-Serie A.
He was having a good season in Italy before the COVID-19 outbreak put sports and everything else on hold. Italy was one of the countries that had it the worst, but Blackmon said where he was, in the city of Trento, it wasn't too bad. But once basketball was put on a temporary suspension and travel started to become a worry, Blackmon made it a priority to get home and be with his family in Fort Wayne, Indiana.
That's where Blackmon currently resides, and he and his brothers — Vijay, who played at IU under Archie Miller before transferring to Lindenwood University, and Jalen, who is in high school and recovering from an ACL tear — are all training together at their own court.
It's a great Q & A with a former Hoosier, who came back to a game earlier this year when Indiana played Iowa on Feb. 13. Here's what he had to say about his return to Bloomington:
"The love was amazing. That's part of the reason I wanted to go there was because it is for a lifetime. You can always go back and it is like a family environment. Even though the coach that I had isn't there anymore, it still feels like I was a part of something bigger than myself. I just loved being back there and the fans. I had fun with OG (Anunoby) and Juwan (Morgan), too.
Banner #5
Anthony Leal highlights
After Anthony Leal was named 2020 Indiana Mr. Basketball on April 10, he became the third straight Mr. Basketball to sign with Indiana (Romeo Langford in 2018 and Trayce Jackson-Davis in 2019). It's the first time in history the program has obtained three straight.
InTheGymHoops put together a compilation of Leal's highlights from this past season. It was year in which he averaged 18.2 points per game and led Bloomington South to a perfect 26-0 record. The Panthers' season was cut short before they could finish the postseason and try to go completely undefeated while capturing a state title.
Leal has told Inside the Hall that he, along with Trey Galloway and Jordan Geronimo, plan to report to campus in June to start working out with the team, barring a further extension of Indiana's stay-at-home order, which is currently set for May 1.
Banner #6
Hoosier Sports Roundup
Coronavirus continues to park sports for the foreseeable future but off-season news and feature stories continued coming out of IU.
• Football did a feature story on quarterback Michael Penix. They also did a teleconference with assistants Nick Sheridan and Danny Hiller as well as a second one with assistants Kane Wommack and Kasey Teegardin. Lastly, recent grad Nick Westbrook received an award .
• Baseball received several awards during its abbreviated season.
• Soccer remains focused on winning a title.
• Softball announced this years seniors will take advantage of the waver the NCAA granted for spring sports due to Coronavirus cutting the season short.
• IU Swimming Coach Ray Looze is optimistic about the continued success of the program.
• A history of Women's Soccer.
• Wrestling also did a feature story.
• Field Hockey managed to catch up with alum Amanda Oyler.
• A Q & A was done with Rowing's Rosie Munro, Track and Field's Brock Mammoser, Men's
Tennis' William Piekarsky and Women's Golf's Anni Eisenhut.
Thanks for your continued support for The Assembly Call. We'll be back next weekend with a new roundup.
Now go enjoy yourself a 6-banner Sunday.
Filed to: