6-Banner Sunday: Logan Duncomb commits to Indiana while Anthony Leal is named Indiana Mr. Basketball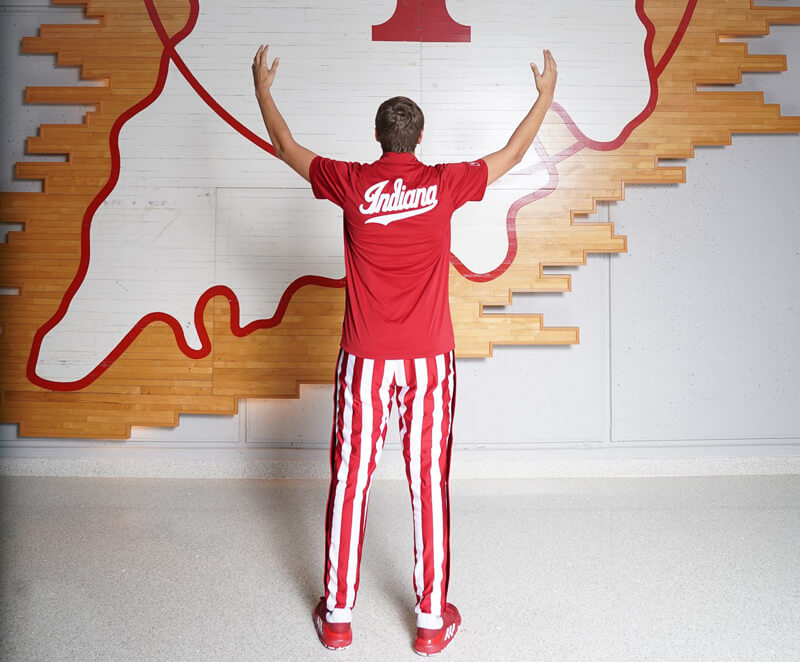 6-Banner Sunday is Inside the Hall's weekly newsletter in partnership with The Assembly Call. More than 7,000 Indiana fans receive the newsletter each week. In addition to appearing each week on the site, you can also opt to receive 6-Banner Sunday by email. A form to subscribe via email is available at the bottom of this week's 6-Banner Sunday.
Welcome to another edition of 6-Banner Sunday, a joint production between The Assembly Call and Inside the Hall where we highlight the five most essential IU basketball stories of the past week, plus take a look at how the other IU sports programs are doing.
The initial shock and surprise at the sudden end to the 2019-20 college basketball season has somewhat subsided now, as the world focuses on the larger tasks at hand in dealing with the COVID-19 pandemic.
As such, postseason honors and off-season roster moves have dominated the headlines within the college basketball world, and Indiana isn't an exception.
The past week in Hoosier hoops saw a major commitment in the front court, as Class of 2021 center Logan Duncomb announced on Twitter he would be coming to Bloomington.
A current IU signee in the Class of 2020, Anthony Leal, also stole the spotlight this week when he was named the 2020 Indiana Mr. Basketball.
Those news stories, along with the end of some fun off-season activities from Assembly Call and Inside The Hall, and feature projects about a past IU great and a relatively unknown future Hoosier, comprise this week's edition of 6-Banner Sunday.
• Logan Duncomb commits to Indiana
• IU signee Anthony Leal named Indiana Mr. Basketball
• Greatest IU Basketball Player of All-Time Bracket and Assembly Call classic rewatches conclude
• Jordan Hulls shares experience of returning home from Germany during COVID-19 pandemic
• Sebastien Scott, the scorer and scholar, finds his way to Indiana
• Hoosier Sports Roundup
Banner #1
Logan Duncomb commits to Indiana
By far the most important news for the future of the IU basketball program this week came Tuesday morning when Class of 2021 center Logan Duncomb announced his commitment to the Hoosiers via Twitter.
While Duncomb is technically the second commit in the Class of 2021 for Archie Miller, guard Khristian Lander is expected to reclassify into the Class of 2020, meaning the foundation for the 2021 recruiting class will be Duncomb, who plays high school ball in Cincinnati and AAU ball for Indiana Elite, the same program that produced three other IU commits/signees in Anthony Leal, Trey Galloway and the aforementioned Lander, as well as another key Class of 2021 target in Trey Kaufman.
Just minutes after he committed to IU, I spoke over the phone with Duncomb to discuss the specifics of his commitment, including how his experience with Indiana Elite could help him at the next level.
Inside The Hall also has nearly five minutes of film showcasing highlights from Duncomb's junior season at Archbishop Moeller High School, where head coach Carl Kremer is benefiting from the skilled post moves and increasing outside shooting ability Duncomb brings to the floor. A couple of months ago I spoke with Kremer to learn more about Duncomb's strengths and weaknesses as a player, as well as the past and present connections between Kremer, Archbishop Moeller and the Indiana men's program.
Given the importance of Duncomb's commitment, this week's live edition of Podcast on the Brink with Alex Bozich of Inside The Hall and Jerod Morris of Assembly Call was dedicated to discussing Duncomb's future impact with the Hoosiers, as well as fielding questions from listeners.
Over at Assembly Call Radio, Ryan Phillips provided his trademark in-depth scouting report on the latest IU commit.
Banner #2
IU signee Anthony Leal named Indiana Mr. Basketball
Friday morning also brought exciting news for Indiana fans with the announcement that Bloomington South guard and Class of 2020 IU signee Anthony Leal was named the 2020 Indiana Mr. Basketball by The Indianapolis Star.
Leal was named on 103 of the 236 ballots cast for the award, finishing ahead of Lawrence North shooting guard and Iowa signee Tony Perkins and Culver Academies guard Trey Galloway, another Class of 2020 IU signee.
Leal finished his high-school career as Bloomington South's all-time leader scorer and was likely leading the Panthers to postseason success as a senior. Bloomington South was 26-0 and one of the favorites to win the Class 4A state championship when the IHSAA state tournament was canceled due to COVID-19, meaning Leal would fall short of his ultimate goal of winning a high school state title.
In a recent interview with Inside The Hall, Leal said it took him a while to get over the disappointment of having his senior season stopped short, but he's already looking forward to his time as a Hoosier.
"Going undefeated and having the success that we were able to have. I know it's something that I'm going to look back at and be really proud of," Leal said. "So I'm taking that and pairing it with the bright future and the excitement to get to IU and start working out there, that's been keeping me going and keeping my head on straight after the sadness when they announced the season was over."
Over the course of the high school season, Inside The Hall made it out to a couple of Leal's games, producing highlight videos from Leal's performances in wins against Martinsville and Culver Academies.
Banner #3
Greatest IU Basketball Player of All-Time Bracket and Assembly Call classic re-watches conclude
In order to fill the void left by the lack of an NCAA Tournament this season, Assembly Call and Inside The Hall both helped create online activities to keep Hoosier fans interested and nostalgic for their favorite program in March and April.
First, Assembly Call commissioned a series of communal IU basketball re-watches, highlighting classic games in Hoosier history. That series is set to end tonight, with the eighth and final installment of the series showcasing the 1987 NCAA title game between Indiana and Syracuse.
A similar endeavor was also recently announced by IU Athletics, with selected classic games set to be broadcast on Facebook.
Just like is done in modern day, Assembly Call sends out a post game email recapping the event's of the game each morning following the classic re-watches. You can sign up for those post game emails, as well as 6-Banner Sunday, here.
Elsewhere, the joint production "The Greatest IU Basketball Player of All-Time Bracket" between Assembly Call and Inside The Hall has just one match-up left in it.
To determine who earns that coveted distinction, Hoosiers fans will have to head to the Inside The Hall Twitter account on Monday morning to vote between the bracket's two finalists: Calbert Cheaney (a No. 1 seed) and Isiah Thomas (a No. 3 seed).
You have 24 hours from the creation of the Twitter poll Monday morning to register your vote, which should in part be based on the following criteria: Impact on winning at IU, statistical achievement, how they represented the program and university, qualitative impact on the culture and tradition of IU basketball overall.
Banner #4
Jordan Hulls shares experience of returning home from Germany during COVID-19 pandemic
While Leal, the current Bloomington South star, earned his much-deserved plaudits this week, the situation facing another former South star (and Indiana Mr. Basketball award winner) was much starker.
Jordan Hulls has become a fixture of the German basketball scene, and his current season with s. Oliver Wurzburg in the Basketball Bundesliga was disrupted by the COVID-19 pandemic.
This set off a chain reaction of events which included Hulls' abrupt return to the United States with his wife and children in tow.
Inside The Hall's Dylan Wallace caught up with Hulls to learn more about his travel experience returning home from Europe in the middle of a pandemic, and what Hulls is doing now to help pass the time until sports can return.
Hulls also appeared on the IndyStar's "Mind Your Banners" podcast to discuss this.
Banner #5
Sebastien Scott, the scorer and scholar, finds his way to Indiana
Lost in the news of Logan Duncomb's commitment to Indiana was another bit of recruiting business done by the Hoosiers this week.
Sebastien Scott, a Class of 2020 guard, accepted a preferred walk-on offer from the Hoosiers, starting next season, to essentially fill the role vacated by the graduating Adrian Chapman.
Scott isn't close to a household name, and his decision to come to Indiana after a resilient high school career in California (Sebastien's father Larry is the commissioner of the Pac-12 Conference) had as much to do with academics as it did with athletics.
I was curious about what would cause a high school kid to relocate to the Midwest just to be a preferred walk-on.
In speaking with Sebastien's high school and AAU coaches, I learned more about a high school senior who is mature beyond his years with a tenacious work ethic, something that should allow him to fit in nicely as a walk-on, as someone who will sacrifice individual goals to help create an instant impact for the entire Indiana team, even if he may not get any playing time to show for it.
Banner #6
Hoosier Sports Roundup
Women's Basketball rose to the forefront with the cancellation of sports, picking up three new recruits this week. Other feature stories are included as well.
• Former Football Hoosier's Simon Stepaniak and Raekwon Jones are ready for the NFL. Also, Michael Penix and Tiawan Mullen did a teleconference with the media.
• A review of the abbreviated IU Baseball season.
• Volleyball answered questions for National Student Athlete Day.
• Feature story on IU Swimming. Also, 31 All-Americans were named
• Former Golfer Jorge Campillo answered questions as did current golfer Priscilla Schmid.
• In other sports, Wrestler Graham Rooks, Field Hockey's Sachi Ananias and Track and Fields Khayla Dawson also answered questions.
• Water Polo had an athlete honored.
Thanks for your continued support for The Assembly Call. We'll be back next weekend with a new roundup.
Now go enjoy yourself a 6-banner Sunday.
Filed to: