'He's a kid that will earn every stripe': How Sebastien Scott, the scorer and scholar, found his way to Indiana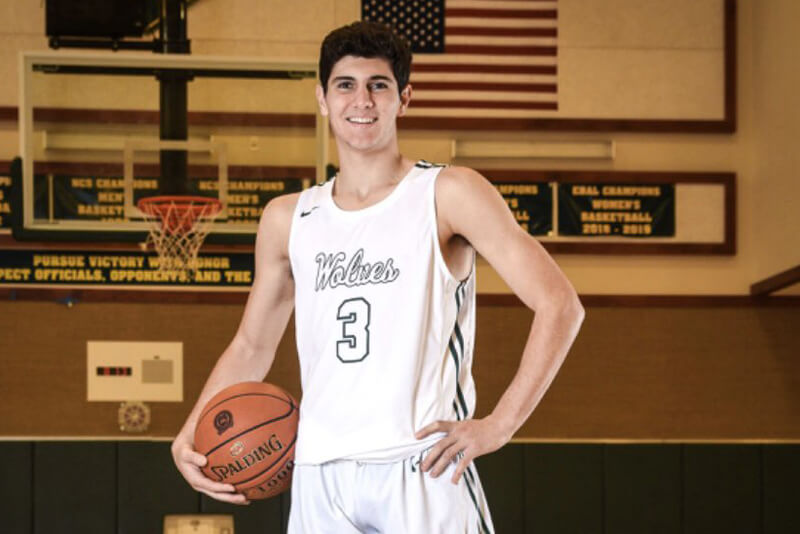 There was never a place reserved for Sebastien Scott in AAU ball.
The Lakeshow program is home to top-tier talent in northern California, and since it began in 2005, the Bay Area-based team has helped more than 150 athletes make their college hoop dreams a reality.
Joey Fuca, the current Lakeshow program director, grew up in this system.
His father started the program while Joey was a basketball star at San Ramon Valley High School, before he parlayed that success into an NAIA college career and a pair of professional seasons in Germany.
But despite sharing an alma mater (San Ramon Valley) with Scott, and maybe also having a soft spot for a player who's been a part of the Lakeshow program for the last three years, Fuca never set aside a roster spot for Scott.
An AAU team with an entire starting lineup of players soon to be playing Division I college basketball on scholarship doesn't have room for sentimental stories.
Each year Scott, now listed as a 6-2, 185-pound guard, would have to earn his place not just in the rotation, but on the team.
Each year he did.
"He was a kid who was kind of on the bubble every year of making the team," Fuca recounts. "Then he would do something like take a charge or dive on the floor for a loose ball, and he was the type of kid that you would always want as your eighth or ninth guy.
"That's what he'll bring to Indiana."
Lost in the recruiting shuffle for Indiana this week is that statement, one of fact and significance.
Sebastien Scott is coming to Indiana University to play basketball. He'll be a preferred walk-on for the Hoosiers, which means no athletic scholarship, minimal if any playing time and a daily routine that will include working with the scout team to study IU's upcoming opponents and replicate them as best as possible during practices.
There's no attention nor limelight. It's a sacrifice of individual goals for the greater good.
Simply put, Scott is set to be part of a team that can't function without people like him.
"I think what any Division-I coach is looking for, is for a walk-on to be a team player. A guy that just brings it every day in practice," Fuca said. "A guy that has an intensity, but also a focus on giving the scout team a good look.
"I think Sebastien will be great. I think he's a kid that will earn every stripe, whether that's one minute of playing time or whether he doesn't play the whole year. I think he'll definitely be that kid that's working his butt off."
Sebastien the Scorer
For all the credit given to the selfless walk-on student-athlete, they still have to be good enough to compete.
Scott was a three-year varsity player at San Ramon Valley, where he was coached for the duration of his high school career by Brian Botteen (Scott's older brother Alex was also coached by Botteen at San Ramon Valley).
Athleticism earned Scott a place on the varsity roster as a sophomore, but it was in between his sophomore and junior seasons when the on-court progression truly came.
In lightning-quick fashion, Botteen is able to rattle off the offensive moves Scott added to his game: The ability to drive to the basket and break down defenders on the way there, the development of a finishing touch with two or three defenders on Scott, the strength to complete and-one plays.
It forced Botteen to take a step back and appreciate the talent, but also the flaws that still existed.
"His shooting was an area of concern," Botteen recalled. "It was a very low shooting percentage his junior year, and he took that head-on during the next year."
What resulted was a season which Botteen described as one "you just want to treasure."
Scott went from a 12 percent shooter on 3-pointers as a junior to better than 50 percent from behind-the-arc as a senior for the Wolves. He shot better than 50 percent on 2-point field goals as well.
That transformation, coupled with shooting 82 percent from the free-throw line, allowed Scott to average more than 20 points per game and become a First-Team All-East Bay Athletic League selection, the first from San Ramon Valley in five years.
The improvements in scoring came along with the defensive and hustle plays Scott's coaches had come to expect from him, the types of moments they know will translate well to Indiana.
"Archie's going to love his defensive tenacity," Fuca said. "I think the culture that Archie's trying to build there fits right in with Sebastien."
"That doesn't happen unless you're putting in the hours," Botteen said. "He's a gym rat, and I know people in Indiana, in Hoosierville, love gym rats. So he'll fit in nicely."
Botteen remembers affectionate annoyance from Scott, nights when the high schooler would ask his coach if he could stay 15 minutes after a late-night practice for extra work, or if he could show up early the next day for more time in the gym.
It even became a game of sorts between Botteen and his assistant coaches, as they tried to predict the time when the request from Scott would come.
"It was always, 'I want to be first and I want to leave last,'" Botteen said.
But Scott's dream season came to a sudden end in February.
During a top of the league matchup between second place San Ramon Valley and first place Dougherty Valley, Scott suffered a season-ending knee injury.
It brought a player constantly in motion to a stop, but it also allowed Scott to view the game and his teammates from a new perspective on the bench, perhaps helpful practice for his time in Bloomington.
"This is a guy who I've never seen tire. It's just like a 5-hour Energy drink with the Energizer Bunny, non-stop going," Botteen said. "The injury when it took place, it was like 'Oh, he's human, he can actually go down.' The next day we came to visit him at his house (and) he became a coach instantly."
In the weeks following Scott's injury, Botteen took on the role of salesman, approaching the other coaches in the 10-team East Bay Athletic League to pitch them on Scott's case to be an all-league player.
Scott played just nine of the 13 scheduled league games before his knee injury. Botteen was prepared to persuade others about why Scott should be honored, but he quickly found this task to be easier than expected.
As he made his pitch, Botteen saw nods of approval from all over.
"He single handedly beat teams like De La Salle (regional finalists in 2020) and Dublin, he just went on this amazing tear," Botteen said. "He just won the respect (from) all these coaches."
Sebastien the Scholar
Scott's decision to come to Indiana was shaped by academics as much as athletics.
He's been accepted into the Kelley School of Business, meaning the coursework and court work balance will test him right from the start.
But both Botteen and Fuca agree that Scott's upbringing and maturity have him prepared for this moment.
"To be a student-athlete, especially at a school like Indiana, you really have to have all your ducks in a line," Fuca said. "I think he's already proved himself by taking several honors classes and playing on a varsity team for three years and playing AAU… (you've) got to be self-responsible in terms of work ethic."
"He's going to walk away with a great education and degree, he's also going to get the chance to be a part of a storied program in our country," Botteen said. "I think he's realistic enough and understands that."
Part of that pragmatism comes from Scott's father.
Larry Scott is the commissioner of the Pac-12 Conference, and someone who Fuca said has always made sure his son maintained a plan to fall back on after basketball.
While Fuca described the entire Scott family as "very professional and hard-working" it also takes an internal drive on the part of Sebastien to make sure he lives up to the billing.
This is seen through Sebastien's decision to give up lacrosse, a sport which he had college scholarship opportunities for, ahead of his senior year to focus exclusively on basketball.
It's also reflected through his approach to academics.
Botteen remembers one time this season San Ramon Valley had a big game on a Tuesday night, one that didn't wrap up until nearly 10 p.m.
The next day at practice, Scott told Botteen he returned home and had an hour-long tutoring session to prepare for a test.
So when Indiana assistant coach Mike Roberts reached out to Botteen last week with the news of a preferred walk-on offer, and the high school coach and his player sat down to talk things over, Botteen knew Scott had already thought things through.
The work ethic that developed in the East Bay would travel to the Midwest.
"Seb is a guy who I think realistically understands…he gets to be a part of Indiana basketball," Botteen said. "I'm sure that Coach Miller and everyone else around him is going to see it instantly that he's just going to make the program better by his hard work.
"He's not a 'me' guy, he's a 'we' guy."
Filed to: Sebastien Scott