Jordan Hulls shares experience of traveling back home, filling basketball void during global pandemic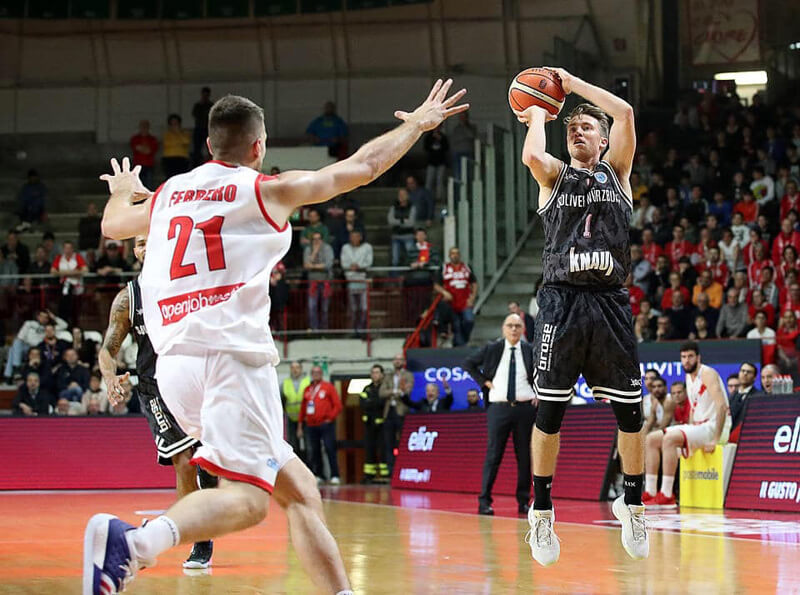 Today is day 16 for Jordan Hulls back in Bloomington. He rises around 7 a.m., sometimes earlier, each morning to entertain his 1-year-old son, Leo, and 3-year-old son, Jackson.
It's been a little over two weeks since Hulls, his wife Aubrey and their boys left Germany to get back to the United States to stay with Hulls' parents in Bloomington through this time of quarantine.
The kids make things a little easier because they provide a distraction and need attention. But still, it hasn't felt like it's only been 16 days for Hulls.
It was around the second week of March where Hulls and his team, s. Oliver Würzburg, who play in the Basketball Bundesliga league in Germany, had a team meeting regarding what to do in regards to the COVID-19 pandemic that was quickly sweeping across the world.
The plan was to not practice for a week and see how things would develop.
"We were just like all right we'll be off for a week or two and then this thing would blow over maybe," Hulls said. "But then it kept getting worse and worse from that point on."
On March 11, conference tournaments in college basketball were planning to play with no fans. Later that night, Utah Jazz center Rudy Gobert tested positive for COVID-19, and just a few hours later, NBA commissioner Adam Silver postponed the NBA season.
Everything snowballed after that. The NCAA tournament was cancelled, schools and universities officially moved classes to online for the rest of the academic term and Hulls' season was postponed.
At the time, s. Oliver Würzburg was eighth place in the standings and the top eight teams make the postseason. The playoff race was tight, as tenth place was only one game back and fifth place was only two games ahead. Hulls said they had a good shot of securing a postseason spot.
Instead, he and his family began quarantining in their apartment in Germany, but as soon as they saw travel bans start to get placed into effect in countries like Italy and Spain, they thought it was only a matter of time before it hit Germany and the U.S.
They usually come back to Indiana in the summer anyway, and with no idea what the future may hold, they didn't want to risk getting stuck in Germany.
Within 48 hours they found a flight from Frankfurt, Germany, to Chicago.
Hulls said they would sanitize everything they would use during the flight with alcoholic wipes, they washed their hands after touching anything, and the flight limited service to avoid as much human interaction contact as possible.
"We felt very comfortable with that," Hulls said.
Once they arrived in Chicago, the CDC was there waiting to check passengers' temperatures before receiving their bags and to announce the procedure for what they should do.
For the Hulls family, it was to quarantine for 14 days. Those 14 days are up, but things have only escalated since they got back to Bloomington. It's been 16 days, and there's no telling when the calendar counting is going to stop.
With no basketball to play or watch, Hulls' day consists of a lot of Disney+ movies, as well as walks around the block to expend some energy out of his 3-year-old.
They have a mini basketball hoop in the house, and Jackson will take laps with the ball in his hands and finish it off with a dunk or layup. As for Leo, he can't walk yet, but the toddler mimics his older brother and drags his walker around with the ball in his hands and puts the ball in the hoop.
"It's nice to have all this space for them to run around in and get tired and dunk," Hulls said. "It lightens the day in the morning for sure."
Hulls will usually post the fun-loving, playful hoop sessions to his Instagram story. Another thing he posts to Instagram are local restaurants in Bloomington that he encourages the community to support during this time.
Hulls has ordered takeout from restaurants like Village Deli, BuffaLouie's, Mother Bears and Pizza X.
"It's not just my family being affected by this it's families all over the country and all over the world," Hulls said. "When I think of Bloomington, I think of all the awesome restaurants we have that are ran by local people here and places that I grew up eating at. So, for me, it's pretty cool to be able to support them."
Other connections he has to Bloomington is of course the basketball. He said he feels bad for the Bloomington South team, which features 2020 IU commit Anthony Leal. The Panthers were a perfect 26-0 this season, but never got to finish out the postseason and try and capture a state title.
Hulls played at South when he was in high school, and his senior season in 2009 he led them to a class 4A state championship with an unblemished 26-0 record.
Hulls, who played at IU from 2009-2013 and went to the Sweet Sixteen twice with the Hoosiers, also feels for IU seniors Devonte Green and De'Ron Davis, who were set to play in their first NCAA tournament.
"I can't imagine what those kids are going through," Hulls said. "You go to college to play in the Big Dance. To have that opportunity taken away from you is pretty devastating. This virus is bigger than any one of us, and we're trying to do what's best for people everywhere and not just this sport, so I completely understand. But it's super unfortunate, especially for the people in Indiana who grow up loving basketball, and March Madness with the Hoosiers is pretty crazy to think about when it's not going to happen."
Hulls typically hosts a basketball camp at Bloomington South in the summer, but there's uncertainty if he'll be able to hold that now as well.
But that just adds to the lists of unknowns for Hulls during this time. But the former Hoosier guard considers himself an optimist, and he's trying to make the most of this situation.
"I do get to spend a lot more time with my parents here being in the U.S.," Hulls said. "They get to see my kids, and we get to spend a lot of time together and build these kinds of memories. The circumstances aren't great, but it's nice to be here and they can see the kids, so that's one big positive take from it."
Filed to: Jordan Hulls