6-Banner Sunday: Loss to Wisconsin spoils Senior Day in Bloomington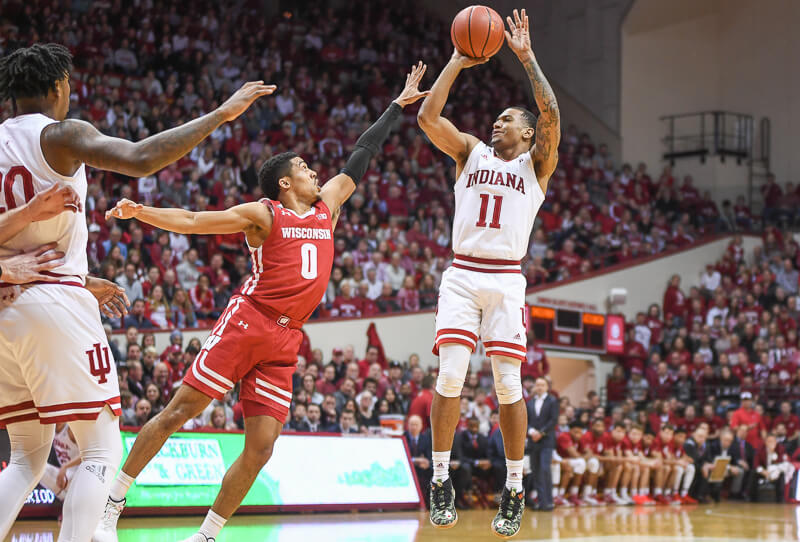 6-Banner Sunday is Inside the Hall's weekly newsletter in partnership with The Assembly Call. More than 7,000 Indiana fans receive the newsletter each week. In addition to appearing each week on the site, you can also opt to receive 6-Banner Sunday by email. A form to subscribe via email is available at the bottom of this week's 6-Banner Sunday.
Welcome to another edition of 6-Banner Sunday, a joint production between The Assembly Call and Inside the Hall where we highlight the five most essential IU basketball stories of the past week, plus take a look at how the other IU sports programs are doing.
In the final week of the regular season, Indiana basketball split their games with a win against Minnesota and a loss against Wisconsin.
It was a tough week filled with hope and a disappointing loss, but the bottom line is Indiana hasn't lacked effort in a game since the middle of February, which is a good sign for the Hoosiers.
With the postseason looming, here's what happened in the final week of the season:
• Indiana falters down the stretch against Wisconsin
• Devonte Green and De'Ron Davis honored for careers
• Joey Brunk back at his best against Minnesota
• Big Ten Tournament preview
• Khristian Lander scouting report
• Hoosier Sports Roundup
Banner #1
Indiana falters down the stretch against Wisconsin
Indiana led No. 24 Wisconsin 51-44 with 6:52 left in the second half. The Hoosiers then proceeded to make just one more field goal for the remainder of the game, losing to the Badgers 60-56.
The win clinched a share of the regular season Big Ten Championship for Wisconsin, which is the program's first conference title since 2015.
As for Indiana, the Hoosiers are now 19-12 overall and 9-11 in the Big Ten. The rough ending to the game drew similarities to the Arkansas loss in late December and the Maryland home game in January in terms of Indiana not being able to score down the stretch, but Archie Miller said he doesn't think they're the same because IU is different this time.
"It's just a really hard-fought game that's going to come down to a few plays that you're going to look back on and wish you had back, but in a game of inches, you have to make those winning ones, and Wisconsin did," Miller said. "This game is irrelevant compared to any other game. This game was played by two teams at the end of the season that competed really hard, and you know, like I said, Wisconsin made the plays they needed to do to win it."
It was an opportunity at another top-25 win for Indiana that the team squandered away, locking the Hoosiers into the No. 11 seed for the Big Ten Tournament. Yet Miller believes his team's resume speaks for itself regarding the NCAA Tournament.
Banner #2
Devonte Green and De'Ron Davis honored for careers
Perhaps a moment lost between Indiana losing at the end and Miller's entertaining post game comments was IU's seniors being honored since it was the final home game of the season.
De'Ron Davis and Devonte Green got the start on Saturday, and the two electrified IU to start the game, combining to score Indiana's first 17 points. Davis made some easy layups, and he also intercepted a pass and dove on the floor for a loose ball, which brought the crowd to its feet in appreciation.
Green, as expected, was red hot from the start. He went to halftime with 16 points on 6-10 shooting. But Green tweaked an ankle, which had him limp during the second half and he went just 0-7 from the field.
Despite the disappointing outcome, Green and Davis, as well as senior walk-on Adrian Chapman, gave speeches postgame.
Chapman, from Brownsburg, said he was thankful for getting the opportunity to be a part of Indiana basketball.
Green and Davis got big ovations from the crowd, and they thanked everyone who was involved in their four-year careers. They joked around with Miller and it was a good, pleasant moment. Despite the criticism both have received for not being leaders, fans showed appreciation after loss.
One message remained clear from Green, Davis and Miller, and it's that Indiana is not done.
The two seniors had goals to reach before they graduated, and they are very close to reaching them.
Banner #3
Joey Brunk back at his best against Minnesota
Before this week, the last time Joey Brunk was really effective on the floor was against Michigan State on Jan. 23.
It was a long month and a half for Brunk, struggling on both sides of the ball as he saw his minutes decrease. The emergence of Race Thompson played a big role in that as well.
Thompson even started over Brunk to start the second half against Illinois, and there were many requests from fans to replace Brunk in the starting lineup. But for Miller, that was never a question.
Brunk played his best game since MSU on Wednesday against Minnesota, scoring 12 points on 6-10 shooting and grabbing eight rebounds as well. He had the highest plus-minus of anyone on the floor at plus-17, and he also held Daniel Oturu to 11-27 shooting from the field.
Nothing changed for Brunk specifically to get back on track. He said he just kept sticking with it, and it paid off.
"I thought the whole key to the game was Joey Brunk," Miller said after the win.
Brunk didn't score at all against Wisconsin and only played 11 minutes, but it was mainly due to the style Wisconsin plays with all five players able to shoot, so Indiana had to go smaller defensively.
Banner #4
Big Ten Tournament preview
Indiana has a history of struggling in the conference tournament, and for the first time ever, the Hoosiers will be competing on the first day of the tournament.
IU is locked in as the No. 11 seed and they will play in the 8:30 p.m. slot on Wednesday against No. 14 seed Nebraska.
Indiana is 2-0 against Nebraska this season, and the Cornhuskers just indefinitely suspended Dachon Burke and Cam Mack their second and third leading scorers.
Before the Senior Day speeches began, Miller said he believes his team has a chance to make a run in the postseason, and that the run will start in Indianapolis this week.
It should also be worth noting that there have been talks about NCAA events being canceled or played without fans due to the coronavirus, but so far nothing has happened on that front. The Big Ten did announce Saturday that the men's tournament at Bankers Life Fieldhouse will go on as planned during March 11-15.
Banner #5
Khristian Lander scouting report
After Khristian Lander committed to Indiana back on Feb. 25, Inside the Hall and Assembly Call have churned out a lot of content regarding the five-star out of Evansville.
On this week's edition of Assembly Call Radio, host Jerod Morris was joined by Ryan Phillips and Brian Tonsoni to give a scouting report on Lander.
The trio discusses what Lander can bring to the table, and the excitement of having Lander with Rob Phinisee in the backcourt. Lander told Inside the Hall last week he hopes to reclassify to 2020 because he wants the chance to play alongside Trayce Jackson-Davis.
Although Indiana's season is still very much alive right now, Indiana has given fans a reason to be excited for the future, and Lander is a big part of that.
Banner #6
Hoosier Sports Roundup
• Baseball lost to Mississippi. They then dominated Purdue and split a doubleheader with San Diego as the Hoosiers won the first game and lost the second. They also had their previously snowed out Butler game rescheduled.
• Women's Basketball ended the regular season with a win over Michigan. This led to IU claiming several postseason awards. In the Big Ten tournament IU beat Rutgers before bowing out to highly ranked Maryland.
• Softball split the first day of their tournament but swept the second.
• Women's Tennis beat Penn State but lost to Notre Dame.
• Water Polo competed at home this weekend.
• Women's Golf competed in the Hurricane Invitational.
• Football named a new assistant and announced some ticket info for next year.
• Wrestling set an attendance record and had a player qualify for NCAA Championship.
• Track and Field won a couple awards following their Big Ten Title last week. This also included IU coach Ron Helmer being named coach of year.
• Swimming and Diving had 10 players qualify for NCAA Tournament.
• Volleyball's Breanna Edwards was selected to the US Collegiate National Team.
• In non-team related news to any particular sport, IU announced Scholarship Achievement Honorees and put out a statement in regards to Corona Virus outbreak.
Thanks for your continued support for The Assembly Call. We'll be back next weekend with a new roundup.
Now go enjoy yourself a 6-banner Sunday.
Filed to: