Five takeaways from Indiana's loss to Wisconsin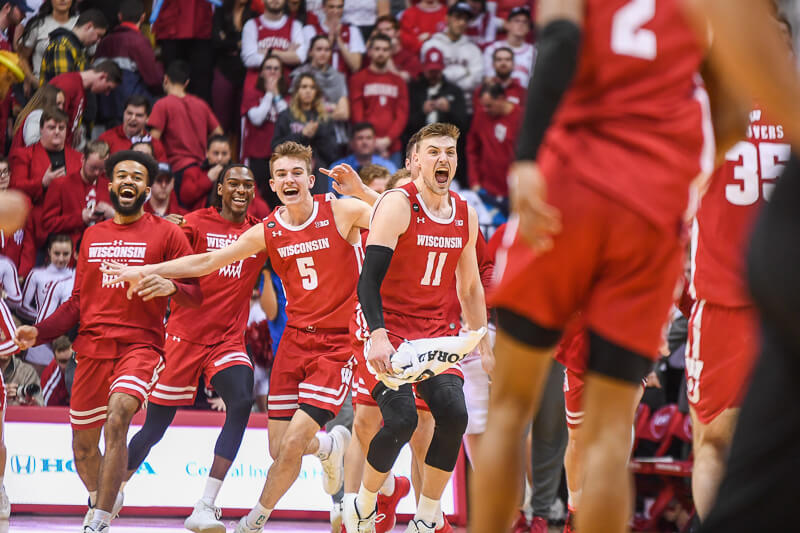 Indiana dropped its fourth home game of the season on Saturday afternoon – 60-56 to Wisconsin – to close out the regular season. The loss locked in the Hoosiers as the No. 11 seed in next week's Big Ten tournament in Indianapolis.
Here are five takeaways from the loss to the Badgers:
· Hoosiers struggle to finish plays in the paint: On an afternoon Indiana hit 40 percent of its 3-point attempts and only turned it over seven times, its inability to finish plays in the paint and at the rim sunk the Hoosiers.
They shot a horrific 14-of-43 on 2s in Saturday's loss to Wisconsin (32.6 percent). It was IU's second worst 2-point field goal percentage of the season behind a 10-of-35 performance (28.6 percent) at Purdue.
"I mean, I don't know what you guys want me to tell you inside," Archie Miller said. "There's no magic wand to score on 6-10 or 6-11. You have to score the ball a couple times."
Miller described Indiana's play in the paint as "a little bit soft," an accurate description of the countless point blank misses the Hoosiers recorded. In the paint, Trayce Jackson-Davis was 2-of-8, Race Thompson 1-of-5, Justin Smith 2-of-6 and Joey Brunk 0-of-2.
· Green starts quickly and fades in second half: Early on, it looked as if Devonte Green was going to go out with a game to remember in Assembly Hall.
Green scored 13 of Indiana's first 17 points and 16 points before intermission as the Hoosiers led 28-25 at halftime.
The second half, however, was a different story. Green shot a dismal 0-of-7 in 11 minutes and didn't record an assist. Green's line on Saturday was a microcosm of his feast or famine career in Bloomington. At times, he's been good enough to lift Indiana in many of its biggest wins. But at other times, he's been unreliable at key moments in heartbreaking losses.
· Wisconsin grabs a share of Big Ten title and the No. 1 seed in next week's Big Ten tournament: At 6-6 in the league following a 70-52 loss at Minnesota on Feb. 5, Wisconsin's chances at the Big Ten regular season title looked bleak.
But a favorable schedule to close the season coupled with key road wins in Ann Arbor and Bloomington lifted the Badgers to at least a share of the league's regular season crown. Wisconsin will be the No. 1 seed in next week's Big Ten tournament in Indianapolis and could win the regular season title outright if Michigan State and Maryland both lose at home on Sunday afternoon.
Saturday's performance in Bloomington by Wisconsin was balanced and impressive. The Badgers had four players finish in double figures and a 12-0 run from the 6:52 mark to the 1:18 was the deciding factor.
"Congratulations to Wisconsin. Hard fought win," Miller said. "Made a lot of tough plays there at the end of the game to be able to come through, and that's what it was going to take in this one, a couple baskets here and there, a couple offensive rebounds, you know, to be able to pull away.
"But they did a great job of being able to claw and hang, and then I thought that their front court really finished us off."
· Defensive rebounding a struggle down the stretch: Despite finishing with 12 offensive rebounds to just six for Wisconsin, the Badgers made the most of their second chance opportunities.
Wisconsin turned its six offensive rebounds into 14 second chance points. The Badgers scored after every offensive rebound they collected in the contest.
"The rebounding really, really started to change with about eight minutes to go," Miller explained. "Long rebounds, two or three of them led to five, six points, and then a couple back-breaking tap-ins in the last two minutes, when we switched to take away the pick-and-pop, their big rolled us down and their other big came in — however it worked when we rotated when the guard drives."
· Miller rants on bracketology: Archie Miller is no fan of bracketology.
Indy Star columnist Gregg Doyel asked Miller in his postgame press conference for his thoughts on IU's postseason chances in the aftermath of the loss to the Badgers.
Miller did not hold back.
"If you watch Sesame Street and you listen to all the characters on Sesame Street talk and everyone gets all under, uh-uh-uh — it's like when you watch Sesame Street and you listen to the guys on Sesame Street, it's a children's show. Every bracketology is a children's show.
"Bottom line, what our resume is, it's strength of record, and that's undeniable it's a top-25 strength of record. If you don't put in a Top-25 strength of record team with the wins that we have, you know, somebody is going to have to answer some questions.
"You know, maybe we didn't win on the road. All right. There's about 15 teams that didn't do that. Well, maybe they didn't beat enough that — well, there's some teams that have maybe of half the amount of quad one and two games that we had.
"And when you look at our wins, I think we had three wins against the top ten in the quad. 2-seed Florida State, you beat this team.
"Since December 3rd, we have not played one team that's not a high major team. No one's done it. But when you start to go through the bracketology and you listen to the Sesame Street cartoon guys on TV who need people to click and do all this stuff, the bottom line is strength of record: Who did you play, who did you beat."
Filed to: Wisconsin Badgers