The Minute After: Wisconsin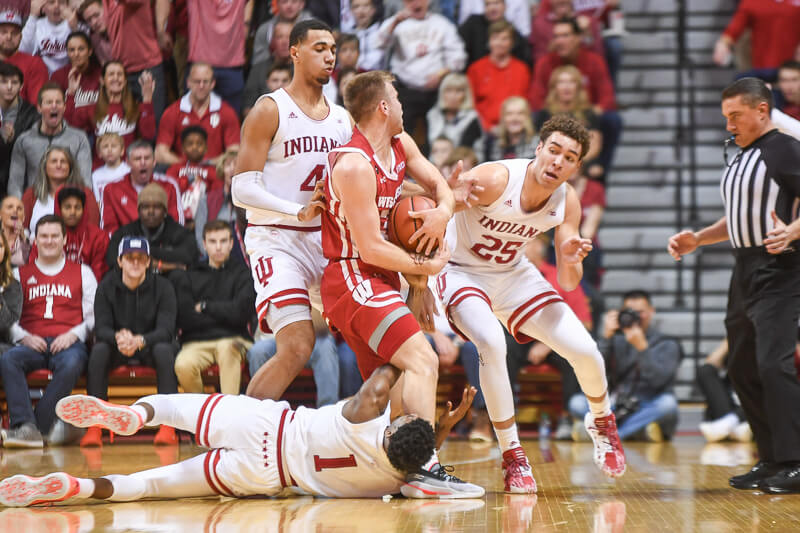 Thoughts on a 60-56 loss to the Badgers:
Indiana's senior day started with perfection. Devonte Green and De'Ron Davis, both getting the rare start, carried the Hoosiers across the first several minutes of the contest. The seniors combined for Indiana's first 17 points with Green in cheat code mode and accounting for 14 of them. Davis was getting down and dirty for loose balls.
As the first half drew to a conclusion, both offenses had trouble finding success. While each team was knocking it in from deep — Wisconsin made 6-of-13, Indiana splashed 5-of-9 — the points per possession weren't great. Indiana mustered just .92. Wisconsin just .82. Each team turned the ball over on 20 percent of their possessions. Both took only four free throws a piece, the refs letting contact go. The Hoosiers carried a 28-25 lead into half without Trayce Jackson-Davis, Al Durham, Rob Phinisee or Joey Brunk scoring a single point.
Indiana began to impose its will and style as the second half neared the halfway point. The Hoosiers were drawing contact down low and getting Micah Potter, Aleem Ford and Nate Reuvers into foul trouble. Indiana's defense clamped down and didn't let Wisconsin get anything easy. Jackson-Davis started getting involved on the offensive end. Up nine with 10:40 to go, Indiana found itself in the driver's seat. A few minutes later, Race Thompson hit a free throw to extend Indiana's lead to seven with 6:52 to go at 51-44. From there, Indiana faltered in what can only be described as an epic collapse. Wisconsin ripped off a 12-0 run to take a 56-51 lead with 1:18 to go. The Badgers were snagging offensive rebounds for second-chance points, none more costly than a Reuvers board that made it's way out to Brad Davidson for a 3-pointer, which put the Badgers up 54-51.
Indiana tried to make a game of it in the final minute, as Durham splashed in a 3-pointer to make it 56-54 and end the drought. But another Reuvers offensive board led to a tip-in for him, putting the Badgers back up four points. Durham was fouled and made both free throws to bring the score to 58-56, but because Indiana had done so well defending without fouling in the second half, the Hoosiers needed to foul the Badgers three consecutive times on their ensuing possession, killing precious seconds off the clock before Davidson was fouled with IU's seventh. He made both his attempts to push the lead out to four and close out the game.
In a flashback to their home collapse against Arkansas in December, the Hoosiers finished the game just 1-of-14, Durham's 3-pointer the only make. They shot just 10-of-32 over the final 20 minutes of the contest, including a 1-of-6 mark from deep after a hot start. Green made six shots and scored 16 first half points. He missed all seven of his shots in the second half and failed to register a point. (Though it sounds like he sustained a bit of an injury in the first half.)
One of the biggest weaknesses of this team has been its propensity for the long scoring drought. It cost them a victory today, no doubt about it.
So Indiana, once in prime position to play spoiler, had its senior day ruined by a prolonged failure to score and Buzzcut Brad. Wisconsin leaves Bloomington as Big Ten champs. The Hoosiers, meanwhile, are one Wednesday loss in the Big Ten tournament away from a nail-biting Selection Sunday.
Filed to: Wisconsin Badgers