6-Banner Sunday: Breaking down Indiana's 2019-20 schedule, Mike Roberts hire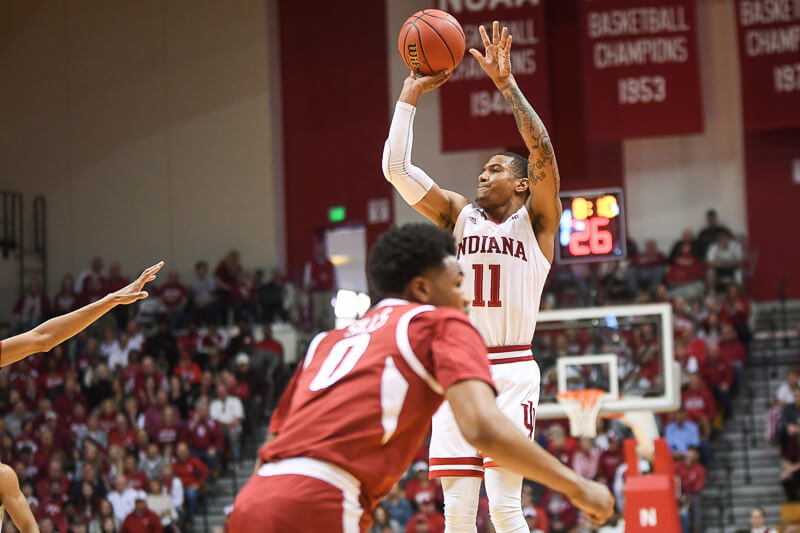 6-Banner Sunday is Inside the Hall's weekly newsletter in partnership with The Assembly Call. More than 6,500 Indiana fans receive the newsletter each week. In addition to appearing each week on the site, you can also opt to receive 6-Banner Sunday by email. A form to subscribe via email is available at the bottom of this week's 6-Banner Sunday.
Welcome to another edition of 6-Banner Sunday, a joint production between The Assembly Call and Inside the Hall where we highlight where we highlight the five most essential IU basketball stories of the past week plus take a look at how the other IU sports teams are doing.
It was an active week for Indiana basketball that saw the full schedule released, the assistant coach vacancy filled, and a deep dive into how much money the program spends on recruiting.
That trio of talking points, teamed with snippets on former players and a Q & A with Archie Miller, created a newsworthy week that allowed fans to start thinking about the season, which is a little over two months away.
In this week's edition:
• Full 2019-20 schedule announced
• Mike Roberts back in Bloomington
• Archie Miller Q & A
• How much does Indiana spend on recruiting?
• Juwan Morgan inks Exhibit 10 contract with Jazz
• Hoosier Sports Roundup
Banner #1
Full 2019-20 schedule announced
After previously knowing which Big Ten teams it will play at home and on the road, in addition to a few non-conference opponents, Indiana officially revealed the whole schedule for this season on Friday. The first game doesn't come until Nov. 5 against Western Illinois in Bloomington, so fans will have plenty of time to predict where Indiana's wins will come from.
Alex Bozich of Inside the Hall broke down the Hoosiers' 31-game schedule, highlighting the ability to get off to a hot start in November, having a battle-tested December, and examining the toughest stretch in Big Ten play.
Indiana doesn't play a true road game throughout the non-conference slate and will play its first one Dec. 7 against Wisconsin.
The Hoosiers will close out their regular season with three games in March: at Illinois and at home against Minnesota and Wisconsin before playing in the Big Ten tournament, which returns to Indianapolis this year from March 11-15.
Banner #2
Mike Roberts back in Bloomington
After talks surfaced earlier this week that Mike Roberts would fill the assistant coach void left vacant by Ed Schilling in June, Archie Miller turned those rumors into reality after officially announcing the hiring of Roberts Thursday evening.
The Indiana fan base had a mixed reaction to Miller's choice, and in this week's Assembly Call Radio, host Jerod Morris was joined by Andy Bottoms and Brian Tonsoni to discuss the positives and negatives of the hire.
The trio talked about how Roberts, who played at Indiana from 2001-2005, helped elevate UNCG's program to 20-plus wins in each of the last three seasons for the first time in program history. They agreed that even though the hire may have caught many people by surprise, if Miller feels confident with Roberts at his side, the hire could turn out to be a very good one.
And speaking of being back in Bloomington, several Hoosier legends were back in town over the weekend for the Victor Oladipo basketball fantasy experience in Bloomington. One notable event that occurred was the beginning of a new IU basketball tradition: former players signing the alumni board. The first two alums to sign the board were Victor and Calbert Cheaney.
Banner #3
Archie Miller Q & A
Gordon Englehardt of the Evansville Courier & Press spoke with Archie Miller ahead of Miller's appearance at Harrison High School this upcoming Tuesday at 6 p.m.
In the Q & A, Miller answered questions regarding what he learned from last year, if Romeo Langford is NBA ready, and the important roles seniors De'Ron Davis and Devonte Green are expected to have this season.
Miller also spoke about Jerome Hunter's status, stating that he has had a good summer, is progressing, and has elevated himself in terms of activity level.
When asked if he feels pressure for this season, Miller simply stated, "Every coach feels pressure. It's the nature of the business. I can tell you the angriest person about last year is me. I remind myself every morning in the mirror."
Banner #4
How much does Indiana spend on recruiting?
Zach Osterman of the Indianapolis Star published a story Tuesday regarding how much money Indiana spends on recruiting each year and how the program isn't ashamed of its spending.
The article states that from 2013-18, Indiana reported more than $3.5 million on recruiting-related expenses. Kentucky was the only other team in that time period to break the $3 million barrier.
Osterman joined Morris and Bozich on the latest Podcast on the Brink to discuss why Indiana's spending efforts haven't quite translated to on-the-court success as of late.
In the latter part of the podcast they talked about another story that came out this week from the Indianapolis Monthly, written by Craig Fehrman, about Fred Glass and the job he's done as Indiana's AD. The story touches on Indiana basketball's struggles as well, and even though basketball brings in the most revenue along with football, Glass is focused and prides himself with the successes of the other 22 sports and said he has faith in Archie Miller to turn things around.
Banner #5
Juwan Morgan inks Exhibit 10 contract with Jazz
After agreeing to an Exhibit 10 contract with the Utah Jazz on July 29, the Jazz's organization officially announced Morgan had signed the contract on Wednesday. Exhibit 10 contracts are one-year deals worth the minimum salary and don't come with any compensation protection but can include an optional bonus ranging from $5,000 to $50,000.
Morgan will head to training camp with the Jazz, where he will attempt to make the main roster. If he gets waived, he'll likely move to the Jazz's G-League affiliate.
NBA training camps typically start toward the end of September. Utah will play four preseason games beginning Oct. 9 before starting the regular season Oct. 23 against the Thunder at home.
Banner #6
Hoosier Sports Roundup
This content was contributed by Aaron Shifron (twitter @ashifron).
IU Men's Soccer got underway with exhibition matches, which Assembly Call was on site to cover. The Assembly Call will have full coverage of IU soccer this fall on the Assembly Call Community for those with a subscription under the 'Men's Soccer' topic.
Also, there were many other noteworthy news items as the IU athletic 2019-2020 is well underway.
• Men's Soccer opened with two exhibitions games against Bowling Green and Louisville. IU won 3-0 over Bowling Green and lost 2-1 to Louisville. Those with a subscription to the Assembly Call Community can read about the games there as well. The Bowling Green game is under the "Other Sports" topic and the Louisville game can be read under the "Men's Soccer" topic.
• Away from the soccer field, Assembly Call put an update to the Justin Rennicks story with his transfer to North Carolina FC from the New England Revolution a few weeks ago. Also, a story about former Hoosier Rich Ballard is available in the Assembly Call Community under the "Men's Soccer" topic for those with a subscription.
• Women's soccer lost their season opener to no. 2 North Carolina. Also, several players were put on the Big Ten pre-season honor list.
• Women's Basketball announced their Big Ten schedule and put season tickets on sale.
• Four Football Hoosiers were named to the Senior Bowl watch list.
Rowing added two coaches to their staff.
Thanks for your continued support for The Assembly Call. We'll be back next weekend with a new roundup.
Now go enjoy yourself a 6-banner Sunday.
Filed to: