Indiana updates 2019-20 roster with jersey numbers, heights, weights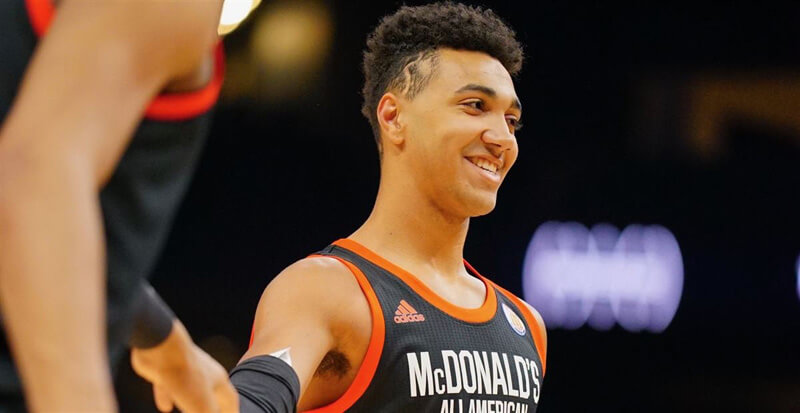 Indiana released a new version of its roster this afternoon with updated heights and weights for new and returning players.
Here are some notes from the updated roster:
• Freshman Trayce Jackson-Davis is listed 6-foot-9 and 245 pounds and will wear No 4.
• Freshman guard Armaan Franklin is listed at 6-foot-4 and 195 pounds and will wear No. 2.
• Joey Brunk, who was listed at 230 pounds on Butler's roster last season, is listed at 245 pounds.
• Vijay Blackmon is not listed as he has accepted a scholarship to Lindenwood University and will be a graduate transfer.
• Walk-ons include Nathan Childress, a freshman from Zionsville, and Cooper Bybee, a junior from Elletsville. Childress will wear No. 14 and Bybee will wear No. 0. Bybee previously played at Olney Central College.
• Sophomore Rob Phinisee is listed at 190 pounds after being listed at 182 pounds last season as a freshman.
• Sophomore Damezi Anderson is listed at 225 pounds after being listed at 215 pounds last season as a freshman.
• Redshirt sophomore Race Thompson is listed at 235 pounds after being listed at 228 pounds last season as a redshirt freshman.
• Junior Justin Smith is listed at 230 pounds after being listed at 227 pounds last season as a sophomore.
• Jerome Hunter, who missed all of last season with a leg injury, is listed as a redshirt freshman.
• Johnny Jager, who was on last year's team, will be a graduate manager. Drew Gladstone, who was a graduate manager last season, is now a team and recruitment analyst.
• Two new additions to the staff are Jack Westerfield (graduate manager) and Steven Surface (senior staff assistant).
You can view all of the roster updates over on our roster page.
Here is a release from IU with notes on the two staff promotions and the two staff additions:
Indiana University men's basketball coach Archie Miller has announced promotions for two members of his staff and the addition of two graduate managers for the 2019-20 season

Drew Gladstone
Team and Recruitment Analyst

Drew Gladstone is in his third season with the Indiana men's basketball program and first as a Team and Recruitment Analyst. He joined the program prior to the 2017-18 season as a Graduate Manager while pursuing a master's degree in Educational Leadership, which he received in May 2019.

He came to IU after spending three years (2014-17) as Head Boys Varsity Coach at St. Luke's School in New Canaan, Connecticut. While at SLS, led team to a 64-12 record, two Fairchester League Championships, two New England Class C Championships and was also named New England Class C Coach of the Year twice.

He spent the 2011-12 season as a special assistant at Manhattan College and was part of a program that earned its first post season appearance in six years (CIT). Gladstone also Co-Founded High Rise Basketball in 2011, a player development program that runs camps, clinics, training programs, etc. based in Fairfield County, Conn.

A 2009 graduate of DePaul University, Gladstone played for Jerry Wainwright before his career ended due to a knee injury. He also played at Cardozo High School in Queens, N.Y. for legendary NYC coach, Ron Naclerio.

He lives in Bloomington with his wife, Jesika.

Johnny Jager
Graduate Manager

Bloomington native Johnny Jager begins his first season as a Graduate Manager for the program. A two-time Academic All-Big Ten selection with the Hoosiers, Jager attended IU for three years after beginning his playing career at Wabash College. He came to IU to in 2016 and played two seasons after walking on to the program in preparation for a career in coaching.

As a freshman at Wabash, he averaged 15 points per game and earned All North Coast Conference honors. He played at Bloomington South High School for the legendary J.R. Holmes and was the Herald Times Player of the Year as a senior and was named First Team Academic All-State. He graduated in May with a degree in Sport Marketing and Management with a minor in Business.

Jack Westerfield
Graduate Manager

Jack Westerfield, a former player for Coach Miller at Dayton, joined the program as a Graduate Manager. The Cincinnati St. Xavier product recently completed his four-year career with the Flyers. He was a member of the NABC Honors Court this past season and was on the Dean's List and was a member of the Flyer's Student-Athlete Advisory Committee (SAAC).

He earned multiple citations during his career as a member of the Atlantic 10 Commissioner's Honor Roll. He earned second team All-GCL honors as a prep and shot 91 percent from the line. The four-year walk-on scored 8 points in 24 minutes at Dayton as a senior, including a three-pointer on Senior Night against LaSalle. He graduated this past spring with a degree in Finance.

Steven Surface
Senior Staff Assistant

Steven Surface has been promoted to Senior Staff Assistant after having served as an administrative intern for the program since May, 2016.

He assisted in the day-to-day operations of the office and has helped in a number of areas in the program including summer camps, compliance and alumni relations.

He graduated with a bachelors degree in Sport Marketing and Management from IU in 2017 and completed his masters degree in Sports Administration.
Filed to: 2019-2020 roster