6-Banner Sunday: How Boston is reworking Romeo Langford's jumper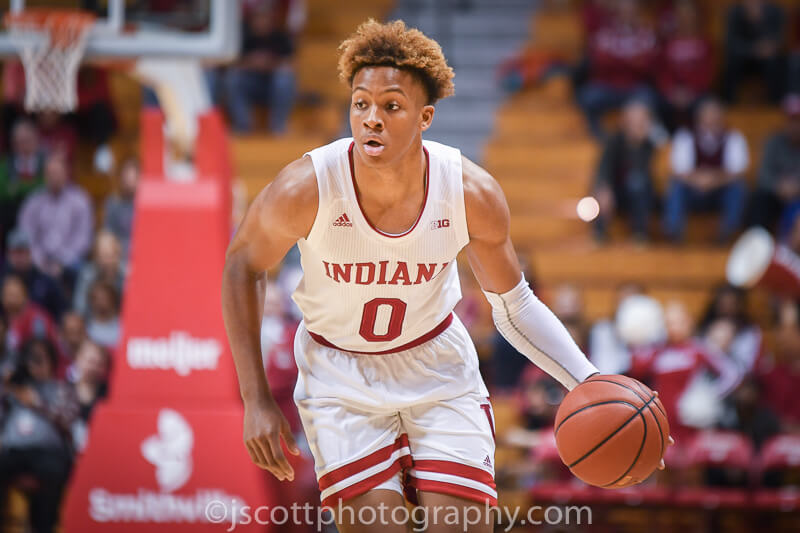 6-Banner Sunday is Inside the Hall's weekly newsletter in partnership with The Assembly Call. More than 6,500 Indiana fans receive the newsletter each week. In addition to appearing each week on the site, you can also opt to receive 6-Banner Sunday by email. A form to subscribe via email is available at the bottom of this week's 6-Banner Sunday.
Welcome to another edition of 6-Banner Sunday, a joint production between The Assembly Call and Inside the Hall where we highlight where we highlight the five most essential IU basketball stories of the past week plus take a look at how the other IU sports teams are doing.
In this week's edition:
• Celtics reworking Langford's jumper
• How will IU use Jackson-Davis?
• Interviews from IBCA Underclassmen Showcase
• Podcast on the Brink mailbag
• NBA free agency roundup
• Catching up on three weeks of IU sports
Banner #1
Celtics reworking Langford's jumper
When the Boston Celtics drafted Romeo Langford with the last pick of the lottery, they did so with the understanding that the 19-year-old was a work in progress. Langford flashed signs of prodigious talent at Indiana, showcasing a soft natural touch around the basket, a fluid handle, and an ability to get past most any defender tasked with guarding him. But those talents were without their warts, most notably Langford's complete lack of a reliable jumper.
We have dedicated plenty of words to the numerical – 34-for-125 from distance – and mechanical – involvement of his left thumb, exaggerated wrist bend, inconsistent release point – issues at play with Langford's shot. This week, Jay King of The Athletic detailed how the Celtics are attempting to correct some of those problems and point Langford down the path toward becoming a more reliable shooter.
As Langford continues recovering from a surgery to repair a torn ligament in his right thumb – itself likely to help his shooting mechanics – assistant coaches Scott Morrison and Joe Mazzulla have attached ping-pong paddles to the rookies left hand during form shooting exercises in attempt to keep his guide hand off the ball at the point of release.
According to Boston's coaching staff, Langford has offered no resistance against the plan to change his form – not something every young scorer would easily do. The process of recovering from surgery and remaking his form could hamper Langford early in his career as he quite literally re-learns how to shoot a basketball. But the Celtics are betting on the long-term benefits, and their rookie appears to be on the right path.
Banner #2
How will IU use Jackson-Davis?
After losing one high-impact freshman, Indiana will add another to its 2020 roster in Trayce Jackson-Davis. His fit, however, won't be quite as clear as Langford's was when he came into the program. Jackson-Davis is neither as good nor as independent an offensive player as Langford, and will therefore require more scheming, development, and intentional involvement to become a featured piece of an offense that needs firepower.
Zach Osterman of the Indy Star dove into how Archie Miller might deploy Jackson-Davis in year one, opining that the freshman could be used in a "wild card" role to accommodate the needs of De'Ron Davis and Joey Brunk, two less versatile and less mobile bigs. Jackson-Davis' skill, mobility, and passing should help mitigate the team's utter lack of shooting in the frontcourt, but only to a certain extent. He'll be able to share the floor with nearly anyone, but will also need the time and space to play his game in order to be most effective.
Figuring out how the pieces on this unconventionally-constructed roster fit together will be a work in progress and likely take most of the season. Indiana is smart to be looking for answers as early as it can.
Banner #3
Interviews from IBCA Underclassmen Showcase
When Miller took over the head coaching position at IU, he made clear in both word and deed the importance of recruiting the best players in the state of Indiana, nabbing Langford and Jackson-Davis in consecutive recruiting classes. Now he and his staff are hoping that those achievements might unclog the in-state talent pipeline to IU once again.
Last week, Inside the Hall caught up with some of the players in that pipeline at the Indiana Basketball Coaches Association's Freshman Showcase to discuss their recruiting statuses.
Hear from Anthony Leal, Trey Galloway, Jalen Bridges, Khristian Lander, Caleb Furst, and more at Inside the Hall.
Banner #4
Podcast on the Brink mailbag
After a week hiatus, Podcast on the Brink returned this week to field questions from listeners and readers. Among topics discussed were Langford's fit in Boston, the abrupt departure of Ed Schilling from the IU coaching staff, Indiana's chances of landing Leal and Galloway, and much more.
Subscribe and listen to every episode of Podcast on the Brink here to stay current on all IU basketball news and analysis.
Banner #5
NBA free agency roundup
The NBA experienced one of its most hectic days of all time on June 30 as an explosion of signings, trades, and even sign-and-trades rippled across the league and the internet alike.
Among some of the league's newly-signed free agents were several former Hoosiers, including Langford ($7.1 million over the first two years of his rookie deal), Thomas Bryant (three years, $25 million under his new contract with Washington), and Noah Vonleh (one year, $2 million with the Timberwolves). Yogi Ferrell, meanwhile, had his 2020 salary of just under $3.2 million guaranteed by the Sacramento Kings on Thursday.
Inside the Hall compiled a handy rundown of the salaries for every former Hoosier in the league in 2019 to keep you up to date on a chaotic offseason.
Banner #6
Catching up on three weeks of IU sports
This content was contributed by Aaron Shifron (twitter @ashifron).
After a few weeks off from Banner Sunday, many big and small off season items occurred across IU sports. Assembly Call was also on site for a couple off-season interviews with current and former players.
• IU's Baseball season is long over. However, over the next several weeks Assembly Call will venture to a few spots where current Hoosiers are playing Summer Ball. This consists of playing games with players from other colleges to stay in shape and get ready for next season. Assembly Call was in Cincinnati where current outfielder Grant Richardson was playing, as well as Terre Haute where several current Hoosiers are. Those with a subscription to the Assembly Call Community can read about these players as well as other new ones next week.
• Assembly Call also was present in Indianapolis when former IU soccer star Femi Hollinger Janzen played the Indy Eleven. A free story about this is available on the Assembly Call Website.
• In Women's Basketball, it was announced IU is playing Miami in the Big Ten-ACC Challenge. Also, former Hoosier Kim Royster signed a contract to play in the Czech Republic. However, the biggest news of all came when IU's star and best player Ali Patberg was granted an extra year of eligibility and will get two more years as a Hoosier now.
• A trio of noteworthy items occurred for Women's Soccer. Emily Basten was named a volunteer assistant, Megan Wampler transferred into the program, and Alex Ng was announced as Director of Operations.
• Women's Golf lost associate head coach and former player Lauren Harling to Yale, where she was named head coach. Also, IU released its schedule for next year which will include a tournament on the newly renovated IU Golf Course.
• Women's Volleyball announced its schedule which will be its first in their new arena Wilkinson Hall. Also several new players were added to the roster.
• In the theme of announcing schedules, Cross Country also released theirs for next season
• Women's Tennis added a new player for next year in Mila Mejic.
• The most news of all though came in Swimming and Diving where Lilly King was named female athlete of the year at IU (former soccer player Andrew Gutman won it on the men's side), Andrew Capobianco was named an Academic All-American, the entire team was named Scholar All-Americans and Zach Apple won a gold at the University Games as well as Ian Finnerty.
• Across the entire spectrum of IU sports, the beginning of the Bicentennial year was announced and the 2019 Hall of Fame Class was announced.
And with that, the joy of hanging Banner #6 is now one week closer.
Thanks for your continued support for The Assembly Call and Inside the Hall. We'll be back next weekend with a new roundup.
Now go enjoy yourself a 6-banner Sunday.
Filed to: