IBCA underclassmen showcase Q & A: Luke Goode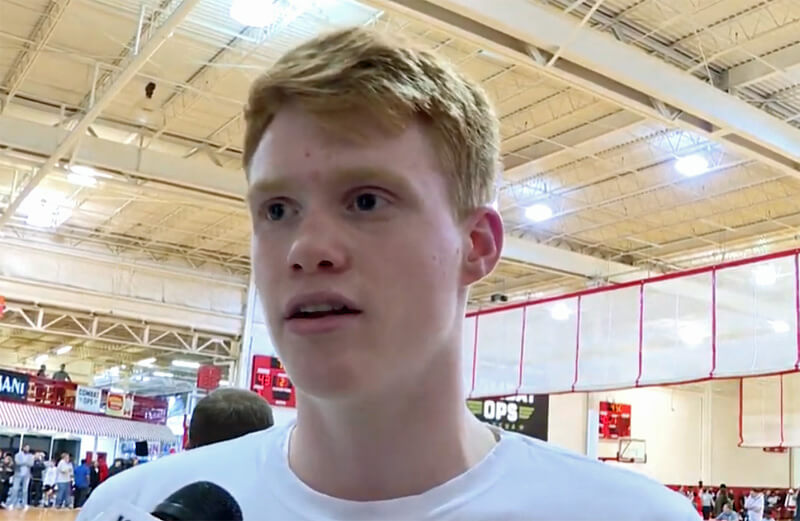 Class of 2021 Homestead wing Luke Goode has seen his profile grow tremendously through his sophomore season and AAU play. The talented 6-foot-6 prospect has shot up to No. 87 and a four-star prospect in the 247Composite rankings and is on Indiana's radar.
Inside the Hall spoke with Goode about his play, recruitment, IU interest and more at the IBCA Underclassmen Showcase at Ben Davis High School last weekend.
Our full Q & A is available below:
Your profile has grown a lot recently with a number of offers, what has the recruiting process been like for you thus far?
"It's been actually going really well. I got the opportunity to play 17U in Dallas with Indy Heat and since then I've heard from a good number of college coaches, and it's obviously a blessing to hear from the college coaches that I have and hopefully I just keep hearing from more and keep finding where I'm going to go to college someday."
You were at IU last weekend for team camp, could you describe a little bit about how that went for you?
"Team wise, we went 2-1 so it was a good weekend. We lost to Zionsville by one point. Personally, I did not shoot the ball very well, but our point guard is actually out right now. He did not play that weekend. So, I was running the point position which I usually don't run so I was handling the ball a lot more than usual, so that kind of took me out of my rhythm of everything. But other than that, I thought it was a good weekend for our team and myself."
Did you get to venture around the campus or Bloomington at all and if so, what did you think about that?
"Yeah, so actually I visited on an unofficial visit the Monday before. I was there for about eight hours. I toured the campus, toured Assembly Hall, Cook Hall, everything, so it was a great visit."
Do you have much of a relationship with the IU Coaching Staff, do you think a potential offer could be coming?
"Coach (Tom) Ostrom, I've been talking to him for probably two or three weeks now, pretty closely, so I've been talking to him a lot. Obviously when I went down on the visit I talked to Coach (Archie) Miller. They said they're just going to keep watching me. They haven't really gotten to watch me a lot this summer. Hopefully they keep watching me and maybe the offer will come."
What schools would you say are recruiting you the hardest?
"Probably Maryland. Maryland, Xavier and Butler those three are probably recruiting me the hardest right now. I get a call or text every morning from their assistant, Maryland's assistant coach, so they're probably the number one right now that's recruiting me the hardest."
Any upcoming visits scheduled?
"No, actually not right now. I'm going to be in Saint Louis all next week for the Nike Top 100 Camp, so I don't have any visits set up for next week."
Obviously, you and (Caleb) Furst are both from Fort Wayne, do you guys have much of a relationship?
"We've actually been playing on the AAU circuit together since second grade. We've kind of been best friends since second grade. We work out together, hang out sometimes and have been playing together for a very long time."
You're known for your shooting ability, but obviously you are more than that, what would you say are your other strengths that stand out?
"I feel like another strength of mine is my defense. With my size and my length, being 6-6 and being lanky, I can guard pretty much the one through five and I can help out on any of them. I take pride in my defense too, if my man scores, I'm not going to let him score again. So that's probably my other positive when I play.
Filed to: Luke Goode