6-Banner Sunday: Recruiting and Romeo Updates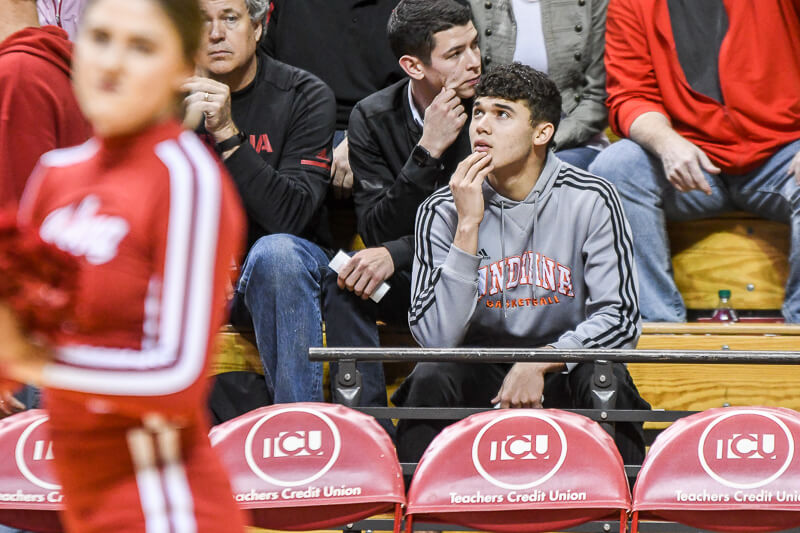 6-Banner Sunday is Inside the Hall's weekly newsletter in partnership with The Assembly Call. More than 6,000 Indiana fans receive the newsletter each week. In addition to appearing each week on the site, you can also opt to receive 6-Banner Sunday by email. A form to subscribe via email is available at the bottom of this week's 6-Banner Sunday.
Welcome to another edition of 6-Banner Sunday, a joint production between The Assembly Call and Inside the Hall where we highlight the six most essential IU basketball stories of the past week.
The weather outside is getting better and better, which can evoke mixed feelings for college basketball fans. After all, the warmer the weather is, the more distant college basketball season will feel.
It was a slower week in the offseason news cycle for IU basketball, but there were still notable happenings worth keeping tabs on, and that's what we're here to do.
In this week's edition:
• Recruiting updates
• Schedule news
• NBA update
• Assembly Call Radio
• Which IU dunk is best?
• Big Ten title for IU Baseball and other happenings across athletics
Banner #1
Recruiting updates
While there were no new offers given out in the last week, Inside the Hall took a long look last week at how IU targets have fared in their respective AAU circuits.
Starting with EYBL, DJ Steward, Matt Cross, Caleb Love, Nijel Pack, Caleb Furst, Terrence Clarke, and RJ Davis have all excelled.
Over in the Adidas Gauntlet, Zach Loveday, Trey Galloway, Anthony Leal, and Khristian Lander have all looked good as well. Dawson Garcia's statistics haven't been reported reliably enough to make a fair judgement.
All of those players have IU offers except for Pack, but with the numbers he's putting up, his stock is worth tracking.
For more information on Indiana's recruiting targets for the class of 2020, check out Inside the Hall's recruiting board.
Banner #2
Schedule news
In last week's 6-Banner Sunday, we wrote about reports that Indiana would compete in the 2019 Jimmy V Classic at Madison Square Garden. It was based off a Jon Rothstein report, but nothing was official.
Now, it's official. The program confirmed last week that the Hoosiers will take on the Connecticut Huskies in New York on December 10, 2019.
IU is is 3-6 all-time against UCONN, with the last matchup a 59-58 loss in the 2013 2KSports Classic Championship — which was also at MSG. The Huskies went 16-17 last season in Dan Hurley's first year leading the program.
Banner #3
NBA update
OG Anunoby is the final Hoosier still alive in the NBA Playoffs. He's been out since mid-April after having an emergency appendectomy. His Toronto Raptors are down 2-0 to the Milwaukee Bucks in the Eastern Conference Finals. There were reports that Anunoby could be able return to action during this series, but it's truly unclear if he'll be able to come back during this series.
In news related to Hoosiers approaching the NBA, the NBA Draft Lottery was earlier this week. While most eyes and attention were fixated on Zion Williamson (the New Orleans Pelicans won the top pick), we can't help but focus on how it will affect Romeo Langford. He's currently at the NBA Draft Combine in Chicago. Notable mock drafts from the past week all had Langford near the back end of the lottery or just on the outskirts of the lottery. Three of them projected Langford to Detroit at No. 15, while others had Langford as high as No. 9 to Washington (where he could join forces with Thomas Bryant).
In relevant non-IU NBA news, one of the best coaches in the Big Ten (and really the country as a whole) made the leap from college to the NBA last week. Michigan's John Beilein signed on to coach the Cleveland Cavaliers on a five-year deal. Under Beilein, Michigan went to two National Championship games in the last six years. After the move was announced, Michigan's top commit, four-star forward Jalen Wilson, re-opened his recruitment.
The Wolverines have begun searching for their next head coach. Athletic Director Warde Manuel reportedly has a meeting set up with former Wolverine and current Miami Heat assistant Juwan Howard this week.
Banner #4
Assembly Call Radio
Podcast on the Brink took a week off this week. The most recent episode remains Alex and Jerod's exit interview discussion with Seth Tow (myself) and Ben Ladner from May 7. The show will return next week with a guest you apparently won't want to miss.
In this week's edition of Assembly Call Radio, Jerod, Andy and Ryan discuss their takes on the Big Ten's pecking order for next year and beyond, answer listener questions, and much more. You can catch these discussions LIVE every Thursday evening.
Banner #5
Which IU dunk is best?
For anyone itching for the excitement of IU basketball, the program's Twitter account was here to help last week. They ran a big head-to-head bracket to determine the best dunk in IU history. The bracket began with 24 dunks — well, 23 dunks, and one "almost dunk."
Through fan voting, the top four seeds advanced to the Final Four: (1) Victor Oladipo's jam against Kentucky in 2011, (2) Tom Pritchard's put-back slam against Minnesota in 2011, (3) Will Sheehey's dunk against Iowa in 2011, and (4) OG Anunoby's dunk at Maryland in 2017.
The championship match: Oladipo vs. Sheehey. 
Regardless of who wins, this competition provided flashbacks to some great IU basketball moments — especially from 2011.
And speaking of flashbacks, here's one you'll enjoy, in honor of Victor and Will facing off in the title matchup: The Flying Sheeladipos.
Banner #6
Big Ten title for IU Baseball and other happenings across athletics
This content was contributed by Aaron Shifron (twitter @ashifron).
It was a big week in IU athletics as IU baseball clinched the Hoosiers fifth Big Ten Title of the 2018-2019 school year across all sports. While this took the headlines IU had several other events and stories happened as well.
• For baseball, Assembly Call was present for the Big Ten Title run covering last Saturday's game against Michigan in Ann Arbor. It was also present both Friday and Saturday of this week as IU clinched the title vs. Rutgers. Those with a subscription to the Assembly Call Community can read the recaps in the "Baseball" topic. Those without a subscription can read about the games at iuhoosiers.com. Last Saturday, the Hoosiers picked up a 10-8 win to take the series in Ann Arbor before falling Sunday 6-5. The Hoosiers lost on Tuesday against Louisville in extra innings. Needing a sweep of Rutgers to clinch the Big Ten Championship, the Hoosiers delivered winning 7-5 Thursday, 11-4 Friday and clinching the title Saturday with a 13-3 win.
• Women's Golf sits in 21st at the National Championships after the first day.
• Men's and Women's Track and Field both finished 2nd at the Big Ten Championships last week
• Former IU Soccer player Justin Rennicks was named to the U20 team.
• Former IU golfer Jorge Campillo was named European Tour Player of the Month.
• Three IU wrestling signees earned All-American Honors
• IU Football picked up a commitment this week in Junior College transfer Demarcus Elliott
• IU beat Purdue in the Governor's Cup to win the annual trophy.
• With Softball season over two players earned postseason honors
And with that, the joy of hanging Banner #6 is now one week closer.
Thanks for your continued support for The Assembly Call and Inside the Hall. We'll be back next weekend with a new roundup.
Now go enjoy yourself a 6-banner Sunday.
Filed to: