Draft watch: Will Romeo Langford land in the lottery?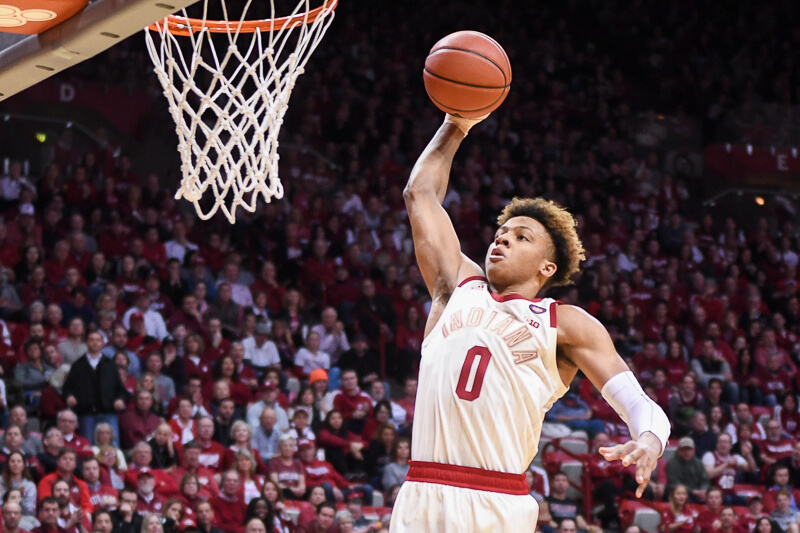 The NBA draft lottery took place on Tuesday night in Chicago and this year's draft at the Barclays Center in Brooklyn is just five weeks away.
Many of the notable mock drafts worth following updated their projections following last night's lottery and here's a roundup with potential destinations for Romeo Langford.
The former IU guard is in Chicago this week for the NBA draft combine, which begins today and runs through Sunday, May 19.
The Athletic: Sam Vecenie (paid link)
Vecenie, one of our favorite Podcast on the Brink guests, has Langford landing in Detroit at No. 15. The first 14 picks are lottery, so in this scenario, IU's leading scorer from last season would be the first non-lottery selection in the 2019 draft.
It's no surprise that Sam's analysis of Langford begins and ends with his shooting struggles last season in Bloomington:
Throw in on top of it that Langford's ability to gain separation has also come into question, and teams look at him as a potential role player who can't shoot right now — something of a non-starter around the league.
Sports Illustrated: Jeremy Woo
Woo has consistently been lower on Langford than any other draft analyst we follow, but like Vecenie, he also has the 2018 Indiana Mr. Basketball landing in Detroit.
As many questions as there are about Langford's wrist, Woo believes that at this stage of the draft, the potential upside might be too much to pass up:
It's been hard to find teams particularly enamored with Langford after the season he just had, and though his body and athletic tools look the part, there are valid concerns about the holes in his skill set, particularly his ongoing jump shooting struggles. While Langford was mostly productive and played through a thumb injury, he struggles to create good shots off the dribble and lacks a degree of creativity to his game that will create problems against better defenders. The Pistons need help on the wing, and at this point in the draft, it's easier to justify taking the plunge.
ESPN.com: Jonathan Givony (paid link)
Another mock draft, another prediction of Langford to Detroit. This time it's from Givony, who is a well respected analyst that covers the draft as diligently as anyone.
Langford will be one of the players under consideration for any teams in this range with needs on the wing. The Indiana freshman played most of the season with a torn ligament in his shooting hand, but he displayed impressive glimpses of potential as a shot creator operating out of the pick-and-roll. The Pistons have precious little ballhandling on their roster and could certainly roll the dice on a player with Langford's talent.
We finally deviate from the Langford to Detroit predictions here as O'Connor projects Langford to Miami with the No. 13 pick.
This may not be a bad landing spot for Langford as the Heat are clearly one of the most competent franchises in this year's lottery and there could be a ton of opportunity with the retirement of Dwyane Wade.
Good physical profile with a wiry frame and long arms. He's agile with or without the ball, and has a quick first step. Innate scoring instincts show in the way he moves, creates space using crossovers and stepbacks, and handles contact at the rim.
Other mock drafts:
– The Los Angeles Times: Dan Woike – Langford No. 9 to Washington
– SBNation: Ricky O'Connell – Langford No. 12 to Charlotte
– CBSSports: Kyle Boone – Langford No. 17 to Brooklyn
– Bleacher Report: Jonathan Wasserman – Langford No. 10 to Atlanta
Filed to: Romeo Langford