6-Banner Sunday: Hoosiers earn two important wins and Big Ten continues strong start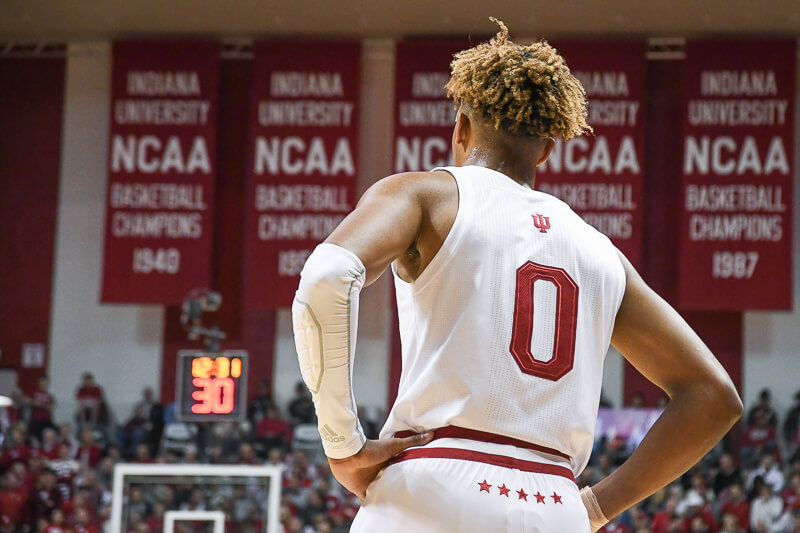 6-Banner Sunday is Inside the Hall's weekly newsletter in partnership with The Assembly Call. More than 6,000 Indiana fans receive the newsletter each week. In addition to appearing each week on the site, you can also opt to receive 6-Banner Sunday by email. A form to subscribe via email is available at the bottom of this week's 6-Banner Sunday.
Welcome to another edition of 6-Banner Sunday, a joint production between The Assembly Call and Inside the Hall where we highlight the six most essential IU basketball stories of the past week.
This was an important week for the Hoosiers, with their second of two December Big Ten games on Tuesday followed by the much-anticipated home tilt with Louisville on Saturday. A split wouldn't have been the end of the world.
But the Hoosiers went 2-0, overcoming early deficits in each game and holding late to make plays necessary to secure victory.
In this week's edition:
• Penn State win caps 2-0 Big Ten start
• IU picks up tight win over Louisville
• POTB and AC Radio
• Analyzing Fitzner's value
• Big Ten roundup
• IU men's soccer's season ends at the College Cup
Banner #1
Penn State win caps 2-0 Big Ten start
Indiana got off to a strong start in the Big Ten this season, as Tuesday's 64-62 win over Penn State made IU one of five Big Ten teams (along with Michigan, Michigan State, Wisconsin and Ohio State) to start 2-0 in conference play.
The game was close from wire to wire, but the Hoosiers hung on in the end. Romeo Langford enjoyed a big first half with 15 points on a 5-of-10 line with four rebounds. The Nittany Lions had no answers for him in the opening half, as the freshman was draining some impressive shots.
In the second half, Langford went quiet. But Rob Phinisee (10 points), Juwan Morgan (eight points), and Al Durham (eight points) made up the difference.
At Inside the Hall, Ryan Corazza shared his postgame thoughts in The Minute After and broke down Clifton Moore's performance in Film Session, while Andrew Rubin filed a notebook from State College. Alex Bozich offered his Five Takeaways, including a closer look at Indiana's defense.
In the Assembly Call Postgame Show, Andy and Ryan broke down Moore's outing, Phinisee's strong finish and more.
Over at The Athletic, Dustin Dopirak wrote that Phinisee's defensive play at the end saved the game for Indiana.
Phinisee, the much lesser known of the two freshmen in the Hoosiers' starting lineup, saw Smith get popped by screens set by Bolton and PSU freshman Myles Dread, and he knew Stevens couldn't be allowed to get the ball in the corner. So he communicated with Smith, made the call on the fly and got a hand on the pass.

"This is the game of basketball," Phinisee said. "You just have to play and read and make the right play. I just deflected the ball. I knew where the ball was coming, and I knew Lamar Stevens was probably getting it. So I just made the play on the ball."
Wyandotte Safety Solutions is your one-stop shop for safety training and safety products. WSS offers CPR & First Aid training, fall protection, and lift training. We also sell PPE, AEDs, and First Aid supplies.
We are an Indiana company serving Indiana and all of North America. Check out our website for more information: ptsarcflash.com.
Banner #2
IU picks up tight win over Louisville
The Hoosiers returned home Saturday and returned to non-conference play. Geographic rival and ACC foe Louisville visited Simon Skjodt Assembly Hall and gave IU a battle.
Although the game was close the entire way, IU didn't take a lead until the 8:36 mark in the second half. It remained a tight affair through the buzzer, and the Hoosiers came out with a 68-67 win.
Rob Phinisee hit several huge shots in the game, sinking 3-pointers to give IU its first lead and to put IU ahead for good in crunch time. Romeo Langford led the Hoosiers in scoring with 21 points as he made big plays all afternoon. Justin Smith played an important role, putting up nine points and nine rebounds while dealing with Louisville's Jordan Nwora on defense.
In my notebook for Inside the Hall, I broke down the play that resulted in Phinisee's go-ahead 3-pointer with 1:21 remaining and discussed Smith's bounce-back game. Be sure to check out Ryan Corazza's analysis in The Minute After as well.
In the Assembly Call Postgame Show, Jerod, Ryan and Zach McCrite discussed Phinisee's performance, along with Langford, Juwan Morgan, and several other key players for Indiana in its win.
IDS columnist Murphy Wheeler observed that Indiana flashed its offensive potential on Saturday.
The Hoosiers' half court offense was stagnant for most of the first half. There was little to no movement and cuts were non-existent. Instead of attacking toward the rim, players got stuck watching each other dribble, often times resulting in a ball-handler being left out to dry 30 feet from the basket as they got swarmed by multiple Louisville defenders.

No matter what level of basketball a team is playing at, whether it's in the pros, college or high school, that kind of offensive approach isn't going to make winning games easy.

Yet IU still managed to pull out the victory in the second half despite not leading until 8:24 remained.

Maybe those pleas to "move" and "cut" throughout Assembly Hall resonated with the players a bit heading into the locker room.

Or maybe they just realized how dangerous their team can be when they're aggressive toward the rim.

That aggressiveness was evident from the start of the second half as players other than just freshman guard Romeo Langford attacked the basket without fear or second thought.

And when they weren't driving, they made smarter cuts to the lane, often giving themselves a chance for an easy layup.

The offense just looked more fluid.
Banner #3
POTB and AC Radio
In this week's episode of Podcast on the Brink, Alex and Jerod were joined by longtime Louisville-area radio voice Zach McCrite to discuss Indiana's win over Penn State and looking ahead to the Louisville game. They also spend time analyzing Romeo Langford, as McCrite called some of Langford's games at New Albany.
Earlier in the week, in a special episode of The Matchup, Ben was joined by Sam Vecenie of The Athletic to go through some of Indiana's NBA prospects. A lot of the discussion is centered around Romeo Langford and Juwan Morgan before they go deeper into the roster to see if any under-the-radar guys could fit in at the next level. The episode also features some live reaction and discussion to Trayce Jackson-Davis' commitment — he actually committed to IU while this episode was being recorded.
Over at Assembly Call Radio this week, Jerod, Ryan, and Andy discuss the December conference games in the Big Ten, analyze Clifton Moore's performance against Penn State and ponder if he should get more playing time, and answer listener questions to round out the show.
Banner #4
Analyzing Fitzner's value
Evan Fitzner has been an intriguing player for Indiana so far this season. He's averaging 6.4 points and four rebounds per game in an important role off the bench for the Hoosiers.
He's shooting 45 percent from 3-point range, which is a very good mark on the surface. But as Ben Ladner pointed out in a piece for Inside the Hall, the St. Mary's transfer could stand to put up more shots. He's only taken 20 3-pointers through nine games, which is actually the same number of attempts (and, coincidentally, they have the same 3-point percentage as well) as Juwan Morgan.
Given the rise in three-point shooting in recent years, particularly in the NBA, those sorts of players grow more valuable by the season. A player with Fitzner's gravity can create shots for others simply through being on the floor. He commands a defense's respect when he stands behind the arc, stretching his man away from precious interior real estate for Juwan Morgan or De'Ron Davis. Should Fitzner's man cheat off of him, the St. Mary's transfer shoots warm-up jumpers.
Banner #5
Big Ten roundup
The opening games of Big Ten play have come and gone, and between those games and the ACC-Big Ten Challenge, the conference has come out looking pretty strong over the last few weeks. As previously mentioned, IU is tied with No. 5 Michigan, No. 10 Michigan State, No. 19 Ohio State and No. 12 Wisconsin at 2-0. Several quality Big Ten teams check in at 1-1: No. 23 Maryland, Purdue, No. 24 Nebraska and Minnesota. No. 18 Iowa, Rutgers, Northwestern, Illinois and Penn State are 0-2 in Big Ten play.
In the KenPom rankings, Michigan paces the conference at No. 5. Michigan State isn't far behind at No. 8, with Wisconsin (No. 13), Purdue (No. 14), Ohio State (No. 20), Nebraska (No. 21), Indiana (No. 25), and Maryland (No. 26) all ranked highly as well.
Among the notable conference wins, Michigan State picked up a big 90-68 win over Iowa on Monday. Michigan survived a road test from Northwestern and pulled out a 62-60 win in Evanston on Tuesday. Nebraska fell 85-78 to Minnesota on the road on Wednesday. Purdue came back at home against Maryland for a 62-60 win in an entertaining contest.
There were several noteworthy non-conference games involving Big Ten teams this week as well.
On Thursday, Iowa defeated rival Iowa State (KenPom No. 19) 98-84. Saturday's slate, in particular, featured several quality matchups. Michigan State went to Gainesville and battled out a 63-59 win over Florida (KenPom No. 22). Wisconsin played a "road game" against Marquette (KenPom No. 35) in Milwaukee and ultimately came up short, losing 74-69 (note: that's a really good win for Marquette, which makes IU's win over Marquette look better). And Nebraska dominated in-state foe Creighton (KenPom No. 37) in a 94-75 home win.
Banner #6
IU men's soccer's season ends at the College Cup
For Maryland, the third time was the charm. For Indiana, another successful and promising season ended in heartbreak.
The Hoosiers beat the Terps in the regular season and in the Big Ten Tournament, but Maryland came out on top 2-0 at the College Cup in Santa Barbara, Ca.
Maryland grabbed the opening goal in the first half off a corner kick that IU was unable to clear. In the second half, the Hoosiers were pressing hard to find an equalizer. While they created many chances, they struggled to get competitive shots on goal. The more chances went awry, the more they pushed. Eventually, Maryland scored a crushing second goal off a set piece.
Josh Eastern made note of how many opportunities Indiana had in the second half in a special to the Herald-Times.
IDS columnist Phillip Steinmetz wrote that this wasn't how IU's strong senior class wanted to go out.
Seniors midfielder Austin Panchot and defender Andrew Gutman were the first players to walk toward the IU marching band and fans each raising their hands, nodding their heads and patting their chests in admiration of the fans who made the cross-country trip to support them and the rest of the team.

IU had fallen to Maryland, 2-0, in the College Cup to put an end to a historic season.

After the sound of the band and fans faded, IU Coach Todd Yeagley talked to his team one last time on the field before the rest of the players turned around and did exactly what Panchot and Gutman did, thanking the Hoosier faithful.

"Tonight, the ball wasn't bouncing," Yeagley said. "We couldn't find that bounce that we needed."
BONUS: IU women's basketball undefeated
Despite losing stars Tyra Buss and Amanda Cahill, Indiana women's basketball has made up the difference and is off to a flying start this season. The Hoosiers are 8-0 with wins over several power-five teams, including a 66-46 win over Butler on Wednesday. IU takes on Missouri State on Sunday afternoon in Bloomington before breaking for finals. The Hoosiers will have a 10-day gap between the Missouri State game and their next game against Loyola Marymount in the Puerto Rico Classic.
And with that, the joy of hanging Banner #6 is now one week closer.
Thanks for your continued support for The Assembly Call and Inside the Hall. We'll be back next weekend with a new roundup.
Now go enjoy yourself a 6-banner Sunday. If you'd like to receive this newsletter in your inbox each Sunday, please enter your email address below:
Filed to: