Notebook: Smith a key in IU's win over Louisville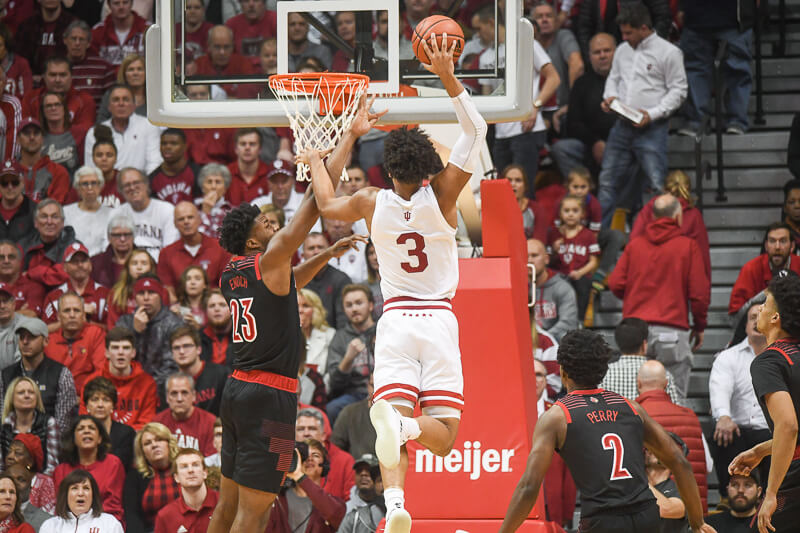 With his recent performance and his role in question, Justin Smith responded with a bounce-back game in IU's 68-67 win over Louisville.
The sophomore seemingly gained confidence as the game progressed, and he finished with nine points and nine rebounds. Seven of his points came in the second half, which he started off with a thunderous dunk. His cuts and drives were less reckless and more smart than they'd been in recent games.
Smith gave credit to Juwan Morgan's passing out of the post.
"When Juwan gets the ball in the post, yeah, I mean, he's always looking to pass," Smith said. "He's really looking to pass, I wouldn't say first, but majority of the time he is looking to make plays out of the post. It gives me incentive definitely to dive knowing there's a possibility. It does open the floor time sometimes for him or somebody else, but it's definitely a part of our offense."
Smith's role has fluctuated throughout the season thus far even though he's started every game for IU. Saturday, he played the most minutes, 31, he's seen since the UT-Arlington game. He's struggled to get into a rhythm at times since the UT-Arlington win. In the Duke, Northwestern and Penn State games, he scored 14 points while committing nine turnovers.
But the forward chipped in his second consecutive nine-rebound game against Louisville, and Archie Miller was also pleased with Smith's defense.
"We were worried about Jordan (Nwora), his 3-point ability, ability to play on the perimeter. We just felt he was too big and too strong for maybe our guards to be able to stay on him. I'll tell you what, again, Justin has delivered a really good defensive performance. We knew he was going to make some tough ones, not that he's perfect. I thought he really competed late in the game. He was able to rebound the ball again, nine more rebounds. If Justin is getting nine rebounds, playing 30 minutes, he gets nine points, doesn't turn it over, that's the guy he has to be for us now."
Phinisee's clutch 3
As a team, Indiana wasn't lighting it up from 3-point range: the Hoosiers shot just 4-of-14 from deep. But three of those four triples came from Rob Phinisee, and all three were momentum-swinging plays.
The biggest of his three triples came with 1:21 remaining and Louisville up 58-57. Phinisee said after the game that the play wasn't drawn up for him, but I'm not so sure it wasn't.
Here's what happened. After taking it across midcourt, Phinisee handed it off to Romeo Langford on the perimeter, who immediately swung it to Morgan on the outside. Phinisee cut back to the middle near the free-throw line. Morgan passed it to Justin Smith, who promptly gave it back to Langford near the 3-point line. When Smith made the pass, Phinisee set a screen for Morgan to cut to the post. Malik Williams went around the screen pretty easily, but Khwan Fore didn't realize it and abandoned Phinisee to deny Morgan an open look. With Morgan double-teamed, Phinisee alertly found space behind the 3-point line, and Langford got him the ball.
It's a really well-designed play, and the execution was superb. The intent was likely to get Morgan a one-on-one matchup in the post, but it seemed like Phinisee knew exactly what he was doing in cutting behind the 3-point line after the screen. He was probably the second option on that play.
Chris Mack suggested the Cardinals thought they'd have more time to recover and close out on Phinisee, adding that he isn't a notably fast catch-and-shoot player.
For Phinisee to not only knock down the clutch shot but do everything right in the buildup of the play is impressive, especially for a freshman at a critical point in a big game.
Langford adjusting
Romeo Langford once again led Indiana in scoring with 21 points on a 6-for-11 shooting line. The way he's picking up a lot of his points could be encouraging for IU.
Duke showed that a big key to defending Langford is meeting him with size at the rim. Since then, Langford had been getting to the line much less than he had for most of the season: he went 3-for-3 at the free-throw line against both Northwestern and Penn State.
Louisville was able to contest many of Langford's shots when he drove, but IU's freshman star took advantage of that in many cases. Sure, there were plays where he'd just beat his man on the outside and convert a difficult lay-in. But on many plays, Langford went in looking to draw contact and did so successfully. His free-throw shooting could stand to improve, as he was 9-for-14 from the charity stripe, but getting to the line so often is still a positive.
While Langford did get to the line 10 times in that Duke game, there's a difference between the two outings. Against Duke, it didn't seem like he was trying to draw fouls, rather that he'd drive in looking to score and would get fouled when the Blue Devils didn't force a bad shot. Against Louisville, Langford looked comfortable driving in with the intent of picking up contact.
Langford is an explosive player, and it's really hard to stop him from getting to the rim. It would make him even tougher to defend if he's able to consistently draw fouls on his drives.
Filed to: Justin Smith, Louisville Cardinals, Robert Phinisee, Romeo Langford