The Minute After: Louisville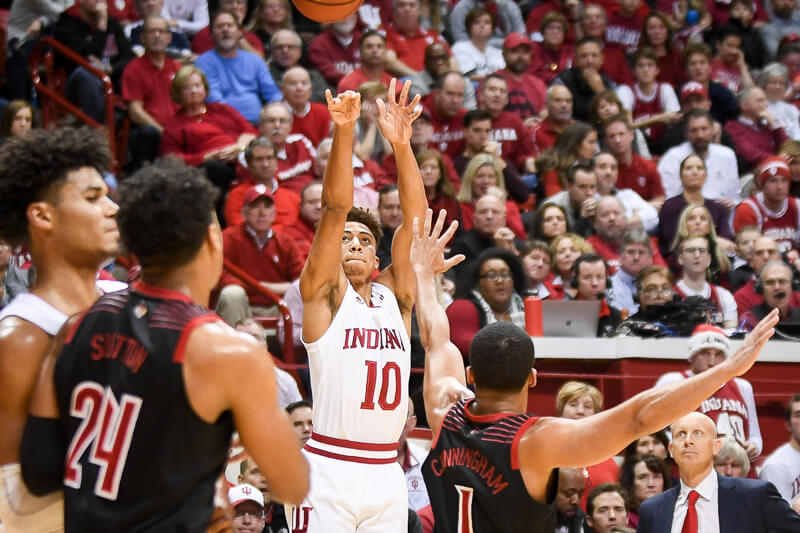 Thoughts on a 68-67 win against the Cardinals:
The Cardinals showed no fear. Where others have entered Simon Skjodt Assembly Hall with trepidation, the intimidating environment holding them hostage, Louisville played free.
Indiana had good looks early, but missed them. It helped Louisville jump out to a 14-6 lead and meant the Hoosiers would be playing from behind for the majority of the contest. This was an incredible, entertaining game. Chris Mack and Archie Miller, now over the Ohio border and slugging it out in college basketball's big time, each knew each other's moves, but neither of them was able to break their team free.
Louisville continued its opening strike by outplaying the Hoosiers at both ends as the first half went along. The Cardinals were great with the ball, turning it over just twice in the first 20 minutes of action. Louisville carried a 33-28 lead into half. It was thanks to a 7-0 advantage in second-chance points by rebounding nearly a third of its misses (29 percent) and the play of Jordan Nwora, who had 11 in the first half and a game-high 24 for the contest.
Nwora was sensational this afternoon, hitting timely 3-pointers and dunking on the Hoosiers en route to an 8-of-17 performance from the floor. He also added a game-high 14 rebounds, racking up the game's only double-double. Indiana simply had no answer for him this afternoon. Louisville also played inspired defense on the Hoosiers in the first half, pressuring the ball out on the perimeter and making it harder for Indiana to get its stuff going.
It was more of the same in the final 20 minutes. Indiana had a number of opportunities to finally grab its first lead of the contest, but it didn't snatch it, meaning Louisville continued to play frontrunner until under the 10-minute mark, as a Robert Phinisee 3-pointer finally pushed the Hoosiers ahead at 49-47 with 8:36 to go.
It was back-and-forth from there, the lead changing hands a number of times, but another Phinisee 3-pointer with 1:25 to go, a Juwan Morgan old-school 3-point play followed by two Romeo Langford free throws gave the Hoosiers a mini 8-0 run and a seven-point lead, which was just enough to hold onto the one-point victory as Christen Cunningham hit a 3-pointer at the buzzer.
Indiana got a much-needed confident performance from Justin Smith this afternoon. It wasn't a flawless performance on offense, but Smith's first bucket came out of his comfort zone from last season, the short corner, and maybe it helped propel him in the rest of this one. He also had an insane dunk on a drive off the right wing later. His ridiculous vertical was finally on display, the ball up above the box on the backboard as he threw it down. Smith was also the recipient of a De'Ron Davis pass from the top of the key for a score at the cup. He finished the contest with nine points on 4-of-8 shooting.
Davis was silky smooth in this one and created a tough cover for Louisville on his way to eight points in 14 minutes of action. Indiana showed care for the basketball this afternoon, turning it over on just 14.9 percent of its possessions, a season-low. That helped balance out another shaky performance at the line (16-of-25, 64.0 percent). The Hoosiers failed to keep the Cardinals under a point per possession (1.01), but it was just barely, and you'll take the victory above all else.
Indiana has now won its last three contests by a total of five points, that Arkansas loss perhaps paying dividends as this team is currently showing a knack for finding a way to win close games. Now 3-0 in this crucial four-game stretch of the season, another tough one against Butler looms in a week's time.
Filed to: Louisville Cardinals