Five takeaways from Indiana's win at Penn State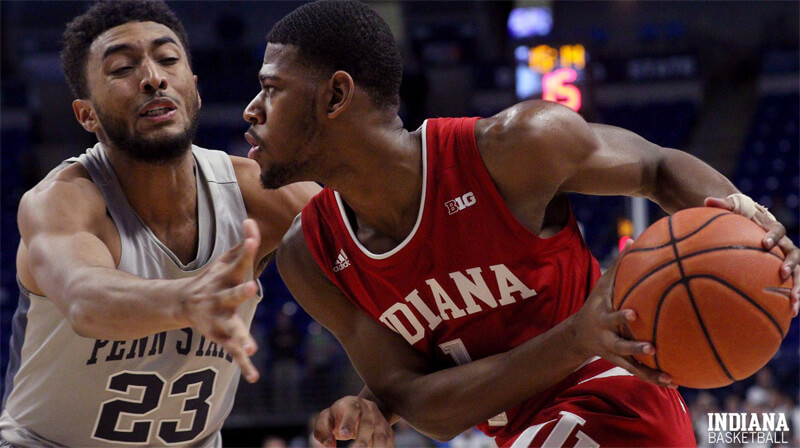 Indiana improved to 2-0 in conference play with a 64-62 win over Penn State on Tuesday night at the Bryce Jordan Center. The win moved the Hoosiers to 7-2 overall with four non-conference games on the horizon.
Here's a look at five takeaways from the win over the Nittany Lions:
• Early non-conference tests prepare Hoosiers for close games: Indiana's narrow loss at Arkansas and closer than expected home wins over UC Davis and UT Arlington caused plenty of angst from fans expecting better performances.
Those early challenges, however, appear to have paid off over the last two games. On Saturday, the Hoosiers were able to overcome late adversity (Juwan Morgan's injury) to beat Northwestern for a two-point win. Last night, Indiana was able to record its first victory away from Bloomington after nearly squandering an 11-point lead in the final 3:58.
Would the Hoosiers have won either game without the early tests in the non-conference?
Through nine games, Indiana is still getting healthy and has plenty of young players with room to grow. More importantly, the Hoosiers are figuring out a way to win close games early in the season. All of these experiences and different situations should pay dividends when the meat of the conference schedule begins next month.
• Penn State squandered its chance to pull away early: Penn State coach Patrick Chambers didn't throw his team under the bus in his postgame press conference, but could have easily done so when asked about free throw shooting.
The Nittany Lions had every opportunity to build a significant lead in the opening minutes of the game and didn't capitalize. Penn State scored the game's first nine points, but missed free throws allowed Indiana to climb back into the game once the shots began to fall for the Hoosiers.
When Devonte Green hit a pair of 3-pointers to tie the game at the 11:01 mark of the first half, it was a clear turning point.
"We missed a bunch of free throws, we should have been up a larger margin," Chambers said postgame. "Kind of let them in the game, we let them stay in the game when we should have had a commanding lead."
• Romeo's offense carries Indiana in first half: Romeo Langford has struggled with his perimeter shooting early this season, but when IU's star freshman finds his groove offensively, he can carry the Hoosiers.
The full Langford offensive repertoire was on display in the first half at the Bryce Jordan Center on Tuesday.
Langford slashed to the basket and drew a foul. He splashed a 3-pointer. And then he went to his stepback jumper in the midrange. By halftime, Langford's 15 points led all scorers.
"I just take what the defense gives me," Langford said postgame.
• Another stellar defensive performance: Archie Miller wants to build an elite defensive team as his foundation in Bloomington.
The numbers through nine games suggest he's doing just that. Here's a game-by-game look at Indiana's points per possession allowed by opponent and where that performance ranks on the season for each team:
– Chicago State: .68 (2nd lowest)
– Montana State: .49 (lowest)
– Marquette: .98 (lowest)
– Arkansas: .97 (2nd lowest)
– UT Arlington: .87 (3rd lowest)
– UC Davis: .96 (7th lowest)
– Duke: 1.14 (2nd lowest)
– Northwestern: .97 (3rd lowest)
– Penn State: .88 (lowest)
The outlier here is UC Davis, which Indiana struggled to defend, but still held under a point per possession.
Over nine games, the Hoosiers have surrendered more than a point per possession just once and are ranked in the top 20 in Ken Pomeroy's adjusted defensive efficiency rating. Through nine games last season, six opponents scored more than a point per possession against Indiana.
• Phinisee asserts himself offensively in final 10 minutes: With Indiana unable to get Langford free in the game's final stretch, Robert Phinisee took it upon himself to make plays offensively.
The freshman guard from McCutcheon scored seven straight points from the 7:05 mark to the 4:39 mark as Indiana extended its lead from 54-50 to 61-52.
"It was real important because it forces the defense to have to help on him," Langford said of Phinisee's offensive run in the second half. "They can't just help on me or J-Mo (Juwan Morgan). When he gets going downhill, it opens things up more for me and everyone else on the court."
(Photo credit: IU Athletics)
Filed to: Penn State Nittany Lions